Summary:
Two instalments were never gonna be enough for you horny fuckers, we knew that! So welcome to a third chapter of horse-hung copulation, featuring a collection of some of the biggest dicks in the biz! These guys are exactly the kind of fellows you always dreamed of meeting, armed with the kind of ever-ready equipment that could send you to heaven and back time and time again! Didn't get enough the first two times? Well hold onto your balls, boys – these beasts are about to give you the stretching of a lifetime!
Description / Review:
Scene 1: Cute White Lad Gets Skewered By Horny Dominican's Big Black Fuck-Rod!
Cast: Devon LeBron and Kris Wallace
Also available: Black Does White 2 (6 scene compilation)
Also available: Black and Beautiful (Compilation)
We're never actually told why Devon LeBron is waiting in Kris Wallace's office – to be fair it's not essential to know – but it's clear from the very beginning that the young white boy doesn't have an issue with him being there. In fact, given the way that he's feeling himself under his desk we reckon Wallace is more than happy to have that big black dude ensconced nearby. Of course, it doesn't take a genius to work out the attraction. LeBron's reputation is already very firmly established, and what boy in his right mind wouldn't want a taste of the fellow's thick, meaty dick?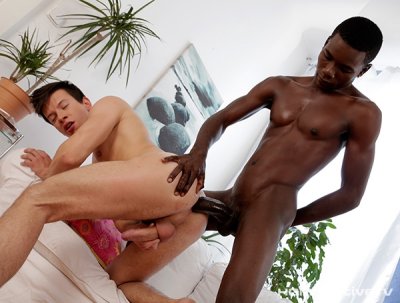 So it's really no surprise when the Polish lad finally introduces himself to his guest, falling to his knees and immediately ingratiating himself with the big black mamba between LeBron's beefy thighs. Not that the hunky Dominican will ever be satisfied with just a blow-job, of course. No, Wallace is going to have to go much, much further to please this horny stud, and to his credit he does so with some aplomb, presenting his twitchy pucker like a bitch in season!
It's an invitation that doesn't have to be repeated. Before Wallace knows what's happening he's skewered onto the ramrod and being screwed like a fuck-doll – which, to be fair, he clearly enjoys. So much so that he shoots a fine money-shot over himself, then allows LeBron to squirt all over his face! In short, a superb face-dripping climax to an unforgettable black-on-white fuck!
Scene 2: Cute Twink Gets His Raw Ass Stretched To The Max By Dick Casey's Thick Ramrod!
Cast: Xander Hollis and Dick Casey
Also available: Twinks Like It Big - Compilation
With his cute face and those winsome eyes of his, you'd be forgiven for thinking (if you didn't already know better) that Xander Hollis was the very picture of youthful innocence. How wrong could you possibly be, of course – as becomes all too apparent (for the umpteenth time in his porn career) when the youngster walks into a room to find Dick Casey having a wank.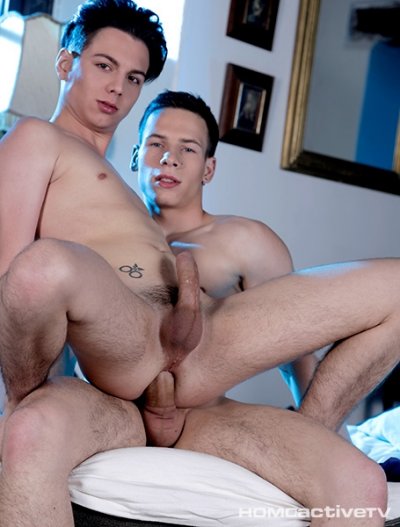 For instead of turning around on his heels and making the sharpest of exists, Hollis immediately does what all of us dirty-minded fuckers would probably do under the circumstances and falls to his knees in admiration of Casey's rampant love-rod. An act that will appeal to anyone who loves to see filthy-minded twinks getting intimate with hard dick – excuse the pun! Not that a slut of Hollis's calibre is going to be anywhere near remotely satisfied with just a suck. No, he's not gonna have a smile on his face until that thick, uncut cock is planted firmly between his butt-cheeks – an ambition that he soon achieves once the two lads have enjoyed a hardcore session of 69-ing.
Needless to say, the fuck that follows is a terrific set-piece of man-on-man fornication; with Hollis banged raw in every position, before literally squirting like a fountain in pleasure. An act that just leaves time for Casey to spray Hollis's mouth with the contents of his tight, manly balls!
Scene 3: Milan Sharp Gets His Ass Filled With Big Black Cock & Oodles Of Black Spunk!

Cast: Milan Sharp and Barrinton Peart
Also available: Black Does White (Compilation Gay DVD)
Also available: Big Boy, Big Time Fuck
We all know black guys have big dicks, and when our very own super-slut, Milan Sharp, heard about the arrival of Barrington Peart from the Dominican Republic he was quite literally gagging for a piece of the action. What's more, when he realised that Peart was even more handsomely hung than anyone ever thought possible he was almost like a tom-cat in season.
Quite simply, he just had to have that big fat mamba deep inside one way or another – and the fact that Peart (like almost every other black guy) insisted on it being totally raw made the prospect of having his ass stretched to bursting point all the hotter. What's more, the resultant encounter doesn't disappoint for one single minute.
Having quite literally ripped Peart's clothes off even before they're made it into the house, Sharp is soon gagging on the black fellow's dick in a most satisfactory fashion. Thereafter it's just a matter of time before the young white boy is being banged quite mercilessly by Peart's oversized ramrod – his pert little ass happily taking every inch over the kitchen table in apparent reparation for the history of racial wrongdoing! But it's the manner with which the black dick spurts over Sharp's hole and then buries itself back inside immediately afterwards that gives this scene the biggest kick. In short, totally unforgettable classic interracial filth!
Scene 4: Horny Blond Twink Savours Every Inch Of Robbie Kasl's Monster Uncut Dick!
Cast: Tim Walker and Robie Kasl
Also available: Bareback Rookies, Hot Fuck
Also available: Donkey Dicks 2 (6 Scene Compilation)
Checking into some lush hotel room after a hard day's work or travelling is always a pleasure, but the arrival of room service – courtesy of a cute and charismatic twink – only adds to the experience. So it's little wonder that Tim Walker takes full advantage of Robie Kasl's services when the latter brings a drink to his bedside.
Indeed, given the knowledge that we all have of Walker being a first-class slut, his antics in seducing Kasl should come as no surprise whatsoever. To be fair, of course, the young waiter doesn't stand so much as a chance when confronted by Walker's seductions; and it's no surprise that the lad is out of his trousers before he knows what's happening to him! At which point you're gonna wonder whether Walker had prior knowledge to what he was about to find between Kasl's legs, given that the dick in question is a fuckin' monster!
Needless to say, Walker's response is the one you'd expect from a cock whore, slurping up and down its length and allowing Kasl to rim his twitchy little ass; before plonking himself firmly on Kasl's lap and riding the beauty for all that it's worth. The fuck that follows is a breathless, ass-stretching bonanza – one that'll help you knock out a couple of loads at least. By the time both boys have earned their cash by squirting liberally for the camera, you'll be totally drained!