Summary:
In the mood for something big? Of course you are – as the first four instalments have proved. These guys are definitely not on the meagre side. They're blessed with the kind of equipment in their trousers that most of us can but dream about. But dream no longer, as the biggest boys in the biz continue to put their over-sized equipment to good use. No ass is safe, no mouth goes unused. Big dick is definitely the order of the day, and no-one's gonna be happy until all that meat has gained relief. Big-style, naturally!
Description / Review:

Scene 1: Young Blond Gets A Raw Double-Penetration Birthday Surprise - Topped Off With A Face-Load Of Spunk!
Cast: Tim Walker, Benjamin Dunn, Neo Matthews
Also available: Double Dick 2 (Compilation Gay DVD)
Everyone loves to have a little fun on their birthday – it's your special day, after all – but how many people get to celebrate like young Tim Walker? Hooked up with his best buddies, Benjamin Dunn and Neo Matthews, he's clearly feeling wild and uninhibited; and, together, this is one very horny trio that's determined to mark the occasion with some unforgettable celebratory antics. Beginning with a game of fruit-bobbing, involving a bowl of fresh strawberries and three very hard dicks. Not exactly your everyday kind of party game, that's for sure; though it's not long before the lads are engaging in more intimate shenanigans, taking turns to blow each other off and to rim Walker's expectant little asshole.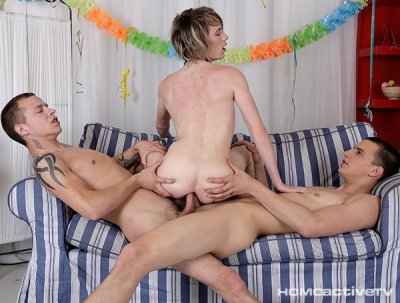 Indeed, it's that said hungry pucker that's soon serving as the main focal point for all the action in the room, as first Dunn pounds away from behind and then Matthews stretches it from beneath. Don't forget, however, that this is Walker's birthday, and his two mates would never forgive themselves if they didn't give the boy a present he'll never forget – namely, a full-on, latex-free, double-penetration!
It's pretty much at this point that you're likely to need the Kleenex, as director John Smith captures all the kinky perversion in close-up detail. But the cum-soaked finale, which sees Dunn and Matthews spurt simultaneously over Walker's cute little face, is certain to tweak yet more jizz from your balls!
Scene 2: Cute White Twink Gets A Humiliating Fuck & Facial From A Big Black Dick!
Cast: Xander Hollis, Devon LeBron
Also available: Big Boy, Stretched To Fit
Also available: Black Does White (Compilation Gay DVD)
Sometimes, it's the contrast of extremes that bring about the greatest pleasures in life. Chalk and cheese; sweet and sour; big black cock and pert white ass! To be fair, we can't exactly comment with regards to the first two of those particular "opposites". What we can say, however, in light of this stupendous scene featuring Dominican sex-god, Devon LeBron, and Czech cock slut, Xander Hollis, is that if you want to see the chemistry of opposites in full throttle then you've definitely come to the right place.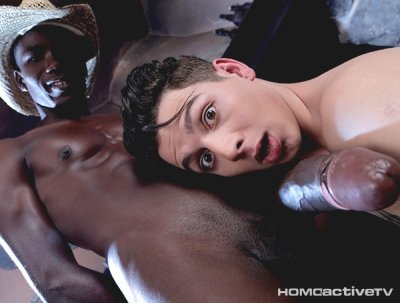 These two guys are totally different in every way you can imagine – a hunky black stud and a cute, bonny-faced twink – and from the very moment that they first encounter each other the sexual fireworks simply ignite. What makes their meeting all the more memorable, however, is the genuine sense of surprise in Hollis's face when faced with the prospect of accommodating his black counterpart's insatiable libido, manifested most prominently in the great big mamba that LeBron has swinging between his legs.
The result is a truly heroic struggle between a white boy's cravings and his physical limitations, during which LeBron pretty much treats Hollis like a fuck-doll and eventually dishes out the ultimate humiliation by spunking all over his face. Will Hollis's ass-hole (or even his entire character) ever be the same again? LeBron, for one, doesn't give a fuck. Cash in hand, he's out the door!

Scene 3: Big Black Cock Anyone? Tim Law Proves His Slut Credentials By Taking Every Rock Hard Inch!
Cast: Devon LeBron and Tim Law
Also available: Twinks Like It Big (Compilation)
Some secrets just can't be kept secret for long – Devon LeBron's mammoth dick being one of them! – which perhaps explains why young Tim Law is so keen to get to know our Dominican sex-god when the two fellows encounter each other in the local park. Fact is, a total cock slut like Law is quite simply left gasping at the sheer prospect of getting his mouth (not to mention his ass) around that whopper; though in all fairness LeBron's ramrod is so fucking massive that it's almost impossible for a lad like Law to fit it into his mouth.
All that said, we're pleased to confirm that the horny little bottom doesn't have the same problem when it comes to accommodating the big black beast between his butt cheeks! No doubt about it, the sight of Law being pushed to the limit by LeBron's oversized mamba is the stuff of an instant classic; not least of all when the lad quite literally sits on the thick, meaty staff and rides the weapon like the total bitch we all know he is.
Poor Law might as well be sitting on a fucking tree-stump as resting his ass on that colossal beauty, and it's little wonder that he's soon jerking himself off in response. Nevertheless, it's LeBron's own pyrotechnic climax that warrants the ultimate acclaim; before the black master thrusts his cum-soaked cock back into Law's pucker to whitewash the sweet twink's hole!

Scene 4: Two Blond Angels Have One Devil Of A Time In A Spunk-Soaked Flip-Flop Fuckathon!
Cast: Jaxon Radoc and Milan Sharp

Given the fact that Jaxon Radoc and Milan Sharp are pretty much the hottest guys on the circuit right now it's probably not surprising that this is the kind of scene that promises to deliver big time. What's more, we're very pleased to report, it doesn't disappoint – and this despite the fact that the performance is actually pre-empted by a short interview of Radoc, who comes across as the extremely amiable and articulate fellow that everyone at STAXUS knows him to be.
As it happens, the footage of the young Aussie trainee-lawyer talking to the camera only serves to add to the pleasure of what follows, as he and Sharp first take stock in the shower together, before they head for the bedroom to get to know each other even more intimately. Indeed, we reckon by the time these lads are mutually pleasuring their swollen cocks there's every good chance that you'll be head-over-heels in lust with both these blond beauties.
What's more, the sight of Radoc working Sharp's ass-hole with a sex-toy is likely only to add to such burgeoning endearment! But believe us, it's watching these guys take turns at fucking each other that will gain your ultimate affection – first, Sharp riding Radoc's rod from on top, then Radoc taking every inch of dick from behind. All exquisitely recorded with John Smith's ever-keen eye, and topped off by two of the stickiest, gooiest, over-the-top cum-shots that you're likely to see!