Summary:
It's the series that's becoming almost as epic as the cocks it features – a superb fourth installment of donkey-sized phalluses that have to be seen to be believed! Clearly the first three episodes merely whet your appetite for more, as some of the biggest fuckers in the biz prove that whilst all twinks are born equal, when it comes to dick some are much more equal than others! A definite must-see for anyone who loves to see ass-splitting, mouth-stretching fornication at its biggest and best!
Description / Review:

Scene 1: Kris Wallace Takes Every Thick Black Inch Of Barrington Peart's Oversized Ramrod!

Cast: Barrington Peart and Kris Wallace
Also available: Black Does White 2 (Gay Compilation)
The one's the cute Polish lad that everyone's talking about right now (and very rightly so); the other is a hot, horny Dominican who just loves to fuck white ass. Put them together, as we do in this scene, and you pretty much know that you're onto a winner from the very start! Indeed, we reckon there's every good chance that you'll be stroking your dick in appreciation even before these two fine beauties have gotten out of their pants!
Certainly Wallace doesn't waste any time in reaching for Peart's thick black mamba – before you know it the fellow is slurping down on all that dark meat like a being possessed. And why the fuck not? Peart's ramrod is almost worthy of being acclaimed as a site of major scientific interest in its own right; and having savoured a hot, horny session of 69-ing, Wallace presents his pert little ass as the sacrificial offering.
An offering that the black fellow grabs with both hands, so to speak – or, to put it more accurately, with his bulbous-headed cock, which he proceeds to shove balls-deep into the young Pole in a succession of horny positions. In effect, Wallace becomes little more than Peart's fuck-doll – a role that clearly does it for the white boy, who spews a fine wad mid-flow. But it's the way that the Dominican spews into Wallace's open mouth as a finale that really seals the deal! No doubt about it, this is one ball-bustin' scene you don't want to miss!
Scene 2: Hot Horny Blond Twink Gets An Ass-Load Of Jizz From His Cute Little Fuck-Buddy!

Starring: Nathan Levi & Denis Master
Also available: Twinks Like It Big - Compilation
Nathan Levi's found himself another sex-toy, this time in the form of Denis Master. The two boys are making out in bed, with Levi's hand wandering into Master's jockstrap. Master's hand soon finds its way into Levi's tight boxers; but before he can really grab a hold of that juicy cock, Levi takes control and starts sucking Denis off. Levi really goes to town on that dick, licking the shaft, then sucking his balls and giving real pleasure with his tongue and lips.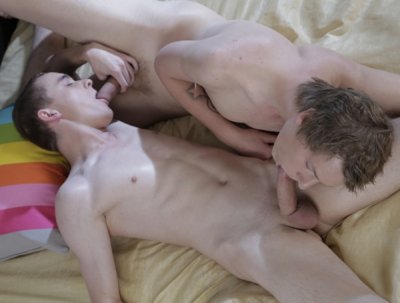 evi finally French-kisses Master to give him a taste of what's to come, leaving his mate hungry for cock, who gobbles the monster up whilst Levi grabs hold of his head to fuck his face. After a while the boys change position for some hot 69-ing and mutual rimming. Then, having lubed Master's ass up with his tongue, Levi slides his meaty cock inside his pal's tight little hole and treats him to a good raw fuck. A switch of position has Master slamming Levi's ass doggy-style, until eventually the lad can't hold out much longer and he shoots his creamy load deep inside that hungry butt-crack.
Levi then pushes the cum out of his hole and Master sticks his dick in again to fuck the cum back inside. Finally it's Master's turn to get the face full of cum he has been waiting for all along, which he sucks out of Nathan's cock and swallows like the good obedient little twink he clearly is.

Scene 3: Cute Blond Twink Gets A Double-Penetration Cocktail & A Face-Load Of Black Jizz!

Cast: Alexander Syden, Devon Lebroc and Barrington Peart
Also available: Bareback Rookies, Bareback Twinks
Also available: Black Does White 3 (6 scene Compilation)
He's like a sweet tender young lamb to the slaughter block, but the delightful Alexander Syden doesn't care – in fact, he's quite literally bubbling with youthful excitement at the prospect of being buggered by black sex-gods, Devon LeBron and Barrington Peart. And given what we all already know about these two handsome Dominicans is it really any wonder?
After all, LeBron and Peart each pack quite a terrific punch and combined as a duo they're almost the ultimate package! To his credit, Syden immediately begins to feast on their two monster dicks like a being possessed, deep-throating those oversized mambas and, in the process, reminding the two black dudes (not to mention us) that he's the perfect white slut whose only reason for existence right now is to be used and abused. It's a message that's underlined by the way he then proceeds to ride both dicks in turn, cowboy-style; before succumbing to arguably one of the ultimate taboos in the form of a double-black-cocked slamming.
Needless to say, the boy looks a total whore as he takes every inch on offer, wrecking his ass-hole in the process; but the ultimate humiliation doesn't come until LeBron and Peart jerk themselves off onto the youngster's face, leaving Syden dripping with jizz in the process. Totally perverse and unbelievably hot, this Caribbean interracial fuck-fest will leave you completely drained but very, very satisfied!

Scene 4: Flip-Flop Mannequin Fuck-Fest Gets Alex Masters Spewing Like A Fucking Volcano!
Cast: Alex Masters and Boris Orla
Also available: Donkey Dicks 2 (6 Scene Compilation)
Inspired artistry – or just a rather warped, perverse fantasy? The idea of falling in love (or, in this case, lust) with a mannequin is not entirely new, but it sure as fuck stands this terrific scene out from the crowd. Indeed, we hazard a guess that there aren't too many porn vignettes that you've ever seen that begin with the protagonist – in this case Alex Masters – snogging the face off a shop-dummy!
Weird, kinky, call it what you like, but it's not long before the faceless stooge has magically transformed itself into Boris Orla, a blond-haired beauty that you almost certainly wouldn't want to kick out of bed in a hurry. Certainly stubble-faced Masters seems to respond to the changeover with gusto, quickly stripping Orla out of his jocks and then feasting on the handsome length of hardened flesh that he finds between the fellow's legs.
Having then experienced Orla's oral talents on his own dick, Masters instigates a delightfully robust top-to-toe session; before eventually succumbing to temptation and parting his legs to every swollen inch that his blond fantasy can muster. Not that Masters' use of his blond fantasy is limited to acting as bottom. No, he's more than capable of flip-flopping into the dominant force in this amazing escapade; before producing what has to be one of the best money-shots around, with a truly volcanic eruption that has Orla grinning like the proverbial Cheshire Cat in appreciation!