Summary:
It has a thousand differing euphemisms, but there's one thing surely that every gay porn lover can agree upon – sperm is a definite must in any movie, and the more of it the better! Fortunately for you lucky fans, the likes of Joshua Levy, Kris Blent and Ray Mannix have been saving themselves for some time to ensure that their balls are full and their cocks are ready to explode. So get set for one of the stickiest, gooiest displays in a long, long time; as new boys Mike Cole, Leo Jenkins and Lucas Drake join the crew of the spunkiest team in town!
Scene 1: Kinky Toy-Play Gets New Spanish Boy Creaming Like A Geyser!
Starring: Joshua Levy, Mike Cole
Oh for the time when these two young buddies used to be happy playing with Lego and Meccano! These days Joshua Levy and new boy, Mike Cole, clearly prefer to while away their free time playing with toys of a very different kind – ones that stimulate their meaty, uncut cocks rather than their brains! So it is that they start this terrific little duo working masturbators up and down their dicks; pleasing themselves so much in the process that they're soon giving the said toys a good old-fashioned christening inside! That in turn leads to both lads engaging in a rather kinky session of cum-worship – a somewhat unusual start to any porn scene, it must be said.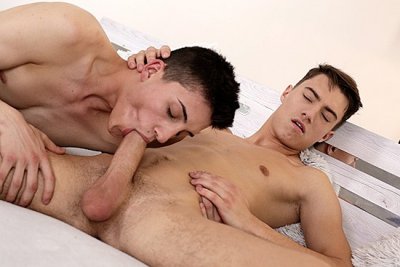 All the same it's not long before each of the guys are ready to perform once again; with Levy taking immediate advantage of the cute little Spaniard's appetite for cock by thrusting his now-throbbing shaft deep inside his buddy's guts. It's a move that might come as something of an unexpected shock to many folk; but to Cole it all seems to be part of the course, as he takes every inch that Levy can muster with breathtaking ease.
What's more, having taken a few moments off just to slurp on his mate's dick, Cole is soon enjoying an even deeper penetration, this time reverse cowboy-style. All nicely topped off by Levy taking the youngster from behind, resulting in him creaming the lad's arse. But without a shadow of a doubt it'll be Cole's glorious climax that will take the accolade here – a superb multi-shot eruption that gets propelled so far that it actually splatters the wall behind the sofa! Magnificent!
Scene 2: Basement Fantasy Leaves New Boy Buggered, Creamed & Happy!
Starring: Johny Cherry, Leo Jenkins
Also available: Facial Buddies 2 (6 scene compilation)
There's a very seductive and dreamy quality to the start of this intensely erotic escapade between Johny Cherry and STAXUS new boy, Leo Jenkins. Candles, coloured lighting, relaxing music – it might almost be nearly enough to induce a soporific stupor, were it not for the fact that you've got two of the hottest young twinks in Prague hanging around with their cocks in their hands! Indeed, these two buddies are soon engaged in what appears to be a face-to-face jerk-off; before the fantasy very quickly transforms itself into a full-on anal romp, with Cherry thrusting his meaty, aching shaft into his buddy's jock-strapped ass!
It's one of the quickest fucks we've ever seen in one of our scenes, that's for sure; but with the fantasy fading almost as quickly as it began, we're soon back to a position where the two lads are kissing and fondling their cocks in foreplay. At which point things take on a much more conventional route; with Jenkins taking the chance to feast on Cherry's handsome ramrod, before plonking himself on the fellow's lap so that he can ride it cowboy-style.
Just seeing the novice riding that gorgeous beaut, as his own cock bounces happily in rhythm, is possibly more than enough to get a good many of you reaching for the tissues; as will the sight, shortly afterwards, of Jenkins laid out on his back, legs akimbo, as his pal pummels his hungry little crack for all it's worth. All of which soon results in both guys taking it in turns to unload their money-shots on each other's lips; before they exchange a sloppy, sensual, open-mouthed kiss to call it a wrap!
Scene 3: Two Cuties Suck & Fuck; Then Hot New Beauty Jerks Out A Load!
Starring: Johnathan Strake, Lukas Drake, Ray Mannix
Also available: Let's Play With Lucas Drake (compilation)
Oh, you lucky guys – it's two horny escapades for the price of one, beginning with a scorching duo between STAXUS favourite, Ray Mannix, and newcomer, Johnathan Strake; followed by a scintillating solo from doe-eyed novice, Lucas Drake. Matters get off to a teasing start with Mannix and Strake as they take time out to play with a pair of "Three + Two" briefs and a packet of Tuc biscuits – a rather unusual mix of foreplay toys, it must be said, and arguably unique to any gay porn we've previously witnessed. But it's not long before the two lads are making eyes at each other and are putting their accessories to one side- - preferring instead to concentrate on each other's young, handsome bodies.
And what a pair of fucking beauties these two lads are! Mannix, as gorgeous as he ever is; and Strake, as fresh-faced and cute-smiled as they come. It's almost enough to have you jizzing in your pants there and then; but there's plenty of cock-worship between these fellows to ensue to warrant restraint. Besides, the eventual sight of Mannix ploughing into his buddy – Strake dribbling with pre-cum as he does so – is the real climax of the action; culminating in the horned-up Mannix creaming his mate's arse and then cleaning it up with a biscuit.
Of course usually that would mark the end of proceedings; but, as we said before, here the action continues with a Drake jerk-off. A studio exclusive, this perfectly formed young angel works his hole with a handsome sex-toy; then ruptures his nads all over his tight, youthful belly, before licking the spunk off his fingers!
Scene 4: Sex Toy Bonanza Leads To A Spit-Roasting, Jizzed-Up Fuck-Fest!
Starring: Chris Jansen, Johnathan Strake, Kris Blent
See also: 3 Is The Fucking Magic Number (Compilation)
Also available: Naked Beauty, Cock Pleasure
Give a dog a bone and he'll chew it. Give an ever-horny guy like Kris Blent a sex-toy and (likewise) he'll sure as fuck play with it – especially when he's very quickly joined by a couple of equally horned-up suck-and-fuck-buddies like Chris Jansen and newbie, Johnathan Strake! Geez, these three lads are liked a bunch of kids on Christmas morning, as they put their Masturbators to prime use; even thrusting the slimmer end up Jansen's arse-hole, much to the Danish boy's most obvious pleasure.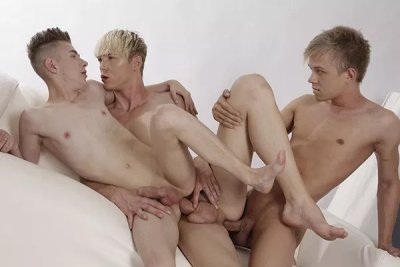 But concerns only intensify further once the toys are put to one side and it's Blent's handsome dick that becomes the focal point of all the attention; with Jansen and Strake quite literally fighting to feast on the Dutch guy's ramrod, slow-motion shots underscoring the sexual tension. Minutes on and all three cocks are on show, with a not-unexpected display of fellatio from the trio setting up the scene nicely for when Strake becomes the centrepiece of proceedings. Indeed, Blent clearly can't wait to give the newbie's crack a real good rimming, in anticipation of Jansen sealing the deal by thrusting every inch of that handsome shaft of his deep in the Czech lad's guts.
Not that a fellow of Blent's reputation ain't gonna want him share of the action, of course; and it's not long before Strake is riding raw Dutch salami cowboy-style. But the zenith of the action comes when all three guys engage in a fuck-sandwich – Blent and Jansen taking it in turns to be the central carriage in the train – which quickly results in some very sticky facials and a gooey threeway kiss to call it a wrap!