Summary:
Having a houseboy is a necessary decadence for the likes of Zack Hood and Taylor Fotre, whose busy life-schedules don't allow time for mundane chores. Unfortunately, the boys the agency sends - the likes of Tony Conrad and Will Simon – are way too interested in fucking around than actually doing any work. Just as well, then, that these Daddies have exactly the right task in mind to keep them on their toes – namely, a hot, raw fuck courtesy of their big, hard cocks! Those spunked-out boy-holes are never, ever gonna be the same again!
Description / Review:
Scene 1: Pup-Boy Mannix Gets His Arse-Hole Rimmed, Fucked & Creamed!
Cast: Nick Gill, Ray Mannix
When you've got a horny little pup like Ray Mannix as your cleaning-boy, you're pretty much guaranteed some extra perks – after all, everyone who's ever seen this young fellow perform knows that he's a total slut for hard cock. It's what Nick Gill seems to be hoping for, that's for sure – and what's more, he's not gonna be disappointed! Nor are we, for that matter, as Mannix very quickly abandons his marigolds in order to give his undivided attention to the older fellow's torso. Seconds on and the youngster is worshipping those pecs like a backstreet tart – a move that clearly excites his boss, who promptly responds by stripping his cleaner of his shirt and trousers.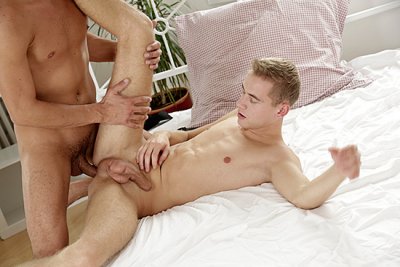 Nevertheless, it's Mannix who's the leading charge in this frame, as you'd probably expect; and it comes as no surprise to see the lad diving down on Gill's handsome ramrod, deep-throating him in the process. Indeed, there's absolutely no prizes for working out which one of these two fellows is going to be offering up their ass for the occasion – we are talking about Mannix the living, breathing cock-whore, after all!
Before you know it, the horny little minx is laid out on the bed with his butt-hole crying out for attention – something Gill is only too willing to give, initially in the form of a rubber dog-tail, which he sticks into the boy's pucker. Now he's a pup in every fuckin' sense; and it's little wonder that the older lad just can't wait to replace the toy with his now clearly aching cock! Cue an absolutely fantastic fuck session, that culminates in Mannix getting an ass-load of hot creamy jizz!
Scene 2: Twink's Sex-Toy Antics Result In Him Being Fucked Like A Toy!
Cast: Tony Conrad, Zack Hood
Also available: Facial Buddies 2 (6 scene compilation)
It's always nice to get someone else to tidy up your mess, but when employing a cleaner the issue of trust is never too far away. After all, how on earth are you ever going to know what they get up to once your back is turned? Will they really be cleaning? Or will they be rifling through your belongings at the very first opportunity? It's a problem that muscleman, Zack Hood, has to contend with big-time when he gets young Tony Conrad to do some vacuuming in his office.
Returning back unexpectedly, he discovers that the horny little twink has been secretly perusing his collection of sex-toys – at which point the hunk quite understandably loses his temper and promptly engages in a heated programme of retribution! The first part of which involves him thrusting his cock into the lad's mouth! To be fair it's a move that Conrad seems to enjoy enormously; and before you know it Hood is rigorously returning the compliment.
All the same, you don't need to be a clairvoyant to realise where this scene is headed and whose arsehole is going to be seeing all the action; and indeed it's not too long before Hood has bundled his cute fuck-buddy over a table and is energetically fingering the pup's horny little hole. A few moments more and Conrad is being quite literally fucked like a toy – which, given the boy's response, is something that he quietly enjoys. All of which eventually culminates in the fellow creaming himself like a geyser; before Hood signs off by shooting jizz all over Conrad's face, which in fairness is no less than the pretty young scoundrel deserves!
Scene 3: Blond Cleaning Boy Pays For His Errors With His Sweet Little Ass!
Cast: Lucas Mann, Zack Hood
Lucas Mann has made a big mistake. He's arrived at Zack Hood's apartment to do the cleaning, armed with only a mop and bucket – and believe us when we tell you that Mr. Muscle isn't at all happy! Not only that, however, but the cleaning agency has also sent him to Hood's address at the wrong time! It goes without saying that Hood's very quickly on the warpath; and it's not many minutes before young Mann begins to realise the price he's gonna have to pay to calm his horny client's fury.
Fortunately, the lad is clearly not averse to a little sexual play with an older guy; which is perhaps just as well given that he's soon expected to be giving the chiselled gym-king's cock a hard oral workout! A task that he undertakes with evident relish, perhaps hoping that he can satisfy Hood with a blowjob alone. What everyone else realises, however, is that a guy like Hood is never gonna be happy with a quick suck. Indeed, it's clear from the off that he's more than just a little smitten with Mann's boyish, blond looks; and having given the lad a quick slurp in return, he's very quickly bundling his guest over onto all fours so that he can finger his tight little arse.
That, of course, is just a foretaste of what's in store for Mann, who's then promptly sodomised by the stud without so much as a please or thank you! To be fair, we never find out whether this boy is any good at cleaning. What is revealed, however, is what a fucking cock-fiend he is – a lad who takes dick in a variety of positions before allowing Hood to cream over his lips! Man-on-boy action has rarely been hotter!
Scene 4: Accidental Discovery Gives Cute Twink A Daddy's Hard Fucking!
Cast: Taylor Fotre, Will Simon
Also available: Bareback Bukkake Frenzy 4 (Compilation)
Young, bespectacled Will Simon is in for a bit of a surprise whilst dusting Taylor Forte's bedroom – and discovering a gay porn mag under the bed is only part of it! After all, he surely wasn't expecting the horny stud to return home early and find him reading the said literature! Nor, for that matter, would he anticipate the reaction that the homeowner gives in the wake of such a discovery; for the very initial show of annoyance is quickly overtaken by Fotre's decision to make the most of the situation and to give doe-faced Simon the hard, uncompromising fucking that the nosey little oink surely deserves!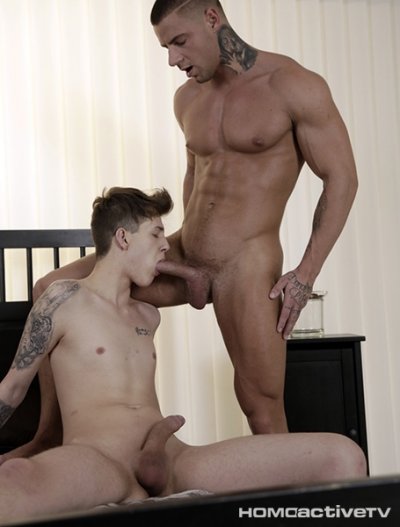 Looking to ease the lad to that ultimate goal, however, the handsome, tattooed hunk starts off by releasing the meaty ramrod that he's got tucked inside his own jeans – a move that quickly gets Simon into quite a lather, as he latches onto the hose with his mouth and proceeds to slurp on it like a good little pup should. Only then does Fotre follow on by stripping the youngster of his clothes and making a direct beeline for his hot little butt-hole, which he promptly fingers and rims – smacking Simon's pert rump in the process!
Of course, Fotre's only intention by this point is to get his dick firmly embedded into the lad's ass as quickly as possible – an objective that he achieves with the kind of breathtaking ease that you'd only expect from a total slut! Needless to report, Simon proves all his credentials in that respect – riding his daddy's dick in a host of positions like a pure pro, before unburdening his wad mid-fuck. All nicely topped off by Fotre jizzing over his cute little face!