Summary:


Count Twinkula is on the prowl for hard teen cock and hot twink loads. The police are hot on his heels... how many loads will he drain before he is staked?
Description / Review:
Scene 1: Smooth twink gets two facefulls of hot spunk

Cast: Brad Fitt, Marco Will & Zac Todd
See also: 3 Is The Fucking Magic Number (Compilation)
Three young men head off down a dusty road in search of adventure – but believe us, that's pretty much where this horny little episode and Chaucer's Pardoner's Tale part company. For this trio of beauties are far too turned on to be bothered by any metaphysical nonsense; all they're interested in are each other's pert, young bodies, which they proceed to examine in close-up detail when they stumble upon an old house together. Indeed, before you know it young, hairless blond, Brad Fitt, is stripped off and ready for action, which Marco Will and Zac Todd (both are whom are equally as smooth) are all too clearly only eager and willing to provide!
The result is one of the hottest trios you're ever likely to see, with barely a follicle in sight as Fitt rides both his friends' raw cocks cowboy-style before being royally spit-roasted like a common whore.
It's a totally fantastic display – and one you've just got to see! – but the highlight surely only arrives when Will and Todd finally take turns to blast Fitt's cute little face with the contents of their balls. Believe us, if the sight of Fitt with spunk dripping off his chin doesn't do it for you then we doubt anything will!
Scene 2: Twink gets big dick hard up his Ass
Cast: Kevin Atoah, Tristan Balboa
Also available: Facial Buddies 2 (6 scene compilation)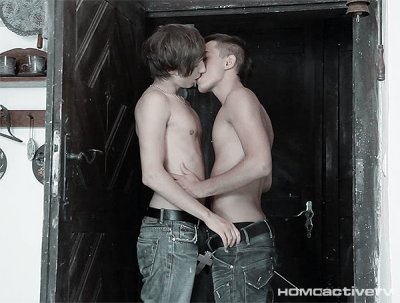 At first glance you could be forgiven to overlooking these two young guys, but there's something curiously appealing about both Tristan Balboa (with his trendy-styled hair) and his Roman-nosed pal, Kevin Atoah. Maybe it's the fact that they're appearing in a film about the supernatural that adds a certain dimension to their appeal; or maybe it's simply the donkey-sized dicks that they pull out of their jeans when they stop off in the woods for a piss. Either way, we've a strong suspicion that by the time these lads have pulled up for a hot, steamy session together in the local hostelry you're gonna be completely smitten. Director John Smith's clever use of lighting only adds to the overall atmosphere, of course, but there's no denying Balboa's pleasure as Atoah first finger-fucks his pal, then gives him the kind of no-holds-barred, condom-free fucking that the boy's tight little ass probably deserves. An excitement that all finally comes to a head when the horny bottom dumps his load mid-fuck, before taking Atoah's pent-up wad in turn all over his face. Seconds on and the poor youngster serves as a vampire's teatime treat – but fuck, what a way to go!
Scene 3: Cute smooth blond can't wait to ride Rudy Valentino's hard cock
Cast: Rudy Valentino, Timmy Taylor, Will Jones
It's tough being a crime scene investigator, but (as they always say) someone's gotta do it! Besides, Rudy Valentino's job comes with certain perks – not least of all the fact that he gets to sleep with Will Jones, a horny, cock-lusty fiend, who just can't wait to get inside Valentino's snug-fitting pants at the very earliest opportunity. Mind, who can blame the boy?
Anyone who knows young Rudy knows what kind of package he's got stuffed in those briefs, and it's with a decided drool that Jones leans down to suck the monster into life. An act of adoration that's quickly reciprocated as the two lads enjoy a hardcore session of 69-ing that'll have you quickly reaching into your own pants. Don't fire your gun too quickly though – the exquisite act of raw penetration that follows is a truly unforgettable exploration of man-to-man cock-combat, with Jones riding Valentino's shaft like a veritable pro, not to mention a total whore!
It's the sight of the young investigator's ass bouncing up and down as he ploughs Jones's hole (and as Timmy Taylor watches) that will really help you blow, however – not to mention seeing Valentino then cumming in his lover's ass. Sheer bliss!
Scene 4: Cop Watches On As Hot Twink Gets A Cum-&-Piss Vampire Ride!
Cast: Rudy Valentino, Timmy Taylor, Roger Lee
Also available: Bareback Butt Stretchers (2 DVD set)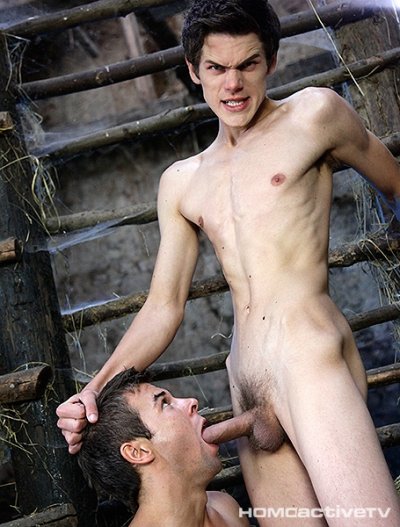 Even a vampire has his sexual lusts – as young Roger Lee discovers when he encounters Timmy Taylor in full spate at a local stable-yard. It's a rendezvous that's fully observed by CSI Rudy Valentino, now hot on Taylor's tale; but it's pretty obvious from the word off that there's absolutely nothing that the officer can do to spare Lee from the good old fashioned, unbridled fucking that he's going to get at the hands (or should that be the cock?) of the irrepressible Taylor. Indeed, Lee is very much the subordinate factor in this escapade, with Taylor making all the moves as he slurps on dick and then fingers young Lee's ass in anticipation of the hard fuck to come. And believe us, there's nothing shy or restrained about this act of fornication, with Lee bundled over a wooden crate and forced to take every hard raw inch that his assailant can deliver – leaving the somewhat dazed bottom to groan and gasp in appreciation, whilst his cock swings helplessly between his legs with every stroke. Lee's incomprehension only continues when Taylor follows up his cum-shot with a remarkably generous stream of hot piss, leaving Lee (now thoroughly soaked) looking like a used rag!
Scene 5: A masterful multi-shot climax
Cast: Rudy Valentino, Timmy Taylor
Also available: Big Boyz, Happy Arses (Compilation)
He might be sexy and incredibly horny, but Rudy Valentino knows that the only way he can rid his community of the vampire menace is to put a stake through Timmy Taylor's heart – not the easiest of tasks, as you can probably imagine, but one which the investigator feels that he can achieve with the help of his sexual charms (of which he has plenty).
The result is a stunning set-piece scene that'll have you jerking along nicely in no time at all, as both boys take it in turns to slurp on each other's hard, uncut cocks; before Taylor gets the rare opportunity to give Valentino's tight, arguably underworked ass-hole a real good stretching. Never one to want to miss out, however, Taylor soon switches roles so as he can take a long, hard ride on the officer's dick – and who the fuck can blame him? Valentino's cock is, after all, a thing of real beauty, and it's no great wonder that the young vampire is soon reaching the point of no return and delivering a masterful multi-shot climax for the camera.
Realising the fellow's vulnerability, Valentino takes advantage to enact his plans; but it's the generous spray of jizz (rather than blood) that makes this scene one to remember!