Summary:
Superb high quality production with extreme hardcore, fisting and DP! It always feels good to give your mates a hand – and this collection of horny fuckers decide to take that motif to its literal conclusion, providing a stream of hungry ass-holes a red raw fisting for your perverse entertainment. Clearly dick isn't good enough for these lads. They need their rears filled with clenched fist and will do anything to achieve that goal. Orlando White, Benjamin Dunn and a whole host of their best-stretched buddies get pushed to the limits. What's more, they love every pucker-pummelling, spunk-gushing moment!
Scene 1: Blond Beauty Gets His Ass Pummelled By His Fuck-Buddy, Then Hammered By A Monster Dildo!

Starring: Chase Anderson and Sven Laarson
Chase Anderson and Sven Laarson love to take time off to relax together, but being the gorgeous, ever-horny twinks that they are they're never content just to sit back and watch TV. Of course, the very fact that they chill on the sofa sporting nothing more than a pair of flimsy briefs pretty much tells you straightaway what they like to do to pass the time; and suffice it to say that it's less than a minute before Laarson is using his foot to uncover the handsome bulge that's already straining in his buddy's pants.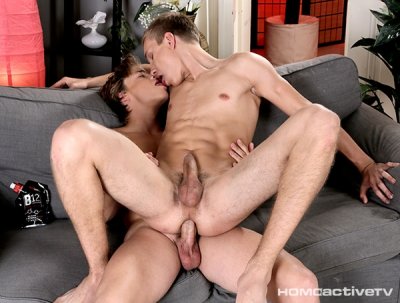 Not that he's using his feet for very long! Instead, it's his mouth that very quickly takes charge of the situation, as he proceeds to slurp up and down the full length of Anderson's meaty, uncut pole; before the two fellows position themselves 69-style and give head simultaneously. The sight of these two blond beauties pleasuring each other on the sofa will surely be enough to send most of us to the very brink of ecstasy – as will seeing Laarson neatly position himself over his pal's face so that Anderson can suck on his balls and rim his ass!
But just remember that these two lads have barely got started at this point, and even when you've had the enjoyment of watching Laarson ride Anderson's handsome dick cowboy-style, there's still the prospect of savouring the fellow's subsequent performance with the aid of an eye-wateringly big dildo. No question about it, the young lad is quite literally like a bitch on heat – a point that's only underlined when he follows Anderson's climax with a top-notch eruption all over his buddy's face!
Scene 2: Flip-Flop Bareback Fuckers Enjoy Rimming & Fisting Before Dumping Their Loads!

Starring: Peter Nover and Will Sims
One might almost be forgiven for thinking that new boy, Peter Nover, was a total innocent, but (let's be perfectly honest now) those kinky black pants that he and Will Sims are wearing at the start of this delightfully spunktastic episode suggest that he's anything but. Indeed, what doubts we have about this fellow's history are quickly dispelled when he's presented with Sims's dick, which he immediately gets to work on with those lusciously thick lips of his.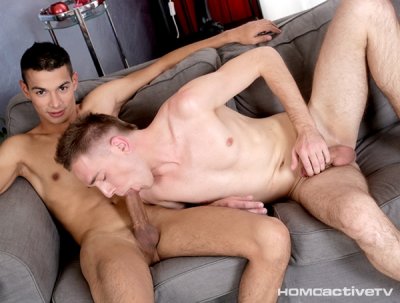 No question about it, this lad's nowhere near as prim and proper as he'd like you to think – something that will come as a great relief to all you dirty-minded fuckers out there! Besides, what vestige of innocence that's still left in the lad is never destined to survive an encounter with a character such as Sims, who's rarely if ever reticent when it comes to making his mark on a newbie. As such, it's no time at all before Sims is fervently rimming Nover's hungry little pucker, lapping at the hole in preparation for the hardcore, rubber-free fucking to come.
What's more, Nover's soon taking every inch of his new buddy's ramrod like a pro, settling in a series of positions to enjoy every last second of pleasure that Sims can provide. As if not to be outdone, however, it's not long before the roles have been reversed, with Nover taking the opportunity to first fist and then screw Sims's ass for all that it's worth. It's a kinky turnaround that's sure to get you worked up almost as much as the two guys themselves, who both proceed to knock out generous wads of jizz in the process to mark a very satisfied wrap!
Scene 3: Dark-Haired, Fresh-Faced Beauty Gets Rimmed, Fucked & Fisted By Orlando White!
Starring: Orlando White and Matt Johnson
Is there anything hotter than watching a gorgeous guy at work? Certainly Matt Johnson doesn't seem to think so, as he sits gazing out at Orlando White labouring in the garden and looking every inch as fucking gorgeous as ever. Not that Johnson is in any way inferior in the looks department; and by the time the two beauties have been brought together there's every good chance that you'll have fallen head over heels in lust with the pair of them!
A predicament that's likely only to get even more intense as the two boy-babes tear off their clothes and begin to engage in just the kind of ball-churning debauchery that your mother used to warn you about! Believe us, these two dudes really are on heat for this scene – Johnson in particular, as he first eagerly slurps on White's over-experienced fuck-handle, and then races to get his ass seated nicely on his buddy's lap. This may or may not be the fellow's first man-to-man fuck, but if it is then he's a born natural, riding his butt up and down White's cock like an old-time pro.
It's a sight that's gonna get you dirty fuckers in quite a lather for sure; but matters only get even more intense when White replaces his dick with his hand, fisting the young rascal for all that he's worth. To his credit, Johnson takes all five digits with relative ease – by which point there's every chance that you'll have creamed big style. If not, then the concluding spooge-off will almost certainly do the trick – White's blast into Johnson's mouth a veritable highlight!
Scene 4: Oscar Roberts Gets Double-Fucked & Fisted Before His Mates Whitewash His Ass-Hole!

Starring: Benjamin Dunn, Oscar Roberts and Adrian Smallwood
Also available: Double Dick 2 (Compilation gay DVD)
Benjamin Dunn, Oscar Roberts and Adrian Smallwood can't think of any greater fun than shaking their booties to some crazy dance music – well, apart from fucking each other senseless, that is! Which no doubt explains the progression of events in this stupendous scene, as the three would-be disco-divas abandon their footloose antics in favour of some good old-fashioned, primeval cock-worship. And with three dicks like this on display there's plenty of rampant male flesh for everyone to enjoy!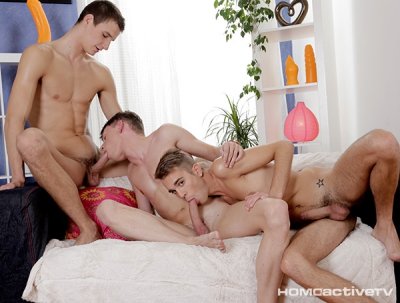 For some young lads, however, sucking dick is never quite gonna be enough; and whilst Dunn and Smallwood consume every knob on offer with their ever-greedy mouths, it's no time at all before Roberts is parting his ass-cheeks and inviting his mates to give his hungry little pucker the banging of a lifetime. An invitation that his compatriots are not in the nature of turning down! What's more, young Roberts is evidentally in the mood for something a little more intense than just a simple fuck from his mates. He wants both lads at the same time, and it's not long before the two tops are helping make all his wishes come true.
Still not content, the fellow then receives a stupendous fisting that stretches his ass-hole even further – if indeed that's possible! By the time that Dunn and Smallwood spew their balls all over the guy's over-worked rump there's every chance that this boy's antics will have left you totally exhausted and completely drained! In short, satisfaction guaranteed!