Summary:
It wasn't so long ago that this group of lads used to spend every minute of their free time playing with their toys. And whilst some things haven't changed with the passage of time, the play-things that engage their attention these days are most definitely very different! Bikes, skateboards and footballs are all out; butt-plugs, dildos and anal-beads are all in. Kamyk Walker, John Parker and Justin Conway prove that the only thing that separates the men from the boys is the size (and decidedly carnal nature) of their butt-stretching toys!
Scene 1: Cute Blond Gets Worked On By His Mate's Sex-Toys & Oversized Raw Dick!
Cast: Ivan Thundero, Kamyk Walker
Also available: Mega Cocked, Mega Loaded 3 (Compilation)
To take a casual glance at Ivan Thundero you'd be forgiven for thinking that he was just your everyday, floppy-haired, slightly rebellious youngster. But delve into the confines of his closet and you'll discover a side to him that he doesn't usually divulge, save to his very closest friends.
Fortunately for us, young cutie, Kamyk Walker, appears more than capable of getting the fellow to show us his more secretive side, as Thundero reaches for one of the biggest boxes of sex-toys you're ever likely to see from a lad his age. Not that the guy has any intention of using the equipment on his own ass-hole. Instead, the introduction of a whole raft of dildos is very firmly directed in Walker's direction – and, let's be perfectly honest here, it's a move that meets with undeniable eagerness.
Indeed, Walker's soon taking toy after toy like a veritable pro; though the lad's ultimate ambition centres clearly on Thundero's oversized dick, and no fuckin' wonder! Who wouldn't want to be riding that beauty for all it's worth? That said, it takes a boy of Walker's calibre to give the beast the attention it deserves; first deep-throating it like a whore and then riding it like a total cock-slut! By the time it's firing cannon-like into Walker's open mouth you'll be totally blown away by the performance of both lads – so be warned, it's a definite Kleenex moment!
Scene 2: Butt-Stretching Toys & Then A Big Hard Raw Cock For This Horny Young Twink!
Cast: Cody Reed, Ethan White
Also available: Brexit Fuckers (2 DVD Compilation)
Cody Reed is a boy with an insatiable urge for something big and hard in his ass – which perhaps goes some way to explaining how he's accumulated such a fantastic array of butt-toys in his short life! But whilst an oversized dildo or a collection of anal-beads can bring temporary relief to a fellow of his particular inclination, nothing compares to the feel of a real cock – especially when it's equally generous in size and belongs to a fellow with a similarly over-stimulated libido.
Fortunately for Reed, the arrival of his mate, Ethan White, means that he has the best of both worlds here; and it's not long before White is working the lad's hole for all it's worth with the collection of toys, in anticipation of the red-raw fucking that's sure to follow. What's more, Reed – his wrists bound together in handcuffs – clearly loves every moment of hardcore attention; and by the time a real dick finally gets pushed through his sphincter he's already worked up to the max and ready for whatever his mate wants to throw his way.
Which is pretty much just as well given that White's not adverse to face-fucking the lad midway through their engagement. It's the feel of hardness in his rump that finally gets this boy off, however – White literally banging the ball-shot out of him, before spraying a generous wad of his own all over Reed's expectant face!
Scene 3: Hot, Excited Twink Deep-Throats His Fuck Buddy, Then Takes A Giant Dildo Up His Ass!
Cast: Alexander Syden, Blake Hanson
Also available: Donkey Dicks 6 (Compilation Gay DVD)
Some boys are more easily pleased than others, but all that it takes to put a smile on Alexander Syden's face is the gift of a new dildo – on this occasion presented to him by blond haired, tattooed fuck-buddy, Blake Hanson. Indeed, there's no disguising the delight with which Syden is consumed upon receiving the present, as he quite literally jumps onto Hanson's lap and then wraps his legs around the fellow like a bitch in season – which, to all intents and purposes, is exactly what the young lad is!
Mind, it's pretty obvious as to why that's the case once Hanson's dick has been given an airing. After all, who wouldn't want to give that handsome appendage the ride that it surely deserves? Certainly not Syden, that's for fuckin' sure; and after almost sucking the living daylights out of it for starters, the horny twink forces himself down on the weapon in a clear attempt to enjoy every inch that it offers.
Anyone anticipating a straightforward fuck, however, would do well to remember the opening moments of the scene and Hanson's gift; for having worked Syden's ass up with his dick, the top now proceeds to stretch it further using the said dildo, whilst blindfolding Syden for an added touch of kink. Given the resultant excitement it's little wonder that the bottom is soon spewing like a trooper when Hanson fucks him a second time!
Scene 4: Young Kurt Maddox Gets Two Cocks For The Price Of One – Raw In His Ass At The Same Time!
Cast: Justin Conway, Kurt Maddox and John Parker
Also available: Double Dick 2 (Compilation gay DVD)
All young Kurt Maddox wanted was a quiet rest, but were STAXUS favourites John Parker and Justin Conway about to grant his wish? Not friggin' likely. As is always the case with these two lads, they're as horny as fuck and don't so much as think twice when they find Maddox asleep on his bed. Before the youngster really knows what's happening he's got two hard dicks trying to thrust their way down his throat – a turn of events that doesn't actually seem to bother the lad too much.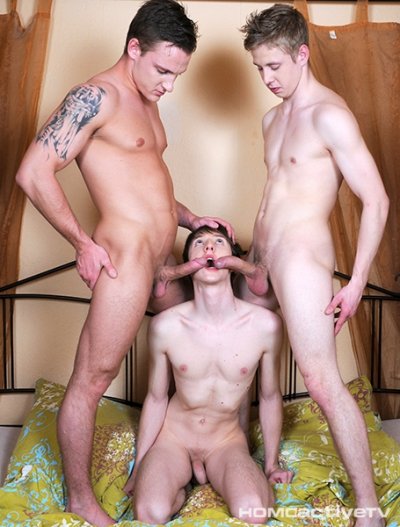 Indeed, soon all three boys are taking it in turn to feast on each other's cocks; and it's perhaps little surprise that it's not too long before Maddox is being crudely spit-roasted for our entertainment. If the sight of hunky Parker pounding away at the boy's ass whilst blond-lad Conway ploughs the fellow's mouth doesn't do it for you then maybe you need to reconsider your appetite for porn; but as if to give viewers a chance of re-evaluation it's not long before the two tops have exchanged places and it's Conway who's feeling Maddox's ass around his cock.
Matters reach a whole new level when both tops decide to fuck their pal simultaneously, signalling the start of a superb double-penetration escapade that'll have you jerking off like crazy. By the time the two studs have spewed all over Maddox's face and chest, chances are you'll be totally drained!