Summary:
Huge dicks being pounded inside hot and smooth young twink ass, stretching them further than they have ever been. Stunningly sexy boys get rock hard and horny as they moisten their massive cocks ready for a fuck session to end all others.
Description / Review:

Scene 1: Andrew Shut & George Plozen

Also available: Anal Breeders (2 DVD set)
Also available: Bareback Butt Stretchers (2 DVD set)
Slim, blonde Andre finds the perfect employer on his travels, one with a huge dick ready and waiting for service. Cute Andre has a delicious body, tanned and completely smooth; it's not hard to see why George takes his opportunity to get some action when he discovers his new work boy playing with his ass. Andre is rock solid at the thought of George's dick pressing against his bare hole and his sweet moans of sexual energy get us even harder than before.
George is a rampant fucker, once his long dick slides deep into his twink worker, he's grinding it all the way inside, pulling back and pushing forward, filling his butt full of raw hard cock. Bouncing on top, Andre soon shoots and George quickly follows, covering his sweet face in spunk as he sucks the rest from his aching dick, licking it clean.
Scene Two: Cock-Hungry Twink Just Can't Get Enough Big Meat!
Also available: Bareback Big Meat (2 DVD Compilation)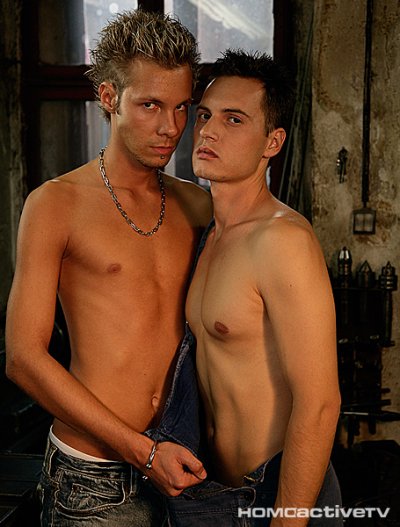 Huge dicked Billy Jay returns for more barebacking fun. Sexy blonde haired Chris gets trained up by Billy, and gets an offer for a more sexual training and quickly shows that there's no need for any!! Chris sucks on Billy's dick, making it fully hard, and fully massive, tickling his cock-end with his pierced tongue, Billy soon shoots all over his apprentice's face, lapping up the hot spunk. Chris isn't finished, and is more rampant than ever; getting his fellow colleague in the next room just as horny as he is. Sucking on Mark's thick dick, Chris must have a mouth like a vacuum cleaner as he gets both guys shooting their loads on his sexy face. Meeting Billy once again in the showers, this rampant bottom boy wants cock feed into his ass this time, and has Billy's dick in mind to split his hole and pound away. Sliding it deep inside him, his hole is stretched apart and he loves it!! Pushing against it, he can feel the whole length from tip to hilt being rammed into him.


Scene 3: A Real Oral Workout
Cast: Jay Renfro, Michal Dean, Brian Brooks
Also available: Big Cocks, Tight Asses (Compilation)
Also available: Bareback Big Meat (2 DVD Compilation)

Defined young blonde, Michal Dean arrives at the bar and has one to many beers and falls asleep, letting the staff get horny with each other. Ripping his uniform off, Brian gets hot for recently blonde Jose. Just as they start enjoying the taste of each other, Michal wakes up and is quickly brought into the fold, giving both dicks a real oral workout. Taking cock from both ends, Jose pushes his dick into his smooth ass as he gets face fucked by dark haired cutie Brian. Michal's butt is being seriously spread, yelling out in pleasurable pain as he has thick meat rammed into him bareback!!
Scene 4: Sauna sex!!
Also available: Anal Breeders (2 DVD set)
Dark haired hottie John is joined in the sauna by stallion Adam, both getting hot, and not just from the steam!! Both toned young bodies get pressed against each other as they devour cock and taste every inch of pulsating dick. Both twinks have amazingly sexy buttholes and watching them get eaten out is awesome, John gives an expert rimming to his mate, his hole twitching in anticipation.
Versatile fucking, both guys want to take as much dick as possible and they love every moment. Fucking like rabbits, John's hips move faster than ever, filling Adam with his bare dick as he shoots all over his gaping hole, seeing it drip inside as he then pushes his still hard dick, fucking him with his spunk.