Summary:
WARNING: The cock of the guy on the cover has not been edited in Photoshop! Almost 3 hours of massive dicks in hot bareback action....
"Humongous: Adj., = Extremely Large. With some of the biggest cocks ever brought together in one place, this is one mega-proportioned movie that you won't wanna miss, featuring an array of horse-hung talent that could quite seriously have your eyes out! If you like seeing hungry holes being stretched to the max and greedy mouths being stuffed to breaking point, then even if you're down to your last cent, this movie is one you should buy without hesitation!
Description / Review:

Scene 1: Moreton's Monstrous Buttpicker Ploughs Into Twink's Pert Arse!
Cast: Caleb Moreton and Nick Cox
Also available: Horse-Hung and Horny 2 (Compilation)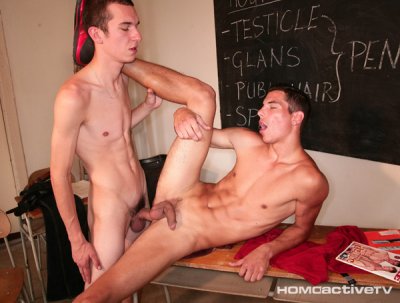 Cover-boy and leading man, Caleb Moreton, can't help but think with his cock. So it's perhaps no surprise that he whips the thick monster out of his trousers when he discovers a wank-mag whilst studying at school. Something tells you, however, that this scene was never meant to be a solo – and so it proves, when the divinely gorgeous Nick Cox enters the room and interrupts Moreton stroking his shaft up and down. It's at this point that any doubt as to Moreton's dimensions are very quickly dispelled, as Cox struggles to get that beefy rod between his lips to give it the sucking it warrants and deserves. Not that Cox is in any way lacking in the size department, as both boys enjoy a brief session of 69-ing; before Cox finally musters the balls (quite literally) to mount Moreton's monstrous buttpicker and give it the kind of riding it so badly deserves. Top marks for the horny bastard for taking every inch of hard flesh up his rump; but it isn't long before both lads are fit to burst a nut, which they each do with distinct aplomb. Mind, with balls like those hanging from their crotch it's little wonder that the results are very, very sticky indeed, with Cox's arse and Moreton's mouth equally drenched with the fruits of their very manly loins.
Scene 2: A Distinctly Tight Fuck
Cast: Carl Baxter and Sam Brooks
Also available: Big Is Beautiful (2 DVD Compilation)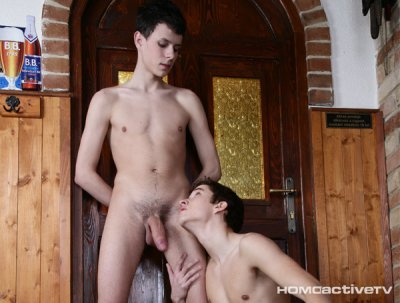 With a lean, toned body and an oversized cock between his legs, it's little wonder that young Sam Brooks can't resist the indisputable charms of Carl Baxter when the two horny pups happen to meet in a local bar. Indeed, there's no doubting the fact that the fellow's ass is literally crying out for attention given the way he quickly begins to finger himself whilst Baxter slurps on his cock. The hot young beauty is gagging for the feel of hard dick inside him – as those who've seen him in previous titles will undoubtedly recognise – and it's not until he can feel Baxter's big, swollen orbs bouncing off his arse from behind that his face finally blossoms into a smile. That said, the size of Baxter's monster means that it's a distinctly tight fuck, and, having taken another greedy suck on the beast so as to lube the meaty ramrod, lies down on a bar-stool so that Baxter can screw him from the front. Unsurprisingly, it's not long before Baxter's cock reaches boiling point – a cue for Brooks to get down onto his knees to take the full force of the blast over his face. The way he slurps on the ensuing flood of fresh jizz – together with Baxter's reciprocal reception moments later – will have you bursting with equal enthusiasm we're quite sure.
Scene 3: Robin Snoyer and his 'uncle' Luis Bigdog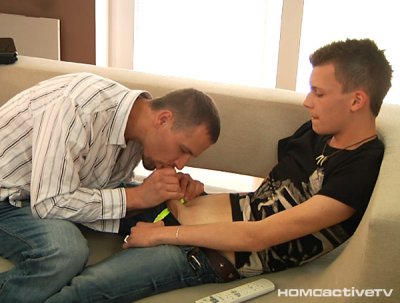 You know what teenage lads are like. When they're not playing on their game consoles, they're sneaking out their secret stash of porn and having a good old-fashioned wank. Which is exactly what young Robin Snoyer does when he finds himself home-alone with only his thick, meaty, uncut (and nicely shaved) cock for company. That's not a situation that lasts for very long, however, with the sudden, unexpected entrance of "Uncle" Luis Bigdog, who immediately wants to know what Robin is up to – as if it wasn't blatantly obvious! Moments later, and Bigdog is discovering that Snoyer's taste for cock isn't just limited to watching illicit material on the telly, as the youngster promptly begins to blow on the visitor's own handsome shaft and ball-sac like a veritable professional; before the two guys fall into 69-position and take time to feast on each other's over-sized knob-ends. By this point, however, it's pretty obvious that Bigdog's interest centres very much on Snoyer's hungry little pucker, and it's with indisguisable relish that he encourages the youngster to ride his cock – first on top, then from the front, then again from above. Little wonder he squirts like a tap; whilst Bigdog underlines his dominance by spunking over Snoyer's face!
Scene 4: Beefy Uncut Cocks

Cast: Jack Blue and Jon Bruno
Also available: Well Stretched Holes (Compilation gay DVD)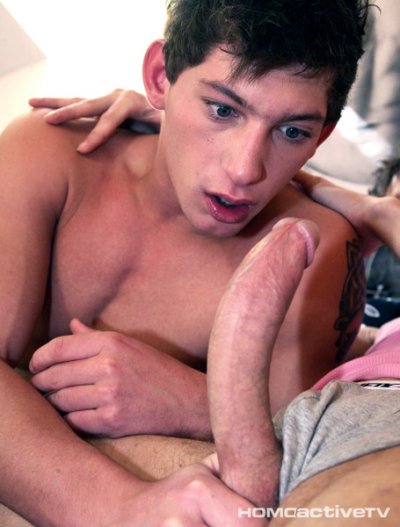 If you like beefy, uncut dicks with a decidedly upward curve to their girth then you're gonna fall head-over-heels in lust with the beauty that young Jon Bruno has stuffed between his thighs, of that we can categorically assure you. What's more, you won't be alone in your admiration, as we discover when Jack Blue steps out of the shower to witness his mate with a glorious show of morning wood – the sort, quite simply, that just can't be ignored! As such it's absolutely no surprise at all that Blue should immediately fall down onto the bed to give the one-eyed monster some tight oral attention. A move that quickly brings Bruno to consciousness – resulting in eager reciprocation upon Blue's own asset, including some magnificent deep-throat action worthy of an award. Indeed, it's not long before Bruno is forcing the said shaft up his hungry little pucker, riding Blue's rod for all he's worth and quite literally getting the spunk fucked out of his nut-sac as a result. The sight of Bruno's curved "little" beast spitting its venom in all directions will have you reaching for the Kleenex for sure; but Blue's own subsequent climax, over his pal's chin, is equally pleasurable, and the relief that only freshly-emptied balls can give is palpable from both lads.
Scene 5: Ricky Finist and Ashton Gates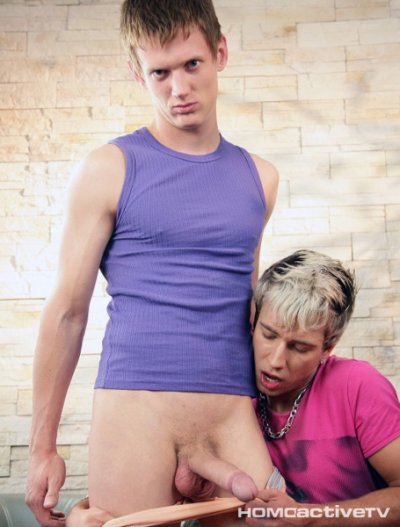 Is it unethical for a photographer to take advantage of his subject? Well, the jury's out on that question, but whatever the final decision it sure as fuck makes for hot gay action - as blond wonder-boy, Ashton Gates, proves when he seduces Ricky Finist from behind his camera. Mind, it's no wonder that Gates wants to get inside Finist's pants. The lad might not be the most divine creature you've ever seen - though that's not to say you'd kick him out of bed! - but he has the sort of meaty, uncut shaft between his legs that'll really grab your attention big time. It's a grade one piece of equipment in every respect, and Gates is soon down on his knees and gorging on every inch like his photography contract depended on it! Minutes later and Gates is bending over and taking every one of those inches deep inside his butt - which just about underlines the carnal desperation that this lad must've felt on the day of filming. He certainly seems to relish the feel of all that hard dick up his ass, that's for sure; though his ultimate look of satisfaction comes when Finist pulls out to splatter his face with a rich wad of ball-juice. We're left to wonder whether Gates ever secured the photo he was looking for - but he sure as hell gets all the jizz he wanted!
Scene 6: The Love Of Monster Dick Gets This Horny Twink Well Stuffed!

Cast: Lukas Leung, Caleb Moreton
Also available: Big Cocks, Tight Asses (Compilation)
Also available: Horse-Hung and Horny 1 (Compilation)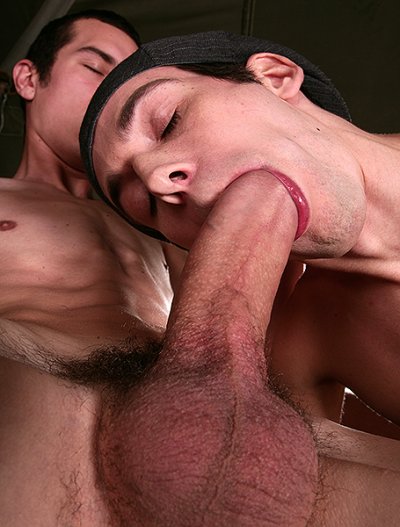 There's three things for which young Czech lads are well known for: drinking beer, having big cocks and fucking each other raw whenever they get the chance! And it's a notoriety that director, Vlado Iresch, makes the most of when he introduces Lukas Leung and Caleb Moreton in a beer-tent, where (to be honest) the love of alcohol is quickly eclipsed by the love of hard dick! Not that you'd really expect anything less from these two boys, who are soon sucking away on each other's knob-ends like it's gonna be made illegal, before Leung finally parts his legs to take full advantage of Moreton's over-sized member. Because, let's be honest here, there's nothing "small" about Moreton - a guy who's hung like the proverbial donkey, and who's more than willing and able to use the fact to full advantage - and it's with definite relish that Leung takes every inch that his drinking-pal has to offer. To his credit, Leung does bottoms everywhere proud; but ultimately it's no real wonder that the spunk is quite literally banged out of his balls! That leaves Moreton with the scene's climatic moment, as he spews the contents of his nads all over Leung's (now very sore) ass-hole, before pushing his spent shaft back inside. In a word, fabulous!!
Scene 7: Ass-stretching, spunk-blasting foursome.
Cast: Seb Priestley, Tony Ross, Luis Bigdog and Jon Bruno
Also available: Fuckin' Orgy Sluts (2 DVD Compilation)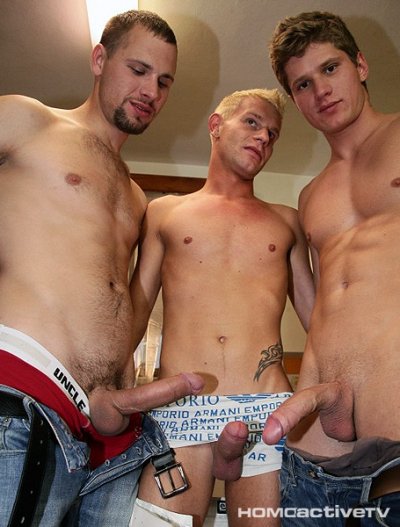 Seb Priestley is just the kind of platinum blond that we'd all love to meet - cute, horny and eager and willing to service cock whenever it's presented to him! Which in this particular instance comes courtesy of Tonny Ross and Luis Bigdog - who, as we've previously witnessed, very much lives up to his name! As such he's like a pig in mud when presented with two big, hard shafts to suck - slurping on those thick, uncut boners like a whore, before the urge to reciprocate becomes just too much for Ross and Bigdog and the three engage in a no-holds-barred suck-fest. At the end of the day, however, a boy like Priestley is never gonna be happy until he's riding a cock with his ass - a desire that Bigdog is only too pleased to see fulfilled. It's now that Jon Bruno unexpectedly enters the fray with that deliciously upturned cock of his - at which point the scene suddenly takes on a whole new direction, as Priestley and Bruno fight for the privilege of rutting like doe-deer on acid! Needless to report, what follows is the kind of ass-stretching, spunk-blasting foursome that'll have you jerking on your own cock with almost unfathomable gusto, not least of all when the jizz gets liberally sprayed into all those hungry, open mouths! It's quite literally like feeding time at the zoo - and a fitting finale to this would-be classic.
Additional Information
Categories: UK R18 / XXX Gay Adult, British Gay Porn DVDs
Running Time: 150 mins, Year: 2010
Price: Around £25*
Starring: Sam Brooks, Carl Baxter, Jack Blue, Jon Bruno, Luis Bigdog, Robin Snoyer, Aston Gates, Ricky Finist, Seb Priestley, Tonny Ross, Nick Cox, Caleb Moreton, Lukas Leung
Director: Vlado Iresch
Studio: Staxus / Bareback Monster Cocks
Buy DVDs online at: Homoactive, Simply-Adult.com & Radvideo.com (USA)
Download Bareback Monster Cock titles at: Homoactive (UK/EU) & Radvideo (USA)
Gay Video On Demand: Bareback Monster Cocks, See also: www.gaydvds.tv
Country: Czech Republic, Language: Czech with english subtitles
Additional info: No Regional Coding