Summary:
WOOOHOOO! If you like totally uncompromising bareback sex between young twinks with cocks that wouldn't look out of place in the farmyard then this is most definitely your sort of movie!
Description / Review:

Scene.1: Big Cock Recruits
As most of us already know, the feel of a big hard cock in our mouths is definitely something worth fighting for - as these two army recruits very quickly discover when their passion for thick, uncut meat gets them opening nice and wide for the suck of their lives. Levis Grant, who has already made a name for himself in such hits as ROUGH ROLLERS and BALL BUSTERS, is once again on top form here, easily seducing cute newcomer, Kyle Davis, into taking that pop-sized rod of his down his young throat. But never let it be said that Grant doesn't reciprocate his pleasures. Fact is he just can't wait to deep-throat Davis's handsome weapon, lapping on the flesh like a dog with a bone in the hope of a tasty load in return. A wish that Davis's cock is only too happy to provide, as Grant slurps on the white nectar with all the gusto of a whore.
Scene.2: Big Cocks In Action


What's a boy supposed to do when confronted with not just one over-sized cock, but two ...? A dilemma that young Toby Heringer finds himself in when he loses a game of spin the bottle in the company of Marco Bill and Marcel Bimore. Well he does what every good porn star does and opens up every orifice that nature gave him in an attempt to satisfy the sexual urges of his two friends. And make no mistake, when it comes to over-hung, sexual predators, there's few to compare to Bill and Bimore - a fact that's promptly underlined as they spit-roast their young, bottle-blond companion and abuse both his mouth and his ass with equal vigour. No wonder the lad is in an apparent state of shock by the time his companions empty their balls over his face; though that doesn't stop him from serving up his own facial in the direction of Bill and Bimore at the scene's end.
Scene.3: Hard Massage, Hot Sex & Mega-Big Cock
Also available: Bareback Big Meat (2 DVD Compilation)


We know from previous productions what sort of equipment young cutie, Julian Rush, has packed in his briefs, but on this occasion it's very much time for him to be on the receiving end of some equally over-sized shafts - provided here first by Marco Bill, for whom a massage provides a simple excuse to get his hands (not to mention his mouth) on Rush's hard shaft, and later by Cole Macey, who steps into the scene to quite literally fuck the living daylights out of Rush with his handsome, uncut ram-rod. The resultant threesome is definitely something to behold - the sight of Macey pounding Rush's arse with Rush's own mammoth shaft hanging down from beneath the table, is one of the highlights of the whole production. As is the sight of Rush being spit-roasted. But it's the sight of Bill spewing his load over Rush's ass-hole that gives most satisfaction!
Scene.4: Newcomers To The Game


Giving two newcomers their own scene is always a risky venture - particularly when it involves a vacuum-cleaner (albeit very briefly!) - but, as always, director Vlado Iresch clearly knows exactly what he's doing. He's helped significantly, of course, by the fact that both Dawe Homer and Eamon August are hung like the proverbial donkey; but there's also a raw innocence about these two boys that adds to the sheer sexual magic of their encounter. A magic that only becomes even more painfully apparent when August finally succumbs to temptation and levers his whole body onto the full, magnificent length of Homer's butt-picker. Thereafter the action is decidedly desperate and utterly unforgettable, with August bouncing up and down like a young jackaroo on a prize bullock! Little wonder the lad eventually spews like a geyser!
Scene 5: Cocky Punk Gets A Right Hard Spit-Roasting From The Cops!
Cast: Max Fonda, Nick Deniels, Zac Powers
Also available: Well Stretched Holes (Compilation gay DVD)
Also available: Horse-Hung and Horny 1 (Compilation)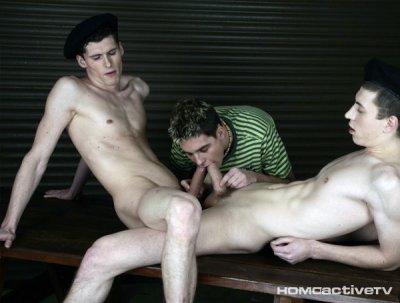 Being used and abused by a couple of horny police-officers is perhaps not something we'd like to happen to us in reality, but in terms of a fantasy there's rarely anything hotter. As young Nick Deniels discovers when confronted by the menacing talents of Zac Powers and Max Fonda. These two horny cops want justice and they want it now - forcing the youngster to open up like a flower in the wake of their probing investigations. Before Deniels knows it, he's riding both of their knobs in quick succession - proving, without a shadow of a doubt, that there's few visions more cum-inducing than the sight of a cute newcomer getting mercilessly spit-roasted. Except, perhaps, the sight of that same young angel with cum dripping from his arse-hole and his mouth at the same time! A feat that Deniels (an angel if ever there was one) more than ably demonstrates.
Scene.6: Big Cock In The Country
Cast: Stephen Blake, Marcel Bimore, Chris Reed, Marco Bill
Also available: Big Cocks, Tight Asses Compilation DVD
Also available: Horse-Hung and Horny 2 (Compilation)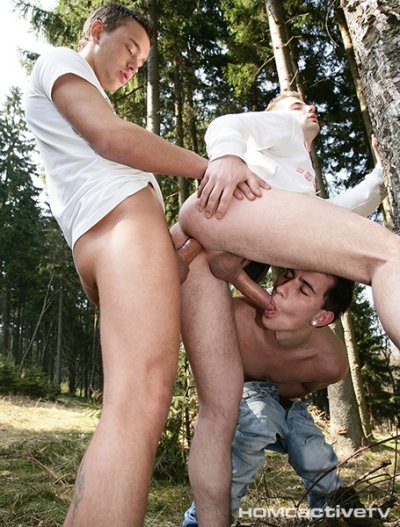 New boy Stephen Blake may not be long out of shorts but that doesn't stop him from knowing exactly what to do when Marcel Bimore thrusts a meaty, uncut cock in his direction when they stop off in the woods for a piss. Nor does it prevent him from boasting a truly superb pole-axe of his own, which he puts to truly magnificent use when he fucks Bimore up against a tree. The arrival of Chris Reed (who, incidentally, has been busy blowing Marco Bill off whilst this has all been happening) only adds to the splendour of the occasion; with Bimore immediately finding himself being spit-roasted like a wild pig, whilst the birds chatter nonchalantly in the background. No such indifference from these young pups, however. Blake, for one, isn't content until Bimore has spurted over his face; whilst Reed empties his nads into Bimore's hungry pucker. Fabulous!