Summary:
The Czech Republic opens its legs! - for another furious session of frantic cock-sucking and bareback ass-fucking. With over a dozen of the hottest guys with the biggest dicks to savour and enjoy, this is one hostel everyone needs to check into!
Description / Review:

Scene 1: The First Guest In My House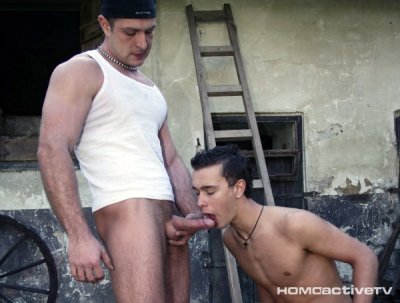 Whether it's a wise move to replace roof-tiles when dressed only in a skimpy pair of shorts is a matter of debate - Health & Safety would have something to say about it for sure - but that doesn't seem to deter Stephen Blake when Cole Macey asks him to help out with some essential repairs. As it happens, Blake is pretty useless when it comes to the task of house maintenance - but ass-hungry Macey doesn't seem to mind. He's much too interested in that deliciously uncut cock that Blake has between his legs - talk about foreskin overhang! - not to mention the youngster's tight little butt-hole. Needless to say it isn't long before Blake's pucker is playing host to Macey's ramrod, with the young twink bouncing up and down on his landlord's lap with the sort of gusto you'd expect from a lad his age. A zest that's underlined by the manner with which he subsequently empties his balls. Yes, definitely the sort of guest we'd all love to have cum stay!
Scene 2: One Bed For Three Guys

Also available: Spit Roasting Sluts (2 DVD compilation)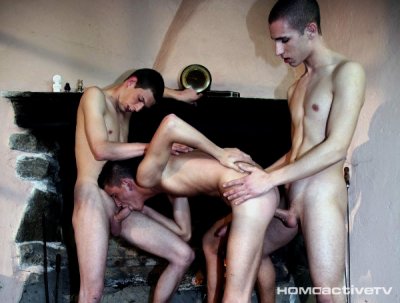 The title clearly gives this away as a threesome - and a fuckin' hot one at that! - but when we tell you that there's actually four cum-shots you're obviously gonna be left to wonder which one of the gorgeous young studs pumped himself completely dry for your dirty-minded benefit. Well, that credit goes to young Patres Reco - a cute, cock-lusty newcomer, who's basically a complete whore and who takes total advantage of a situation where he and two of his pals (Christiano Law and Robinos Clark) have to share a bed at the hostel. His holes open like flowers in a hot-house - something that doesn't escape the notice of either of his friends. As a result, Law is soon quite literally fucking the first load of spunk out of Reco; before Clark repeats the exercise to make it a fabulous double for this stunning little bottom. Ball juice flows as if on tap - a predicament that we reckon will be subsequently repeated across the world from you guys when you see this filthy escapade!
Scene 3: Tenants With Muscles


It's sometimes easy to forget that not every young man in the Czech Republic is a gorgeous, cock-crazed twink - an opinion that STAXUS, of course, is in part responsible for. In reality, some young guys in eastern Europe are way too toned and muscled to ever be considered "twinks" - fellows like Gio Gallis and Luke Kingsley here, for example - though the "gorgeous, cock-crazed" adage still holds true. Indeed, all the time these hunks have clearly spent in the gym has obviously done little to dampen their libidos - as becomes painfully apparent when they abandon their work for an intimate session of cock-sucking and ass-pounding! Boy, do these men love male flesh - none more so than Gio Gallis, who munches on Kingsley's shaft like his life depends on it, then parts his legs over a sun-lounger for the sort of banging wet-dream's are made of! Little wonder he squirts like a shaken bottle of lemonade at the scene's conclusion.
Scene 4: Everybody Likes It


Us porn lovers know better than anyone that there's really nothing hotter than seeing a couple of guys making out together, so when Justin Wilde and Nick Hansen stumble upon Gallis and Kingsley coping off in the previous scene it's really no surprise that they should immediately head off to the nearest outhouse to get some action for themselves. In this instance indulging in a marvellous stint of cock-worship. That, of course, should come as no surprise given that both these lads are blessed with the sort of equipment that most of us would kill for. Indeed, if anything, what's more impressive is the manner with which neither lad backs away from the resultant spunk-fiesta that naturally results from their antics. Wilde, in particular, gobbles on Hansen's erupting knob-end without an apparent care in the world - the globs of goo smeared across his chin as the two lads finish their session with a creamy, open-mouthed kiss.
Scene 5: Keeping Fit In My Old House


"You have a really hard cock!" declares Lukas Leung when confronted with the thick, meaty, uncut shaft that Abel Collis keeps packed in his shorts at the gym; but being hard amounts to only half of this particular dick's proud glory. For it's also over-generously thick and meaty, and is very clearly the sort of ramrod that likes nothing better than to worm its way into any hot, horny hole that's available - which in this instance a slut like Leung is only too eager and willing to provide! As a result, it's no time at all before Leung is outstretched across a weights-machine, with Collis's balls slapping against his gaping pucker. Not surprisingly, it's no time at all before the contents of Leung's own sac are splattered across his chest; whilst the top delivers a succession of healthy spurts to add to the salty brew. In a world where too many are criticised for sedatory lifestyles, these two boys are clearly intent on pushing their bodies to the max!
Scene 6: My Own Sexual Adventure


Having witnessed the escapades and adventures of all his guests at the hostel, handsome brunet, Daniel Wood, turns his attentions to his own sexual needs - serviced, as they are in this instance, by the dashing Marty Marshall, who not only provides Wood with a deliciously appetising cock to play with, but with the sort of hungry ass-hole that just cries out to be fucked. A plea that the hopelessly horny Marshall openly verbalises, as he throws himself back on the bed with his legs stretched out in opposite directions. How can a horny bastard like Wood possibly refuse such an open invitation? Before you know it, his raw shaft is pounding away at Marshall's slit like a piston, and it's little wonder that the dirty-minded bottom groans and writhes with pleasure in response. Fucked in every position imaginable, Marshall's soon bursting his nuts; before Wood lifts himself up to pump a nine-gun salute into his partner's mouth. Superb!