Summary:
The beautiful game gets a slutty makeover, as a collection of filthy-minded, wannabe soccer stars transform the changing room into a sordid brothel of cock-sucking, ass-rimming and hole-banging! Forget the pre-match team-talk or the post-match analysis, these horny footballers are ready to score each and every time with their big, uncut dicks and their heavy, ripe balls. The British soccer scene has never looked so fuckin' hot or so damn dirty!
Scene 1: Jockstrap Sniffing Can Be Hot – But Getting A Hard Fuck Is Even Hotter!
Cast: Anthony Adams, Noah James
Sniffing a guy's dirty jockstrap and having a wank is something that's possibly best practised in private, but if you're anything like this young pervy scally then there's an additional buzz doing it in a public changing room where anyone can interrupt you at any moment. Which, of course, this being porn, is exactly what happens! Needless to say, the response from Anthony Adams' team-mate (Noah James) is at first one of shock and amazement, then of undeniable excitement, as James promptly whips his thick, uncut cock out and forces it into Adams' face! A heavy session of cock-sucking on the benches ensues, before Adams finally succumbs to his own primal urges and takes a hard, uncompromising ride on James's pole – bouncing up and down on his mate's lap in the process. The scene concludes with Adams jerking himself off, before James tosses a heavy load of jizz onto Adams' pretty young face. What more can a boy ask for?
Scene 2: Getting Rubbed Down Or Rubbed Up Is All The Same For This Horny Athlete!
Cast: McKenzie Cross, Marco Strutt
No wonder McKenzie Cross called for the physiotherapist after straining his leg – young Marco Strutt is a pert little cutie, there's no mistake, and who wouldn't want him rubbing you in all the right places? Not that Strutt seems to pay much attention to Cross' thigh, it must be said. Before you know it the two lads are gobbling each other's faces off and turning their attention to what each has stashed inside their jockstraps – which in Strutt's case is actually quite a magnificent, closely shaved ramrod! It's no surprise, then, that Cross is soon getting himself nicely positioned for the fuck of a lifetime over the therapist's couch, taking every inch of hard male flesh like a true pro. No doubt about it, this is exactly the kind of massage we all dream of getting, culminating in a furiously sticky crescendo that sees Cross getting quite literally covered in hot, fresh jizz! If you can keep yourself from wanking then maybe porn ain't for you!
Scene 3: Cute Youth Gets Face-Fucked & Spit-Roasted By A Pair Of Mega-Hung Studs!
Cast: Luke Desmond, Chad Cole and Finley Yves
Also available: Fit As Fuck (Compilation)

Fans of cute, cropped-haired youths beware – young Chad Cole is gonna be just your sort of footballing hero, as he tackles the dual onslaught of hot and horny opponents, Finley Yves and Luke Desmond, in the changing-rooms. An escapade that involves him sucking both their cocks in turn, before being royally spit-roasted by the lads. What makes the antics here all the more remarkable is the fact that both Yves and Desmond have the sort of equipment in their soccer shorts that would usually intimidate a youngster like Cole – but take our word for it, he takes every inch that those two tearaways have to offer in his stride.
No doubt about it, this is one cock-hungry lad who'll grab you by the balls and won't let go until you've squirted every last glob of goo! What's more, he has a similar effect on Yves and Desmond, who dump their wads over his smooth, hairless body, before taking a smooch to celebrate the taste of victory!
Scene 4: Fun In The Showers Means Getting Really Dirty For This Pair Of Filthy Footballers!

Cast: Luke Desmond, Damion Harrison
Also available: Red Handed Fuckers (Compilation)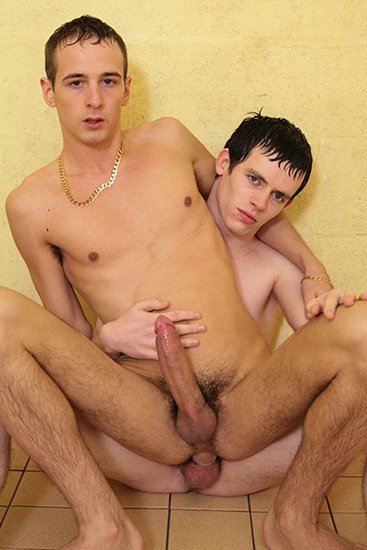 One of the greatest pleasures about playing football is the fact that once the game's over you can jump into the showers with your team-mates – a fact that clearly hasn't escaped either Damion Harrison and Luke Desmond, who show no hesitation in doing just that! Mind, it's no fucking wonder that Harrison should be enthusiastic – young Desmond is quite literally hung like a horse, and the sight of that meaty wand swinging around is more than enough to get Harrison into quite a lather. No wonder that he's soon down on his knees giving the said monster a real good slurping. Not that that does anything but get the boy even more excited. Indeed, he's not really happy until he's thrusting his own poker-stick deep into Desmond's hungry ass-hole! A turn of events that clearly works a fair degree of magic on Desmond, who promptly spurts a load whilst bouncing on Harrison's shaft. In short, hot, sweaty shower-sex at its very best!
Scene 5: It's Hard Cock & Loads Of Hot Jizz All The Way For This Group Of Dirty Players!
Cast: Luke Desmond, Marco Strutt, others
We're not exactly sure if the sort of antics portrayed in this scene are anything like what goes on in the changing rooms of the Premiership – but hey, we can always dream! Six of the hottest, cock-craziest lads meet up for a steaming session of cock-sucking and ass-slamming that'll have you reaching for the rewind button and the Kleenex with equal regularity. Highlights include Luke Desmond's shaft – fuck, is that boy hung or what?! – and Marco Strutt (a cutie if ever there was one) putting his wand to good use in every corner of the room!
Of course, you don't need to be much of a genius to realise that there's a grand total of six pairs of balls to unload here, and suffice it to say that none of them remain undrained by the scene's torrid conclusion. Spunk, it seems, is very much the order of the day for this team – and most of all for sweet Noah James, who ends up getting a stunning facial for his efforts. Prepare to blow your load!!