Summary:
It's a question that's been concentrating the minds of philosophers for eons: Who's best? Chavs or Skaters? Well, now's the time for you to make up your own mind, as a collection of hard-nosed (not to mention hard-cocked!) Chavs hit upon a series of board-obsessed Skaterboys for a series of jizz-soaked encounters that'll have you tugging on your joystick time and time again. Classic Brit porn – whichever side of the youth divide you happen to fall!
Description / Review:
Scene 1: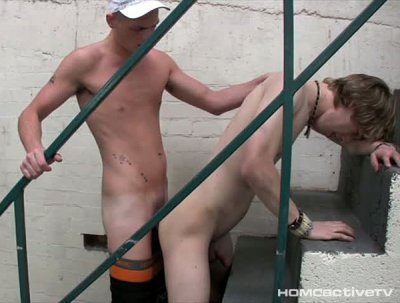 Can a young, blond, floppy-haired Skater like Billy MacGregor ride cock as skilfully as he can ride a skateboard? That's clearly what MacKenzie Walker wants to know when he happens to chance upon the youngster messing around on his wheels in a disused warehouse – and he's not leaving until he knows the answer! It's perhaps just as well then that MacGregor's more than just a little eager and willing to respond to Walker's laddish charms by dropping to his knees and giving head like it was his natural-born duty, slurping and deep-throating on his companion's ramrod with formidable relish. Little wonder that Walker can't resist returning the compliment; before forcing MacGregor down onto a flight of disused stairs in order to fuck the youngster's tight little ass! It's a position that clearly appeals to MacGregor, who doesn't take long to be brought to the boil by Walker's hard, uncut shaft; before Walker himself spurts the contents of his chavish balls all over the Skaterboy's sweet, expectant face!

Scene. 2: Jay L'Amour and McKenzie Cross (See also Red Handed Fuckers)
Jay L'Amour and McKenzie Cross are a couple of young straight boys with very different outlooks in life, given that L'Amour is a floppy-haired Skater and Cross a proud, baseball-cap-wearing Chav. But there are a couple of things that they do share in common, namely beer and sex! Unfortunately for them, whilst downing a can isn't a problem the nearest thing they can get to bedding a girl is getting their hands on a cheap porn mag – which, when you consider these boys' libidos, is never gonna be enough to placate all those raging hormones!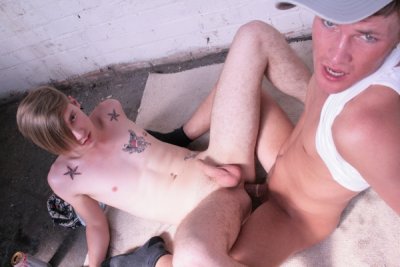 It's perhaps just as well, then, that they're clearly the sort of lads who are willing to compromise their expectations and turn their attentions on each other – which in L'Amour's case means taking Cross' thick, uncut knob-end down his throat and up his ass! Cross for his part proves himself to be a energetic little fucker, and it's no wonder that L'Amour dumps a generous load in response. Promptly followed by Cross busting his own nuts all over L'Amour's bubble butt!

Scene. 3: James radford and Naoh James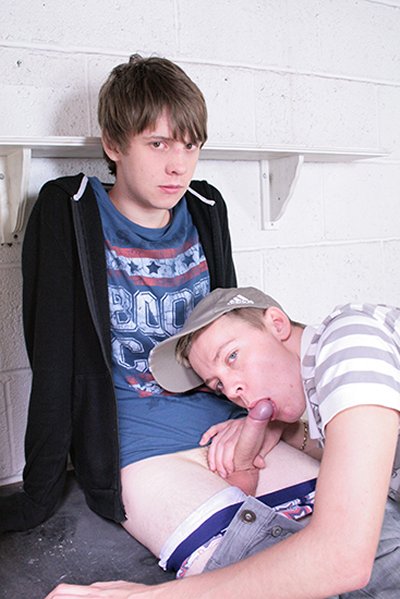 Not all Chavs are cute, but we think you'll agree that Noah James is the kind of baby-faced beauty that you're really gonna appreciate. Certainly young James Radford quickly falls into his spell in this particular scene, when the dark-haired Skater calls at the garage where Noah James works. Why, the two fellows have hardly had chance to be introduced and Radford is already down on his knees giving the horny Chav the kind of fellatio that most young tearaways can only dream of. It's a show of enthusiasm that cannot fail to have an impact on Noah, and before long the two lads are engaged in a steamy session of 69-ing – which is only concluded when the Chav can finally no longer resist the urge to fuck Radford's pert little ass. As it turns out, however, Noah proves to be a surprisingly gentle lover, gradually working his shaft into Radford's hole and then slowly rocking back and forth. Rest assured, though, it's more than enough to get both boys spurting like fury in the concluding wank-off for the camera.

Scene. 4: Marco Strtt, Kyle Martin and Jonny Ryder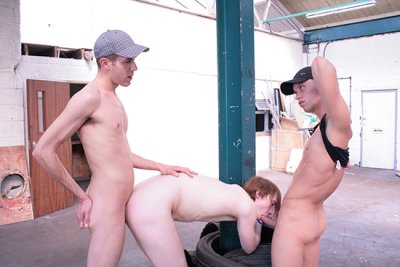 Rest assured, when you get two Chavs together you can guarantee that there's gonna be trouble – which in this instance is rather bad news for Jonny Ryder, an unfortunate Skaterboy who happens to be in the wrong place at the wrong time. Fact is, Marco Strutt and Kyle Martin prefer such boys to be playing with their dicks rather than their boards; and, bundling the youngster off the street, they take Ryder off to an unused warehouse for a hard-hitting session of private entertainment (i.e. tying the fellow's arms behind his back, forcing him down onto his knees, thrusting their big cocks into his face and demanding that he suck them off)! In fairness, Ryder's response is truly admirable – slurping on their knob-ends with youthful exuberance, before bending over onto all fours so that his two assailants can duly spit-roast him! The sight of these two gorgeous tearaways in action is gonna blow the minds (and cocks!) of all you Chav lovers out there; as is seeing them splatter their boy-juice all over Ryder's pale body!
Scene. 5:
And so at last to the main feature, as the Chavs and Skaterboys come together en-masse – quite literally, as it happens! – for a boy-sex suck-and-fuck-athon that's a definite must-see for anyone who likes to see plenty of naked teen flesh and fresh hard cock! Noah James is once again the baby-faced beauty who captures all the attention, but there isn't one of these youngsters that isn't rock hard (as you'd expect from lads their age) or who you wouldn't mind bunking up with given half the opportunity.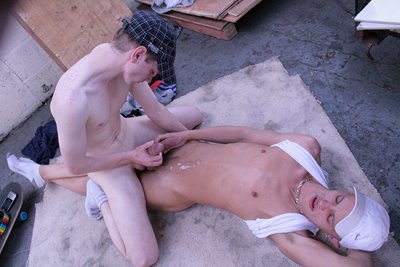 Whatever inhibitions they might have displayed initially are quickly forgotten, as big, hard dicks get worked into hungry mouths and even hungrier ass-holes! What's more, it's not just a case of Chavs fucking Skaterboys, as the lads turn on each other for some inter-group action that'll have you jerking on your own shaft like fuckin' crazy! From baseball caps and trackies to skinny jeans and floppy hair, all these lads are simply crazy for cock. Little wonder that the warehouse is awash with hot jizz by the scene's finale!