Summary:
Most of us hate having to get our paint-brushes out – we'd much rather be out on the town having fun with our friends (both old and new).But for this group of kinky Brit boys it's all very much a means to an end. White-washing walls soon gets transformed into white-washing throats and asses, as the likes of Skylar Blu, Ethan White and Kyle Dickson kick off their overalls and savour whatever big, uncut dicks come their way – usually, quite literally!
Sex on the job really does seem to be every inch of hard fun as it sounds.
Scene 1: Skylar Blu Gets His Pipes Thoroughly Stretched & Filled By A Thick, Oversized Pole!
Starring: Skylar Blu and Jonathan Tago
Also available: Brexit Fuckers (2 DVD Compilation)
It came as something of a surprise when we discovered that Skylar Blu was a bit of a dab-hand with a spanner and that his knowledge of plumbing was not quite as basic as one might suppose. But there's still no denying the fact that, when it comes to pipework, it's the thick meaty rods that you find hanging between other guys' legs that always catch this cheeky lad's keenest attention.
Never more so than when the cock in question is one that could almost take your eye out given half the chance, as is the case with Jonathan Tago. For this horny little mullet-boy has the kind of dick that sends a cock-whore like Blu into ass-quivering overdrive; and seconds on from seeing the said beauty Blu is down on his knees giving head like his very life depended on it. No doubt about it, our very favourite bitch is not gonna be happy until he's riding that beast for all that he's worth – a point that's underlined shortly afterwards by the speed with which you see him laid out prostrate, legs akimbo.
Blu is literally screaming out to be fucked; and it almost comes as a relief when Tago finally begins to fill every inch of the lad's shitter with rampant man-meat. What follows is a fiery, energetic, almost desperate copulation that sees Blu royally screwed in every position imaginable; before both lads empty their nads in a jizz-filled crescendo!
Scene 2: Blond Painters Have More Fun – And Plenty Of Raw Uncut Cock Up Their Ass!
Starring: Blake Hanson and Dean Essex
Also available: Brexit Fuckers 2 (2 DVD compilation)
Pizza can be very filling, as anyone who's been to Dominos can probably testify, but it's not as satisfying as a big hard cock. A point that young blond-boy, Dean Essex, is made all too aware of when he encounters fellow painter, Blake Hanson, in this terrific cock-sucking, ass-stretching bonanza! In fairness, a lad like Essex looks more than capable of handling both pizza and dick given half the chance, but given that the former is off the menu he really hasn't got much choice in the matter.Indeed, his appetite has to be appeased by the gorgeous ramrod that Hanson has stuffed inside his overalls – and to his credit he handles the oversized salami with unmistakable gusto.
Nevertheless, having then been given head in return, Essex's cravings are such that he wants to go that one step further; and it comes as no surprise when the fellow mounts Hanson's dick and begins to ride it like a jockey going for all-out glory on Derby Day!
Cue a terrific bareback ride that can surely only have one conclusion – namely a splendidly sticky eruption all over Hanson's belly as Essex himself continues to pound up and down on his mate's knob. By the time that Hanson has spewed his own gooey mess moments later there's every good chance that your balls will have blown a deeply satisfying conclusion in the direction of the screen!
Scene 3: Horny Electrical Gets Connected To A Dirty Boy-Bitch Who Just Loves Raw Dick!
Starring: Ethan White, Oscar Roberts
Also available: Now That's What I Call Staxus 3 (2 dvd set)
We're not questioning Ethan White's skills as an electrician, but the one thing we will say is that he's clearly a guy who's easily distracted - not least of all when there's some hot, horny twink on the scene, in this instance Oscar Roberts. Why, the young painter only has to make the slightest suggestion and White's stripping off his overalls in anticipation of some filthy, hardcore action - which, it must be pointed out, proves easily forthcoming. Indeed, Roberts can't wait to get hold of the thick, uncut ramrod that's nestled inside White's pants; and before you know it the sparky is enjoying the kind of deep-throated blowjob that ought to be part and parcel of every electrical inspection.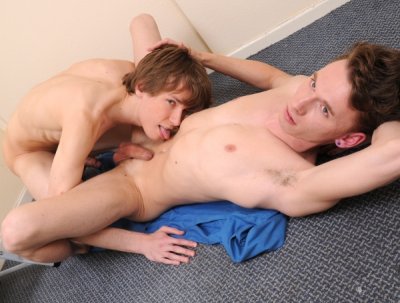 In fairness, of course, it's pretty obvious even to the grossly uninitiated that Roberts is really only after one thing here - and to be honest he's come to exactly the right place. The truth is that White really can't wait to get balls-deep into his pal's eager little ass-hole; and, having taken a few moments to rim Roberts towards ecstasy, is soon pounding away bareback like the dirty little animal he clearly is.
Fortunately for him, he's found a very willing bitch in Roberts, who literally can't get enough dick in that pert ass of his; and it's only fitting that the scene should end with White spurting his nads all over his buddy's cute, expectant face!
Scene 4: Painter-Boy Kyle Dickson Gives His Workmate A Hard Suck, Then Takes A Raw Bang In Return!
Starring: Kyle Dickson and Kristian Kerner
Also available: Now That's What I Call Staxus 4 (2 DVDs)
He may have turned blond since we last saw him, but Kyle Dickson is still very much the inimitable cock-slut that we all know and love – as this stupendous session with the chav-like Kristian Kerner very ably demonstrates. In fact, if anything the change of hair colour appears only to have turned the young lad into an ever bigger dick-crazed slut than he was before – if indeed that were in any way possible!
Certainly the manner with which the fellow drops to his knees to slurp on Kerner's knob appears to confirm such a conclusion – he basically has the burgeoning ramrod out of his mate's painting overalls in pretty much no time at all, though in fairness Kerner is soon returning the favour with almost identical enthusiasm. But there's still no disguising the fact that this is one dirty-minded young boy who literally lives for the hardness in other guy's trackies; and it's barely any time at all before he's laid out on the floor (still donning his baseball cap) taking every bare inch that Kerner can thrust in his direction.
What follows is a terrific Brit-boy fuck-fest that'll have every fan of the genre jerking like beings possessed – the lads even putting a small step-ladder to good use in the process! By the time that Kerner has sprayed his wad all over Dickson and Dickson has nutted over himself there's every fuckin' possibility that your own tight little sac will have delivered a delicious wad all of its own!