Summary:
Shot in the infamous Sauna 69 in downtown Budapest, this is a fabulously filthy escapade of Hungarian-inspired debauchery featuring a whole host of STAXUS favourites: Skylar Blu, Jaxon Radoc and Orlando White, to name but a few. All culminating in a double-penetration spectacular courtesy of the fabulously eager ass of Aaron Aurora, who (like all our best twinks) takes dick with such ease that he almost seems born for the task! Culminating in oodles of fresh jizz and the expectation of a return ticket ...
Description / Review:
Scene 1: Aussie Sex God, Jaxon Radoc, Toys With Skylar Blu's Hungry Little Ass-Hole!
Cast: Jaxon Radoc, Skylar Blu
Also available: Kinky Fuckers 3 (Compilation)
With his near-legendary libido, it's no fucking wonder that Skylar Blu makes the most of every opportunity that comes his way to give his beautiful dick some much-needed solo attention; but the arrival of company, in the form of Aussie-boy, Jaxon Radoc, appears only to increase his burgeoning sexual desire all the more. Not that that should come as any great surprise, of course. Radoc is a spunky stud in every sense of the word, and takes full advantage of the fact that Blu is one of the ultimate sluts in the biz.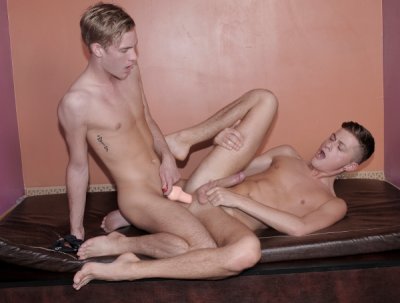 Within minutes he's tugging on the Brit lad's love-pole and rimming the guy's ass, which appears only to push Blu onto an even higher carnal plateau than before – if indeed that's possible! But given the level of bedroom experience that the fellow has had in recent years, it always takes a certain extra something to impress Blu. Fortunately for him, this truly spunktastic escapade sees him teamed up with a youngster who's more than capable of thinking outside the box and going the extra mile.
Cue the introduction of some rather unorthodox toy-play, during which Radoc gives his mate's pucker a real hard work out, including a double-penetration cock-and-dildo fuck! No soddin' wonder that Blu has such a broad grin on his face, as his pal from down under helps stretch his ass to a whole new level. The result, not at all surprisingly, is very, very gooey and sticky – exactly how our fans love it!
Scene 2: Licking Armpits, Sucking Toes, Fisting, Rimming ... Two Dirty STAXUS boys enjoy some hot kink!
Cast: Orlando White, Skylar Blu
Also available: Kinky Fuckers 1 (Compilation)
They've got matching jocks – albeit in different colours – and corresponding libidos, so it's really no surprise that Orlando White and Skylar Blu serve as the perfect coupling in this dirty little scene. Beginning with some tremendous cock-sucking that serves as the perfect aperitif for the hardcore action to come. Blu, in particular, is his usual whorish self, slurping on White's raging ramrod with typical deep-throated gusto.
It's not too long, however, before matters take on a much more kinky spin, beginning with some teasing foot-play, during which both lads eagerly feast on each other's toes; before White turns his attention towards his mate's hungry little pucker. And let's be perfectly honest here, this is one horny fuck-hole that needs attention big time – something anyone who's seen Blu in action before will fully appreciate. Fortunately for this spritely twink, White's more than equipped for the task at hand, and before you know it he's thrusting his thick, manly shaft deep inside.
Nor is his imagination limited to dick. Having worked Blu's ass sufficiently, White's exchanged cock for fist and is pummelling the crack with his hand, stretching it to the max. Little wonder that the kinky pup is soon dumping a grand wad of boy-juice; before White creams the lad's ass in return. Just the way that the pervy little bitch-boy Blu loves it!
Scene 3: Horny Jaxon Radoc Takes Every Hard, Hairless Inch Of Orlando White's Thick, Uncut Dick!

Cast: Jaxon Radoc, Orlando White
Also available: Now That's What I Call Staxus 4 (2 DVDs)
Location may be the defining factor where property's concerned, but in porn it always essentially boils down to one thing and one thing only: the models. Be they rutting in a slum or fucking in the grandest room in the Ritz, it's what the boys look like and how well they're hung that counts. As such, this fine little escapade – featuring two of STAXUS's favourites, Orlando White and Jaxon Radoc – pretty much has hit written all over it even before the opening frame!
What's more, neither fellow disappoints; as the lads kick off in a Budapest sex-sauna for your perverted entertainment. Beginning with a mutual suck-fest that sees both beauties slurp on each other's hard offerings like they've not tasted dick for weeks, culminating in them lying top-to-toe for a delicious, mouth-watering session of 69-ing that's almost an artwork in itself. For the ever-horny White, however, there's not gonna be any true sense of satisfaction until his big, oversized balls are knocking against his Aussie mate's ass; and having taken the opportunity to earnestly rim Radoc, he's soon pounding away from above like he literally owns the hungry bottom's rump!
Needless to say, Radoc gets the hard, raw fucking he both longs for and deserves; culminating in him spewing over his belly, before positioning himself under White's erupting shaft to chew on every last drop of pent-up Czech jizz! All topped off with a sticky, open-mouthed kiss.
Scene 4: Young Twink Gets Abused To The Max In A Double-Penetration Sex-Club Fuck-Fest!
Cast: Aaron Aurora, Steven Johnson, Tom Backet
Also available: Double Dick 5 (6 Scene Compilation)
If you've ever been to a sex club you probably know how they can be a veritable warren of badly-lit corridors and rooms, filled with horny, pumped-up guys who've only got one thing on their minds – and it isn't suggestions on how the management could improve the decor! You'll also probably appreciate that any young lad who's not experienced in those situations can feel completely out of their depth and will prove to be easy pickings for those guys who understand the unwritten etiquette of such establishments.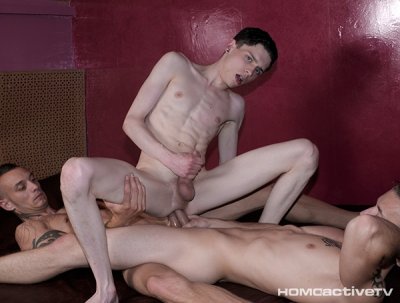 Guys like Aaron Aurora, who quite literally looks like a rabbit in the headlights of a car in the opening frames of this inspired little number, and who's promptly bundled into an empty room by Tom Backet and Steven Johnson, whose intentions are clearly not to sit with him and discuss the weather! Once inside, the sweet-faced Brit-boy really is the proverbial lamb to the slaughter – Backet and Johnson proving themselves to be every inch the dirty-minded wolves you might fear. Before you know it, Aurora is quite literally having hard Hungarian dick forced down his throat, before his tight little twink-hole is being stretched by both cocks in turn.
Matters only then intensify when the fellow is double-fucked; prior to the assailants nutting all over Aurora's face. In short, it's an introduction to the dark side of club life like no other; though judging from the way the youngster jerks off at the scene's conclusion and the smile on his face, Aurora loves every fuckin' dirty second!!