Summary:
Some boys like to keep to the rules and play clean. But other boys – the kind we love – just wanna play dirty. Guys like STAXUS stalwarts, Dick Casey and Connor Levi, not to mention cute, horny newcomers such as Sig Sinclair. These fellows aren't interested in maintaining the status quo or sticking to the script. Instead they want to bend the rules, exploring every aspect of raw sensuality in the process. Hard cocks, oodles of jizz and even some double-penetration action – playing with these lads is sordid, filthy and lots and lots of fun!
Description / Review:

Scene 1: Filthy Bitch New-Boy Gets Double Tagged By Beer-Swilling Fuck-Buddies!
Cast: Benjamin Dunn, Chase Anderson, Sig Sinclair
Also available: Double Dick 3 Compilation Gay DVD
Beer-swilling beauty and STAXUS favourite, Benjamin Dunn, is feeling as horny as fuck – no surprise there! – and heads off to a ramshackle den with diminutive blond, Chase Anderson, for some heated, hard-cocked action. But matters soon take on an unexpected twist when the two fuck-buddies discover a handsome waif in the angelic form of Sig Sinclair asleep on the floor.
Needless to report, the young homeless stray isn't left unconscious for very long. Spurred on by the promise of alcohol, Sinclair soon finds himself hanging off the end of Dunn's now badly swollen dick, and Anderson promptly joins in the fun by thrusting his own knob in the lad's direction. A spunk frolic ensues between these three playmates, but it's pretty obvious from the off who's going to be surrendering his virgin ass by the end of proceedings; and soon Sinclair is having his pucker licked and rimmed by his new friends in anticipation of some energetic power-fucking.
What the youngster probably doesn't realise at this point, however, is that Dunn and Anderson's intentions are even kinkier than he may have first expected – though such naivety is soon dispelled when, having both taken turns at stretching Sinclair's ass, the lads decide that screwing him at the same time will be even more enjoyable. Cue a sweaty, lip-biting, ball-tangling set-piece that sees Sinclair double-tagged, before Dunn whitewashes the lad's rump and Anderson splatters his face. As initiations go, this is definitely one to remember!

Scene 2: Two Kinky Dick-Crazed Fuck-Buddies Choose to Rim, Ride & Open Wide!
Starring: Sven Laarson, Mike Cage
Also available: Now That's What I Call Staxus 1 (2 DVD set)
They've got a collection of sex toys at their disposal, but Sven Laarson and Mike Cage are already so hot at the start of this superb escapade that they don't need any assistance when it comes to enjoying hot, dirty sex. Given the quality of both these fellows, however, would we honestly expect anything different? Both these beauties simply ooze desirability, and who in their right mind would ever kick either of them into touch?
So it's really no surprise when they turn on each other and begin to eagerly suck on all that terrific dick that's on offer – all culminating in a terrific 69-ing session that could seriously get you off right there and then given the chance. The very fact that they simultaneously rim each other's asses is totally ball-blowing in itself; but things only get even more intense when Cage finally succumbs to the ultimate temptation and slips down onto his mate's cock cowboy-style. What ensues is enough to get even the most reserved of our fans into a delirious lather; and the temperature in the room only gets even hotter when Laarson decides to replace his dick with his fist, stretching Cage's pucker to the max in the process.
To his credit, Cage takes every clenched finger like a true pro, though Laarson's decision to foot-fuck the fellow eventually proves to be the bottom's undoing. A delicious spray of jizz not surprisingly results; immediately coupled by Laarson dumping his own wad all over his mate's face to conclude this kinky, spirited, breathtaking performance!

Scene 3: Connor Levi Gets Bathed & Shaved By His Big-Dicked Buddy - Then Fucked Bareback!

Starring: Connor Levi & Boris Orla
Also available: Now That's What I Call Staxus 3 (2 DVD set)
Also available: Bareback Rookies, Big and Hard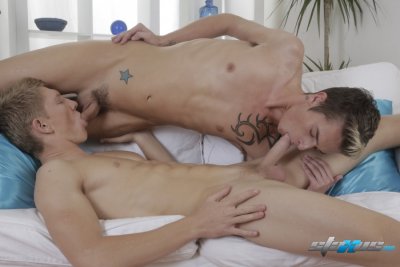 It's not exactly obvious straightaway as to why Boris Orla is giving Connor Levi a wash-down in the bathtub, but the emergence of a safety razor appears to provide some sort of answer with Orla shaving Levi's pits in a kinky fest of anti-follicle fury. All promptly followed up by the two youngsters hitting the sofa for some more traditional fun, which in this instance involves them both slurping on each other's now straining cocks.
Of course, anyone who's seen Levi before will understand that it's the young Brit who's very much the passive partner here – in fact, you can just tell from the glazed look on his face as he feasts on Orla's oversized ramrod that the only thing on his mind at this point is how much longer he's going to have to wait until he's free to ride the thick, meaty shaft with his ass. Indeed, this is a boy who was just born to enjoy dick; and there's certainly no disguising his relief when all that fervent 69-ing has finally been superseded by some hardcore ass action.
By this point there's every chance that you'll be tugging on your own swollen knob in appreciation, but don't allow your own urgency for relief to spoil your enjoyment of watching too horny, handsome bucks in full rut. Given the athletic passion on display here, however, it's not at all surprising that it doesn't take long until both lads are at the point of no return; with Levi in particular giving typically exuberant appreciation of all the resulting spunk! Rarely has the youngster looked hornier – or so fucking hot!

Scene 4: Two Horny Blonds Take The Chance To Suck, Fuck & Get Soaked In Hot Piss!

Starring: Sven Laarson, Adrian Smallwood
See also: Kinky Fuckers 2 - Gay Compilation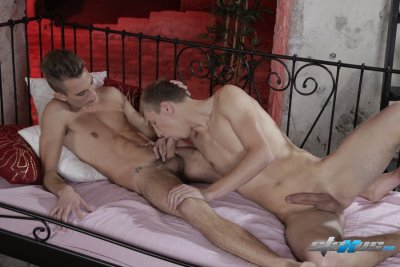 A multi-storey car-park in down-town Prague might not seem the most romantic location to find a hot date, but sometimes you just have to take full advantage of the things that happen in life when they happen. As Sven Laarson discovers when he gives Brad Fitt a lift to town in his car and unexpectedly encounters Adrian Smallwood in the process. Smallwood is actually busy trying to make some money by flogging some knocked-off mobile phones, but it's clear from the off that Laarson's interest is centred very much on the salesman rather than what he's trying to sell.
Fortunately for all concerned, it doesn't take more than a few words from the fellow to charm Smallwood into the vehicle; and even before poor Brad has reached the first shop the two ripped beauties are heading off to Laarson's apartment for some intimate sales talk, which in this instance involves stripping off all their clothes, sucking each other's cocks and rimming each other's asses! It's not exactly the kind of technique that they teach at sales school, surely, but it certainly works for these fuckin' dudes that's for sure; and it's no time at all before Laarson is taking every fabulous inch that Smallwood can muster deep inside his rump!
It's kinky, it's hot, and it's no wonder that Smallwood is soon spurting all over his new-found buddy's hole. Eager to add to the excitement, the two blonds then eagerly round things off by pissing all over each other; leaving us to enjoy the sight of two very wet, very happy fuckers!