Summary:
Schooldays were never such fun. When the lights go out, these guys put their books down and their dicks up in this super twink bareback fantasy! The hottest twinks in crazy cum spurting action! 5 scenes
Scene 1: Horny Teen Enjoys A Furtive Bedroom Wank – But His Mate Enjoys Fucking Him Raw Even More!

Starring: Lucius York and Kurt Maddox
Also available: Schoolboy Fuckers 2
Teenage boys – what are they like? Any opportunity and they're watching porn on their mobiles and wanking away under their bed-covers! So it comes as no surprise to Kurt Maddox when he returns to the room that he shares with blond cock-fiend, Lucius York, to find his buddy tugging away at his dick beneath the sheets. Clearly wishing to make the most of the opportunity, Maddox responds by provocatively undressing right next to York's bed – an open invitation for action if ever there was one. And York doesn't disappoint!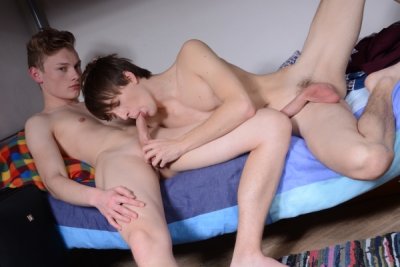 Fact is he's pouncing on his room-mate's swollen knob-end even before Maddox has chance to fully undress, signalling the start of a very sensuous session of fellatio that sees York treat his dark-headed pal to the blowjob of his short life. An act that Maddox is later only too willing to return; before the two lads fall into 69-position and partake in even more cock-worship and (in York's case) some equally stimulating ass-play. But of course by this point it's clear that ass-play is never, ever gonna be enough for these fellows, whose only concern now is to partake in some good old-fashioned sodomy.
As such, it comes as absolutely no surprise whatsoever when York finally parts his legs and allows Maddox full reign on his unprotected hole – an offer that the top readily accepts, pounding the tight little pucker for all that it's worth! How the bunk-bed survives the ordeal is anyone's guess; but suffice it to say that both lads are soon spewing away like geysers!
Scene 2: Hot, Horny Schoolboy Trio Get Top Grades In A Suck & Fuck Cum-Soaked Frenzy!
Starring: Tom Nutt, Louis Blakeson and Jason Radoc
Also available: Now That's What I Call Staxus 1 Compilation
It'd be fair to say that young Tom Nutt loves nothing better in an evening than to put his pyjamas on and snuggle up in bed with a nice magazine. Unless, of course, there's the prospect of a little physical companionship in the dormitory – in which instance you can rest assured that the pyjamas and the magazine are promptly abandoned, as is the case here when Louis Blakeson arrives in the room. Who knows whether the said visitor's intentions are innocent or not. What we can assure you is that it's not many seconds before Nutt's hanging off his mate's impressive dick and giving it a thorough oral examination. What's more, the situation only gains intensity when Jaxon Radoc arrives – still in his uniform and looking as fucking gorgeous as ever!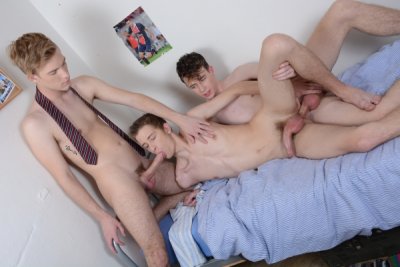 Suffice it to report that it's no time at all before the entire trio is devoid of clothes and sucking cock like a gang of hyper-sexed monkeys. A performance that gets turned up a further notch once the serial-fucking begins. First Radoc rides Blakeson, then Blakeson fucks Nutt, then Radoc bangs Nutt, then Nutt screws Radoc ... you get the idea, we're sure.
In short, it's a entire chronicle of the hottest boy-on-boy sex you can imagine; and it's little wonder that all three lads are soon brimming on the edge of a stupendous climax. Most notable of which surely has to be the explosion that erupts from Nutt's over-engorged shaft, spurting across
Scene 3: Nocturnal Emissions All Round As Four Horny Schoolboys Suck & Fuck All Night Long!
Starring: Aaron Aurora, David Hanson, Kurt Maddox, Oscar Roberts
Also available: Schooboy Fuckers 1
Life in a school dormitory has its drawbacks – the lack of privacy being the most obvious – but it can also provide the perfect backdrop for the kind of group shenanigans that we've all almost certainly fantasised about. Not that either Aaron Aurora or Kurt Maddox seem particularly overjoyed at the start of the scene when their sleep is disturbed by the drunken return of best buddies, David Hanson and Oscar Roberts. But their annoyance is decidedly short-lived – and with very good reason. For not only are Hanson and Roberts very much the worse for drink, but they're both feeling as horny as fuck; and within a few minutes they've firmly roused Aurora and Maddox from their beds in order to pair off for a frantic suck-fest.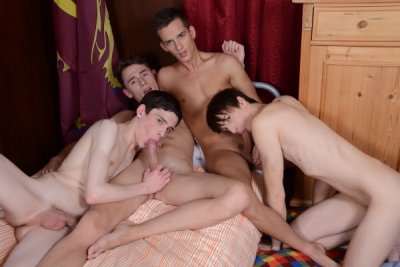 Of course with all that meaty, uncut dick on show it's a turn of events that will surprise no-one; but it you think that's gonna be the limit of the action then prepare to be blown away. Hanson, in particular, clearly can't wait to push the boundaries, and having been paired up with Aurora is soon riding cock like his life depended on it; whilst Roberts pounds away at Maddox's ass-hole on the other bed. A few minutes later and roles are switched, with Maddox now screwing Aurora and Hanson pummelling Roberts.
The crescendo, however, doesn't materialise until all four boys are engaged in a terrific chain-fuck – Roberts fucking Aurora fucking Maddox fucking Hanson! A set-piece that's only trumped by the concluding sight of Aurora's cute little face getting splattered with copious quantities of jizz courtesy of his three fit mates!
Scene 4: Horny Shower-Room Encounter Sees Jaxon Radoc Fuck The Jizz Out Of His Deep-Throating Buddy!

Starring: Oscar Roberts and Jaxon Radoc
Also available: Bareback Rookies, Wild Attraction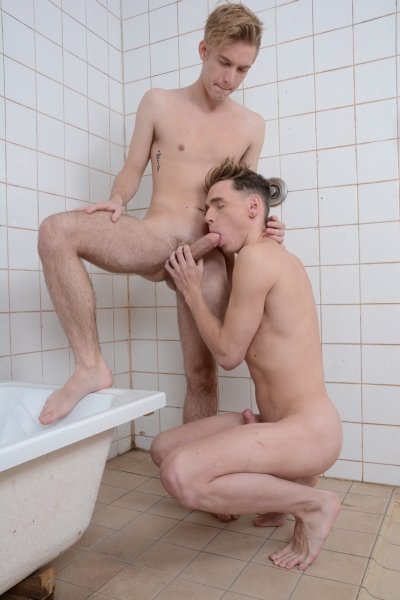 There's plenty of shower-rooms that could tell a secret or two given the chance, and with horny lads like Oscar Roberts and Jaxon Radoc frequenting them it's no small wonder. For there's no denying the fact that both these boys – each one a tremendous STAXUS favourite, and for every obvious reason – are as horny as fuck and as fucking desirable because of it! Indeed, this is an encounter that promises much simply from the quality of the pairing, and believe us when we tell you that it doesn't disappoint. But let's be honest here, how could it? Either of these beauties could entertain most of us for a lifetime given the opportunity, and the combination of them copping off in a less then salubrious bathhouse will surely prove more than sufficient arsenal for a good old-fashioned wank from a whole army of our fans.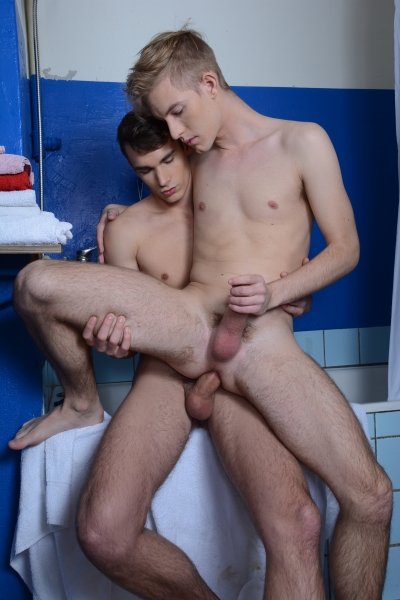 Radoc, the almost perfect blond fuckmeister, and Roberts, who not only sucks dick like his very existence depended on it but who rides his Aussie buddy's fuck-rod with an almost artistic fury. It's a coupling that will have you jerking off like a feckin' dog on heat; and by the time that Radoc is banging his antipodean spunk-sac against Roberts's pert little ass there's every good chance that you'll be struggling to hold back your own sticky and very much needed wad.
But hold back if you possibly can – the sight of Roberts getting the jizz literally banged out of him and Radoc then squirting all over his pal's cute face surely warrants an appreciative viewing time and time again!
Scene 5: Smokin' Hot Jaxon Radoc Gets An Ass-Load Of Hard Hungarian Cock Up His Schoolboy Ass!
Starring: Jaxon Radoc and Orlando White
Also available: Schoolboy Fuckers 3
Also available: Ass Plunge (Compilation)
Who would've ever thought that sexy schoolboy, Jaxon Radoc, would have a dirty little secret? No, not the fact that he quite literally lives for cock – geez, that's arguably the world's worst kept secret! Rather his penchant for a sneaky cigarette – a vice that he keeps well hidden from his mates until a certain Orlando White catches him drawling on a fag in one of the school bathrooms.
It's at this point, of course, that White could go running off to the principal to gain some brownie-points. Instead, White decides that Radoc would look good with something else in his mouth and promptly demands that the fellow quits his smoke and starts sucking on his meaty, uncut cock instead – a command that our jock-strapped hero immediately (and characteristically) acts upon!
It soon becomes very clear, however, that White's intentions don't just centre on his school-mate's mouth – as tempting as those luscious lips may be! No, this dark-haired stud wants to bury his fuck-stick deep into Radoc's hungry little ass; and, having taken a few moments to gobble on his buddy's dick in return, he's very much back in the driving seat and thrusting every inch of his knob up that ever-ready Aussie sphincter! A move that immediately pushes all the right buttons as far as young Radoc is concerned, given that he once again delivers the kind of ball-busting display we've long since come to expect and love. All topped off by him taking White's pent-up wad over his cute little face! Hot, sticky and sweaty, this is exactly the kind of filth that you dirty fuckers will love!