Summary:
Everyone loves a cuddle – that intimate touch that makes us feel wanted and valued by another human being. For our horned-up beauties, however, cuddling is but the prelude to something even more important in their lives: a hard, raw fuck! Connor Rex, Lucas Drake and Titus Snow are just some of the dick-crazy sluts who want to take intimacy to a whole new level. Newbies Jan Kotrba and doughnut-loving Martin Osment are two of the handsome studs looking to help them out. Together, they ensure that no STAXUS cuddle is complete until every cock has been drained and every dirty twink arse is coated in oodles of spunk!
Description / Review:

Scene 01: Handsome Newbie Gives & Takes A Hard Spunky Session Of Dick!
Cast: Connor Rex and Jan Kotrba
There's a school of thought which says that porn is too artificial and that viewers never get to see models as real people. If that's indeed true then the start of this terrific set-piece between Connor Rex and Jan Kotrba will almost certainly go down a treat, with the new boy taking the opportunity to talk directly to the camera about who he is and his experiences. To be fair, there's something a tad nostalgic about the whole episode – Kotrba reminiscing about times past, whilst melancholic music tinkles in the background. But the introduction of Rex soon lightens the experience considerably; with both lads quickly slipping out of their briefs and Rex falling to his knees to make the most of every meaty inch that is now throbbing away in his mate's crotch.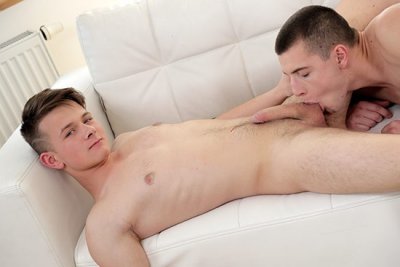 It's a delicious introduction to Kotrba's handsome ramrod that's for sure, and the magnetism between these lads only electrifies further when the taller, more muscular new boy pushes Rex manfully down onto the sofa so that he can suck his balls and rim his arse. No question about it, Kotrba's getting ready to fill that pert little rump for all he's worth; and before you know it young Rex is being skewered like a bitch in a succession of hot positions.
Anyone jumping to the conclusion that our novice has an aversion to a little variety in his love-life is in for a major surprise, however. Having given Rex the pounding the slut deserves, the guys switch roles so that Kotrba can enjoy his own sweet submission; before returning to top so that he can fill his mate's guts with jizz and allowing Rex to sign off with his own geyser-like finale!
Scene 02: Big-Hearted, Big-Dicked Lovers Enjoy A Flip-Flopping Fuck-Fest!
Cast: Lucas Drake and Titus Snow
Also available: Flip Flopping Fuckers 2 (Compilation)
When you're young and in love the whole wide world seems a blissful place, and there really is no greater pleasure than to stroll hand-in-hand by the river or to kiss and exchange woodland flowers – as Lucas Drake and Titus Snow are only too willing to demonstrate in the opening moments of this romantic encounter. Indeed, such is the intensity of their good mood that they don't even so much as bat an eyelid when a pillow splits during a playful bedroom fight, sending a cascade of feathers in every direction.
Under normal circumstances, all manner of curses and bad language would result. Here, however, the lads nonchalantly start scooping up the mess, which in turn quickly results in them falling into a lusty embrace – at which point (not surprisingly) their handsome, meaty cocks quickly become the focus of the action. What's more, it's from here that a more observant viewer will begin to realise just what a partnership of equals this pair of horned-up beauties represents. Snow slobbers eagerly on Drake's dick; Drake returns the favour. Snow rims his boyfriend's hairless arse; Drake replicates the greedy performance. Snow gets his arse pummelled furiously; Drake eagerly enjoys his turn as the bottom.
It's as if these two lads really are truly in perfect tune with one another – as, of course, true lovers should be. Only in the final few minutes does any differential show; with Drake spurting out a heavy wad of boy-batter over his own belly mid-fuck, before allowing Snow the perfect honour of creaming over his outstretched tongue for a gooey and very satisfying finale!
Scene 3: Doughnut Fun For Everyone As New Boy Gets Fucked & Creamed!
Cast: Martin Osment, Patrik Donovan & Titus Snow
New boy, Patrik Donovan, just wants to sit around playing on his drumkit and eating doughnuts, but when his buddies, Martin Osment and Titus Snow, show up at his house you just know that that's never actually going to happen. After all, whilst Osment and Snow clearly enjoy music and food in equal measure, such simple pleasures are never, ever going to compare to the prospect of hard cock; and it should come as no surprise to anyone that the two mates are soon smooching away in Donovan's living room, tempting their host into a passionate menage-a-trois. And believe us, the young lad doesn't display much in the way of resistance!
Indeed, Osment and Snow have the fellow out of his pants in next to no time; taking it in turns to devour that thick, meaty poleaxe of his, before all three boys literally descend into a veritable orgy of cock-sucking. It's at this point that Osment decides to add a bit of kink to proceedings by ringing his dick with one of Donovan's sprinkle-coated doughnuts, before ploughing hard into his pal's hairless pucker.
The sight of Donovan being gamely spit-roasted by his two buddies – complete with Osment's rather unusual cock-ring! – is something to behold; though it's not long before Snow is demanding his share of action, banging the horny bottom from behind whilst Donovan tries to get as much of Osment's dick down his throat as possible. As if all that wasn't enough, the slut then literally bounces off one mate's lap and onto another; prior to all three lads taking it in turns to sign off proceedings with a sticky tidal wave of pent-up jizz!
Scene 4: Humped-Up Boyfriends Hammer Home To A Hot, Gooey Climax!
Cast: Andy Scott, Jacob Scott
Also available: Bareback Bukkake Frenzy 4 (Compilation)
A cursory glance at their names might somehow give the impression that these two young buddies are somehow related – that maybe we're about to unleash some kind of incestuous debauchery on the world – and if that's what you're hoping for then prepare to be disappointed. However, there's a relationship of sorts in as much as blond lad, Andy Scott, and his namesake, Jacob, are real-life boyfriends; with all the relevant pros and cons that ensue from teaming up a pair of guys who clearly know each other very well. Fortunately, any jadedness that you fear might result from them knowing each other so well is avoided by the fact that both guys are self-evidently the energetic type, who evidently have real (though not exclusive) lust for their partner.
As such, the scene is barely seconds old before they're snogging like a pair of brazen bitches; with Andy arguably soon taking the slightly more dominant role. Indeed, anyone with at least half a sense of intuition will have gathered the roles in this duo long before Andy has started to feverishly rim out Jacob's hungry little arse; and it's with almost a feeling of pre-judged relief that the dark-haired buddy plonks himself down on his boyfriend's lap and begins to ride that greatly favoured shaft for all he's fucking worth.
What follows is a high-octane performance that displays all the benefits of being intimately involved with your fellow performer; with Andy giving his lover a real good seeing to, culminating in very sticky, open-mouthed crescendo that leave nothing to the imagination! Raw intimacy at its filthy best!