Summary:
The boys from STAXUS want to cum out and play; and believe us when we tell you that they're in the mood for something wild and wet! Indeed, vanilla seems oh so boring for this bunch of horned-up beauties – lads who simply can't wait to suck, fuck and then spunk and piss over each other like wild animals!
Studio exclusives, Alessandro Katz and Martyn Fox, lead the charge; together with hot favourites, Tony Conrad and Gabriel Angel. So grab hold of your cocks, guys. Something tells us that when things get messy, you're gonna fucking love it!
Scene 1: Cocktail Fun Shakes Up To Be A Spunk & Piss Soaked Fuck-Fest!
Cast: Alessandro Katz, Chad Johnstone
Also available: Piss Me A River (Watersports Compilation)
Ever the excitable young pup, Chad Johnstone is only too happy to show off his bartending skills to Alessandro Katz; but his seemingly boundless energy only appears to increase yet further when he decides to make a pass at his friend by whispering sweet nothings in his ear. We never actually get to hear what's said, but suffice it to report that Katz's response speaks volumes. Before you know it the lad is down on his knees, reaching into Johnstone's shorts, and giving his mate's hairless dick a very tight embrace with his lips.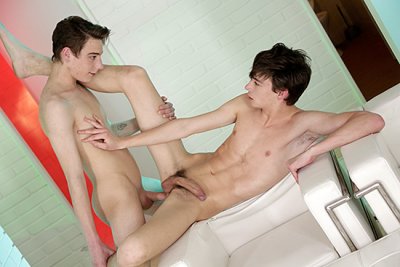 You could almost imagine Johnstone creaming in delight right there and then; but to his credit the horned-up beauty manages to contain his excitement for the moment and promptly returns the favour, gobbling on Katz's knob for all he's worth. Of course, anyone who knows this filthy-minded fucker by now realises that his restraint is purely self-serving. What he really wants, after all, is to get that perfectly preened cock of his deep inside his mate's arse-hole; and having taken a few moments to rim the hungry pucker in preparation, he proceeds to do exactly that, pushing Katz up against a full-length mirror in the process.
Cue a truly terrific display of raw fornication between these two gorgeous bastards; with Katz taking the chance to ride Johnstone's shaft cowboy-style in order to maximise the penetration. It's no great wonder, under the circumstances, that the cream is soon flying. What may come as more of a surprise is the fact that both guys are so hyped-up by the occasion that they both emit a tsunami of piss to accompany all their spunk!
Scene 2: Hot Flip-Flopping Fuckers Enjoy A Flood Of Piss & Creamy Spunk!
Cast: Jeffrey Lloyd, Tony Conrad
Also available: Flip Flopping Fuckers 2 (Compilation)
Pity the poor folks who had to clean up after Tony Conrad and Jeffrey Lloyd met up for this tremendous piss and spunk fiesta, which begins – innocuously enough – with Conrad jigging his butt for the camera in a deliciously hot pair of cheek-exposing Barcode Berlin shorts. Not that he's alone in his antics for very long. Soon Lloyd is joining the fray dressed in a butt-clinging wrestling suit; at which point the action turns decidedly hardcore, with both boys taking it in turns to unleash their meaty, uncut swords and in order to engage in a hot, sweaty session of cock-sucking.
That in turn soon results in Lloyd deciding to give his mate's pert little ass-hole a closer inspection; before finally succumbing to the overriding urge to plunge his shaft deep into Conrad's arse. It's at this point that you'd be totally forgiven for thinking that the rest of the scene was set to be a predictable romp, leading up to a predictable climax; but proceedings are dramatically interrupted by the sudden decision of both guys to engage in an early piss-fest, with Lloyd taking the full brunt of the yellow nectar!
It's a move that certainly seems to add fresh impetus to their animalistic fervour; with the lads flip-flopping positions so that it's now Lloyd's pucker that's the centre of attention. Needless to say, the ever-horny Conrad shows little if any reserve when it comes to pounding his pal's fuck-slit; and before you know it he's quite literally spurting like a fountain into Lloyd's rump. Leaving Lloyd himself the opportunity to jerk out his own gooey wad of spunk all over his own furry belly!
Scene 3: Pant-Swapping Pals Join Ranks For A Jizzed-Up Load Of Hot Piss!
Cast: Alessandro Katz, Gabriel Angel
Gabriel Angel and Alessandro Katz are (as always!) a pair of hyper-horny twinks in a very mischievous mood, so it's not at all surprising that they should find a barrelful of fun from a varied collection of underwear. It certainly puts both of them in the mood for some hardcore carnal action, that's for sure; and it's not long before the bleach-blond Angel has jumped onto Katz's lap for a lengthy, open-mouthed smooch.
Not that the young Frenchman is the kind of boy who's ever going to be satisfied with a mere kiss, of course. As always, this is a lad who isn't really happy until he's face-to-face with his lover's cock; and it comes as absolutely no surprise when he finally dives deep into Katz's crotch and starts to slurp on the gorgeous, uncut meat that he discovers there. However, he's not the only one who's got an almost unquenchable taste for fresh meat, as Katz promptly demonstrates by turning the tables and feasting on Angel's hairless dick in return.
That, however, is but the prelude to the next stage of their very passionate encounter; with Angel bundling his buddy over the arm of a sofa so that he can finger and rim the guy's now fully-exposed pucker. A few moments later and the horned-up Parisian is thrusting every inch of cock into his mate's well-worked hole; signalling the start of a terrific set-piece of raw fornication. For fans of piss, however, it's the final few minutes of action that will prove the most rewarding; with Angel spunking and watering Katz's face, and then Katz himself doing the same all over his pal in return for a thoroughly soaked finale!
Scene 4: Martyn Fox Quits Dancefloor For A Feast Of Hard Cock & Piss!
Cast: Martyn Fox, Zac Law
Sometimes you go to a club for a dance and the place is simply buzzing – but unfortunately that's not the way things seem to be turning out on this occasion for poor Martyn Fox. Every cloud, as they say, however, has a silver lining; and the fact that he encounters a very horny Zac Law sure as fuck compensates for any initial disappointment. Indeed, it's not long before the two fellows have quit the floor and have headed to a strategically placed sofa in an adjacent room; whereupon they're soon passionate snogging and ripping away each other's (admittedly already scant) clothing.
Suffice it to say that the cocks of both boys are quickly – and thankfully – on proud display; with Fox taking eager aim on Law's crotch so that he can enjoy a delicious session of wide-mouthed fellatio. To Law's credit, it's a favour soon returned; but it's obvious from the off that his keenest interest is on Fox's hairless pucker, which is soon being fingered and rimmed with the kind of no-holds-barred enthusiasm that a tight little crack like that surely deserves.
Having taken a quick break to engage in some kinky foot-on-dick action, Fox is soon responding in kind – legs akimbo, fuck-hole winking at the camera and ready to take every inch that Law can muster. An invitation that the horned-up top simply can't refuse; ploughing energetically into Fox's guts and soon reaching a very sticky, gooey climax in the process. All of which promptly leads to the scene's highpoint – oodles of piss from both lads, before Fox pops a heavy wad of jizz courtesy of a hand job from his freshly soaked pal!