Summary:
It's the very best days of their lives – and no fuckin' wonder! With an array of hard cocks, heavy balls and insatiable libidos it's very much a case of living the sexual dream for this class of oversexed students, whose love of dick and sweet raw ass-holes make them the perfect antidote to educational fatigue. Dick Casey, Kris Wallace and the legendary Johan Volny provide the perfect tonic for anyone who thinks school life is staid; as a bevy of jizz-jerkin' scholars abandon their books in favour of a practical exploration of the male anatomy ... 4 scenes
Description / Review:

Scene 1: Detention Proves To Be Ball-Bustin' Fun For Dick Casey's Dick On His Horny Mate's Ass!

Starring: Dick Casey, Kris Wallace
Also available: Bigger By The Fucking Dozen (compilation)
They're a couple of high school rebels, whose characters are such that being in trouble is almost second nature. As such, being put into detention for smoking by their teacher, Johan Volny, merely serves as just another opportunity for mischievousness for Dick Casey and Kris Wallace; and it's little wonder that the two beaus are very soon engaged in some rebellious fun together, courtesy of a banana! In fairness, Casey's response to Wallace's sensual provocation is only all too understandable – how else would you expect him to react to the sight of his mate teasing the end of the fruit with his tongue?
Indeed, the mutual cock-rubbing that follows almost seems understated in comparison; although it has to be noted that both boys are soon out of their jockstraps and feverishly relishing the contents of each other's crotches. It's at this point, of course, that any notion of innocent foreplay is thrust to one side as the pair engage in a sweaty, double-barrelled act of hardcore fornication – the initial act of fellatio promptly overtaken by Casey's obvious desire to fuck the living daylights out of his buddy and by Wallace's all-too-apparent wish to let his mate do just that!
The mating session that follows is quite simply top-notch, with Casey's oversized ramrod providing Wallace's unprotected ass-hole the kind of pounding that it deserves; before both lads let nature take its course, splattering each other with volcanic-style jets of goo. The ensuing relief is almost palpable – though whether you notice in your own desire to work out a load (or three!!) is quite another matter!
Scene 2: Cute, Wholesome Schoolmates Prove To Be A Pair Of Cock-Lovin', Dick-Tootin' Fuckers!

Starring: Bo Randall, Matt Boner
Young Bo Randall is the studious sort – keen to expand his mind at every given opportunity. But it's clearly not his brain that he wants to exercise when he sees the delicious Matt Boner asleep on a nearby sofa. Indeed, he quickly abandons his schoolwork so that he can take a much closer look at his companion; and in no time at all has brought the aptly-named Boner to consciousness by means of some very deft oral action on his buddy's swelling ramrod.
Needless to report it's a move that Boner responds to in kind, gently slurping on Randall's meaty, uncut dick before both lads lay themselves out top-to-toe on the settee to engage in a mutual suck-fest! Not that either of these horny fuckers is going to be satisfied with a mere blowjob – no matter how sensual or full of feeling it might be. Indeed, Randall clearly can't wait to mount his pal's manly shaft, and before you know it is taking every solid inch that Boner can muster up his rear!
Cue a stupendous, ass-bustin' knockabout that sees the cute little bottom being quite literally banged to within an inch of his existence by his dirty study-buddy, eventually culminating in the boy sitting on Boner's boner and riding the beast like a true pro. No fuckin' wonder that it's no time at all before Randall is quite literally spurting like a trooper; before Boner works off his own heavy wad of ball-batter as his mate watches on expectantly. The result is a top-notch spunk-inducing crescendo that'll almost certainly have you reaching for the Kleenex!
Scene 3: Kinky Lessons For Two Horny Students Result In A Plethora Of Hard Cock & Sweet Jizz!
Starring: Francisco Ruck, Kris Wallace
Johan Volny's a somewhat demanding tutor – a man who believes in stretching his students to the very maximum of their potential. Whether he envisages the kind of stretching that Francisco Ruck and Kris Wallace have in mind at the start of this classroom set-piece is another matter entirely, however. That said, the fellow should know better than to give the two charges what appear to be a pair of sex-aids as part of their art lesson – after all, we pretty much know what kind of lads Ruck and Wallace are and there's only ever going to be the one outcome.
As such, it comes as absolutely no surprise that Volny's disappearance from the room immediately signals the start of some hardcore antics from this pair of dirty-minded dudes, with each guy trying out the toys on their dicks before Wallace reverts completely to type and starts sucking on his buddy's knob for all he's worth! It's a move that can only hope to get one response from Ruck, and needless to report it's not long before the fellow is rimming Wallace's asshole before plunging his thick, meaty shaft deep inside the unprotected pucker.
It'll come as absolutely no surprise to anyone to hear that the young bottom takes every inch that Ruck can thrust in his direction; and Wallace is soon eagerly responding by sitting on his mate's lap and riding that handsome ramrod for all it's worth. It's a turn of events that can only ever have one outcome; with Wallace literally having the jizz banged out of him, before Ruck jerks out a quite terrific geyser-like spray in reply. Has a life of hard study ever looked so hot?!

Scene 4: School's Out – As Is Johan Volny's Cock! The Result? A Raw, Spunk-Fuelled Fuck-Fest!
Starring: Johan Volny, Ryan Olsen, Finn Hornet, Dion Jet
Also available: Dads N' Lads 1 - Compilation
The results are out – and it looks like all those hard-working students have truly excelled themselves in their exams. Time, therefore, for the students' teacher, Johan Volny, to crack open a bottle of champagne for a celebratory drink, which he promptly shares with Finn Hornet, Dion Jet and Ryan Olsen. Not that the revelry is ever destined to stop with just a glass or two of bubbly, of course. Volny for one hasn't gained a reputation as one of porn's most prolific stars for nothing, and his trio of charges is equally hyped up for the challenge.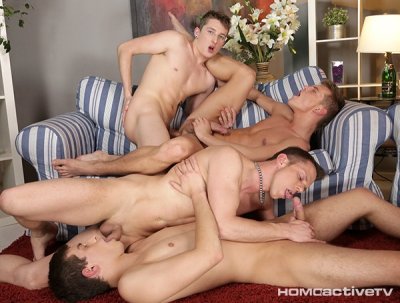 As a result it's no time at all before Hornet, Jet and Olsen are eagerly stripping their mentor of his clothes; before each of the guys take turn to suck on that famous ramrod with the kind of enthusiasm that the handsome phallus deserves. As with any bunch of oversexed whores, however, you can always be assured that there'll be one slut who's even more charged up than the others – in this case the accolade going to Hornet, who's soon bouncing up and down on Finn's dick with a grin on his face from ear to ear.
What's more, it's a look of elation that only grows when Volny does him the honour of taking a hard raw pound at his ass. No question about it, you're gonna be in rapture watching these three horny fuckers at play; and it's a feeling that will only grown even more intense when Jet, Volny and Olsen start to wrap up proceedings by spewing the sticky contents of their balls all over Hornet's face and body. Given the amount of jizz produced and the concluding winks to camera, the fun can be taken as read!