Summary:
For some, it's just the opportunity to relax. For others, it's the chance to get their hands on some ripe male flesh. But for these horny young twinks it's both these things and much, much more, as the art of massage goes to a whole new dirty level. Ennio Guardi, Orlando White and STAXUS new hottie, Sig Sinclair, lead the charge as "innocent" fondling quickly develops into something much more electric! For these filthy-minded twinks won't ever be happy until every drop of spunk has been massaged out of every cock they encounter!
Description/ Review:
Scene 1: Connor Levi's Oily Massage Results In A Greased-Up Fuck-Fest With A Gorgeous Muscle-Hunk!
Starring: Ennio Guardi and Connor Levi
Also available: Bigger By The Fucking Dozen (compilation)
As well as being one of the sexiest studs on the planet, Ennio Guardi is also one of the hottest masseurs around – as blond Brit-boy, Connor Levi, discovers when he calls on the fellow's services in this terrific, oil-drenched escapade. To be fair, Guardi's glorious physique is such that he doesn't need to possess any such massaging skills – in fact, Levi is pretty much putty in his hands right from the very moment that he walks through the door.
But credit where credit is due, as the Czech hunk starts by working every inch of his client's flesh and almost brings Levi to a premature boil without so much as a hint of penetration! Not that it's all that long before the horny English lad is allowing Guardi to give his mouth a good workout, slurping on that Slavic ramrod with typical STAXUS gusto – by which point the oil is most definitely flowing without the merest hint of restraint!
As such, the foreplay that ensues is a decidedly greased affair, with naked flesh slipping and sliding sensuously against naked flesh, and it comes as no surprise that Guardi's thick, meaty dick ultimately slips into Levi's ass with only a modicum of resistance. Moments later and the over-excited top is quite literally up to his balls in rump, Levi clearly savouring every swollen inch of premium cock in the process. What follows is a magical display of man-to-man fornication, with Guardi banging away at his client's hungry fuck-hole in a succession of positions before both guys spew furiously in appreciation. In short, a deliriously wet adventure courtesy of two of the dirtiest fuckers on the circuit!
Scene 2: Young Blond Gets His Back Massaged – Then His Ass Fucked Raw & Filled With Spunk!
Starring: Sven Laarson and Boris Orla
Also available: Fucking Blonds (2 DVD compilation)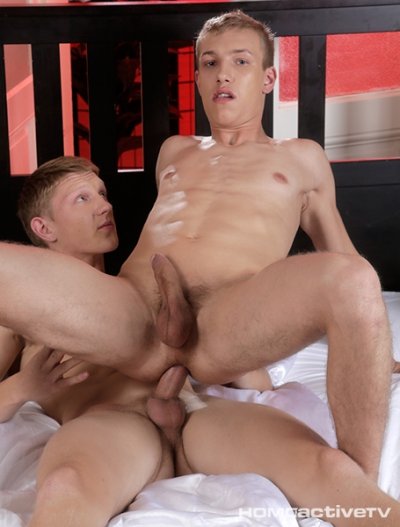 Young, sexy Sven Laarson is at the age in his life when he can think of nothing but sex – his whole existence ruled by that handsome, meaty dick that he has dangling from his neatly trimmed crotch. So it's little wonder that the fellow should pass so much of his time quietly enjoying the simple pleasure of his own naked body, pleasuring himself on his bed like so many other lads his age. But whilst a bit of solo action can be fun, it's never, ever going to compete with the pleasures that being with some other horny fucker can provide – in this instance Boris Orla, who promptly begins to administer a very enjoyable massage on the fellow. Unsurprisingly, of course, given that this is porn, it's not long before the said rub-down has developed into something much more intimate and intense, as Orla introduces those firm, inquisitive hands of his to Laarson's dick – a move that immediately signals the start of some deliriously enjoyable cock-sucking and ass-rimming.
By this particular point there's every chance that you'll be engaging in much the same kind of solo play as Laarson himself was savouring at the start of the scene; and it's a predicament only set to get worse when Orla finally embeds his meaty, swollen ramrod deep into his mate's ass, signalling the start of an energetic, bareback fuck that sees Laarson banged from behind and beneath in turn. All culminating in a superb cum-on-ass climax that quite literally leave's the young bottom's fuck-hole dripping copiously with fresh jizz!
Scene 3: Horny Masseur Gives His Soccer Star Client A Hot Rub-Down & A Full-On Sticky Facial!
Cast: Adrian Smallwood, Sig Sinclair
Also available: Bigger By The Fucking Dozen 2 (Compilation)
Adrian Smallwood is the masseur, Sig Sinclair the cute footballer in need of a massage – and needless to say it doesn't take many minutes before what appears to be an innocent rub-down turns into something much more sexually charged. Primarily because of Smallwood, who clearly has a penchant for young soccer players and who quickly takes the opportunity to sniff Sinclair's shorts.
That's nothing to what ensues, however, once he's persuaded the athlete out of his jockstrap – pouncing on Sinclair's dick and giving it the kind of vacuum-suck that it deserves! It's a move that clearly presses all the right buttons as far as the football player is concerned; and before you know it the two lads are busily engaged in a top-to-toe suckathon, latching on each other's cocks and quite literally sucking the life out of them.
It's a wonder that the spunk doesn't shoot there and then; but Smallwood's intentions are now firmly centred on Sinclair's tight little ass-hole, and it's no time at all before he's abandoned all pretence of being a masseur and is instead pounding away at his young pal's butt like a dedicated pro. Sinclair for his part takes every inch on offer without so much as a flinch – the action ultimately culminating in him working his rump up and down the length of Smallwood's shaft cowboy-style. By this point, of course, there's every feasible chance that you'll have long since popped your cork. But if not then the sight of Smallwood blasting Sinclair's face with jizz will surely do it!
Scene 4: Hot, Horny Masseur Gives His Clients The Rub-Down Of Their Lives. The Result? Oodles of Jizz!
Starring: Orlando White, Ryan Olsen, Sven Laarson
To the untrained eye, the art of massage can appear so easy that it looks like something anyone with a pair of hands can do. But, as Ryan Olsen is only too eager to demonstrate, there's more to a good rub-down than a heavy palm and a bottle of massage oil! Mind, this young fellow's skills are certainly augmented by his clear willingness to go the extra mile, as he promptly proves when blond bombshell Sven Laarson arrives as his first customer. Believe us, this is most definitely a service with additional benefits, and it's not at all long before the fellow has worked out a very healthy load of jizz out of Laarson's ball-sac. But it's Olsen's session with Orlando White, which immediately follows on, that truly underlines this lad's determination to ensure customer satisfaction.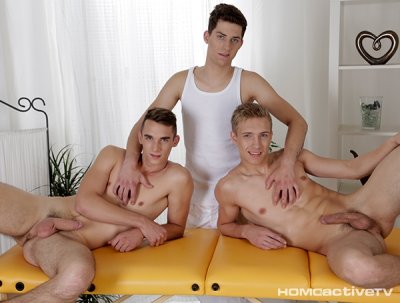 For White has clearly arrived with the intention of securing something a little more intense than a simple hand-job, and as such it's not long before the masseur has notched up the temperature considerably by giving White's dick its own unique massage in the form of a good old-fashioned blow-job! Not surprisingly, it's a move that quickly adds to the intensity of the encounter; and having provided White with a subsequent session of ass-rimming, it's no time at all before Olsen is having to accommodate his second client's oversized butt-picker right up his ass!
Not that the youngster looks in any way incapable it must be said, and White's appreciation is nicely summerised by the manner with which he dumps a generous wad in return. A visit to a massage parlour has never looked so hot!