Summary:
Some boys are square and never know how to have fun. Don't worry, though, that's not the case with this superb collection of horny fuckers – lads like STAXUS exclusive, Pyotr Tomek and his fuck-buddies Jace Reed and Dick Casey. From porn stalwart, Lukas Leung, to new boy, Ryan Torres, these filthy-minded beauties play hard and fuck even harder; culminating in Sam Williams getting gang-banged by a collection of his horned-up mates and resulting in a cum-fest extraordinaire! Believe us, things are gonna get very hot and creamy!
Scene 1: Horny Newbie Gets His Arse Pounded By Two Studio Favourites! (See also: Let's Play With Pyotr Tomek)
Cast: Carl Ross, Pyotr Tomek & Ryan Torres
Talk about winning the lottery with your very first ticket – it's new boy Ryan Torres's first ever scene for STAXUS and here he is teamed up with the truly terrific pairing of blond demi-god, Carl Ross, and studio exclusive, Pyotr Tomek! What more could a young, horny newbie possibly wish for? What's more, our two regulars are very clearly in the mood for a little playfulness; positioning themselves on either side of their new buddy and squirting chocolate sauce all over his torso, which they promptly lick up with their tongues. It's a deliciously gorgeous bit of fun, but it's never, ever going to be enough for any of these horned-up mates; and soon all three are positioned in a dick-munching triangle, feasting away on every hard, uncut inch that's now on offer.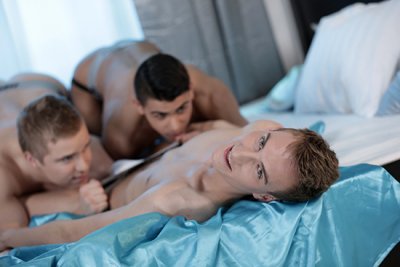 Then attention finally begins to turn to the main focal point of this jizz-inducing escapade, with Ross rimming Torres's ass-hole, before finally plunging his thick, aching schlong deep into the fellow's pucker! Cue a fantastic display of twink-on-twink rutting, made all the more intense by the fact that Tomek positions his face just barely millimetres from the action so that he can intermittently slurp on Ross' cock!
After which the lads switch roles so that Torres can bounce up and down on Tomek's love-stick; before Ross returns to hammer the youngster's rump, whilst Tomek slurps away on Torres's knob. It's more than enough to get even the most hardened porn-viewer to a sticky climax; but the sight of Torres getting his face jizzed by both his mates will make that conclusion a fucking certainty!
Scene 2: Dirty Blond Gets Blindfolded, Rimmed & Spit-Roasted By Mates!
Cast: Edward Fox, Tom Nutt & Troy Vara
Also available: It Take Two To Tango (2 DVD set)
Edward Fox and Troy Vara are clearly in the mood for a little bit of kinky fun with their sleepy fuck-buddy, Tom Nutt – bounding onto his bed, blindfolding the fellow and playing that age-old game of "guess whose cock you're sucking"! Any pretence of disinterest on Nutt's part, however, is undermined by the fact that the young blond has a hard-on in his pants like a fucking tent. Indeed, both Fox and Vara seem to understand that their pal is well up for action; and it's no more than a minute or two before Nutt has removed the blindfold and is very eagerly devouring every meaty, uncut inch that his mates are able to thrust in his direction! What's more, it doesn't seem to take all that long before the fellow has positioned himself on the bed with his legs almost wrapped behind his ears, so that Fox and Vara can take turns to rim his gaping ass-hole.
Clearly this is a boy with a whole lot of sex on his mind; and it seems to come as almost something of a relief when Vara finally plunges his joystick into the fellow's hungry pucker, still jutting proudly into the air in a very open invitation to his over-sexed pals. No question about it, Vara takes full advantage, mercilessly pummelling the kid's man-cunt to full effect; whilst Fox takes a somewhat more gentile approach, allowing Nutt to ride his dick cowboy-style – a method that Vara himself replicates shortly afterwards. Not that Nutt seems the kind of boy to care how he's being fucked – so long as he is! – and the copious stream of jizz that he takes full-on in the face only underlines his total-slut credentials!
Scene 3: New Boy Gets His Arse Split & His Face Creamed By His Buddies!
Cast: Dick Casey, Ray Mannix, Roman Smid
Also available: Big Boys Don't Cry (2 DVD Compilation)
How many plastic chairs can you fit on the end of Dick Casey's dick? Yes, well maybe that does sound a bit of an odd question to ask, but it will make a little more sense once you've seen Roman Smid and new boy, Ray Mannix, fooling around during the opening minutes of this splendid threesome. Needless to say, the little game that this trio are engaged in proves the perfect excuse for Casey to showcase his magnificent butt-picker to his two young companions; and it's no surprise that Mannix and Smid are soon totally entranced by the magnificent beauty that is now standing proud of the fellow's shaved crotch.
That said, it's not long before attention has been switched to Smid's handsome ramrod, with Casey and Mannix taking it in turns to slurp off the uncut schlong; before Mannix's previously untouched ass-hole becomes the focal point of the action. Who's to say whether this beautiful, pert rear has ever been mastered before? What we can be certain of, however, is that it won't ever be quite the same again now that it's had Smid and Casey giving it the once over.
Indeed, neither of these lads shows any restraint as they fuck the tight little hole one after the other; culminating in the lad riding Smid cowboy-style like a total whore! It's wild, it's uninhibited, and it's absolutely no fucking wonder that neither top can wait to splatter Mannix's cute face with the contents of their heavy cum-sacs! Leaving Mannix himself to jerk out a fine wad, whilst snowballing his two mates!
Scene 4: Sam Williams Gets Used Like A Fuck Rag By His Horny Buddies!
Cast: Jace Reed, Lukas Leung, Roman Smid, Ryan Torres, Sam Williams
Also available: Bareback Bukkake Frenzy 2 (2 DVD set)
Given his reputation as a top, it might surprise you somewhat to discover that it was Sam Williams who initiated this scene in the mind of director, John Smith – a multi-guy fuck-fest in which the fellow gets fucked by pretty much everyone! Unwilling to throw the dark-haired stud in at the deep end, however, Smith made the rather sensible decision to split the performance into two halves – one featuring Ryan Torres and Roman Smid, two young labourers who seem to take exception to Williams' errant ways, the other adding Jace Reed and Lukas Leung into the mix. As a result, it's probably best to pace yourself when appreciating what turns out to be a truly top-notch escapade; though given how horny our fans are there's undoubtedly every expectation that your appreciation may not be limited to just one creamy eruption!
However, it'll be a hardened fan who can hold back when seeing Williams getting spit-roasted by Smid and Torres – the stud writhing on all that hard, uncut cock in much the same manner as so many young twinks have gasped and groaned on his own dick in the past! But perhaps not surprisingly, the atmosphere in the room goes stratospheric once the trio has spawned into a no-holds-barred five-some; with Reed's mammoth member proving a definite draw for Williams, who by this point seems to have quite literally transformed himself into a newly discovered cock-bitch! Suffice it to say that it's not long before the quartet of horned-up buddies are creaming Williams' face; leaving the bottom to jerk off as they fight to lick the spunk from his lips!