Summary:
It's a question that has dominated philosophical debate for eons: Who's better? Chavs or footballers? Okay, so maybe the greatest minds aren't exactly wracked over the issue, but one thing's for sure – this collection of horny sports boys and their tearaway counterparts will quickly help you overcome any post-Olympic blues. Well-hung and all as horny as fuck, these lads just can't wait to tear into each other for a cock-crazed, spunk-fuelled festival of hot fornication!
Scene 1: A nose for a good fuck
Cast: Luke Desmond & Kai Alexander
Also available: Athletic Ass Bangers 3 (Compilation)
You've gotta say that for Chavs – they always seem to have a nose for a good fuck. As ably demonstrated here by young Luke Desmond, who arrives at the local football club with almost psychic knowledge of floppy-haired blond Kai Alexander's need of a hard rub-down. Not that Desmond's knowledge of massage seems to extend much beyond groping the young footballer's crotch, but what he discovers in those tight, sweaty quarters is more than enough to convince him that Alexander's ripe for the picking.
And indeed so it proves, with the kit-boy almost immediately responding by taking Desmond's gorgeous cock in his hungry mouth for some deep-throated gobbling – quite an achievement given the dimensions involved. Thereupon anticipate a fine display by both lads as they 69 over the massage bench; before Alexander parts his legs for the fucking of his life.
Fuck knows how he takes every inch of Desmond's monster – you almost half-expect it to come popping out of the poor guy's mouth! – but the footballer proves himself to be more than adept at handling a big dick; before each chap spews copious amounts of baby-brew to seal a famous victory!
Scene 2: Blond bitch rides hard in the locker room
Cast: Skylar Blu and Jordan Downing
Also available: Big Boyz, Happy Arses (Compilation)
Most chavs up to no good would quickly do a runner if disturbed – but not so Jordan Downing. Caught red-handed going through the sports bag of platinum blond, Skylar Blu, he promptly distracts his accuser by giving him a hard smooch on the lips.
Seconds later and Blu has responded by falling down to his knees to encompass Downing's rock-hard ramrod between his lips, signalling the beginning of a hot, sweaty session of cock-sucking that'll have you jerking in appreciation. Don't dump a load too soon though. Blu is a notorious cock-fiend at the best of times and on this occasion he doesn't disappoint. Indeed, he's one young soccer player who really can't wait to get a thick hard dick between his goalposts, and it isn't at all long before he's opening up his eager crack to welcome Downing's handsome pecker.
Thereafter it's a hard session of ass-breaking toil, with Blu taking it both from behind and on top for the kind of stretching that most young lads his age can only dream of. Little wonder that Downing's soon spurting a handsome load of jizz all over the floor; whilst Blu responds by wanking off over the chav's smooth chest. In a word, magnificent!
Scene 3: Toilet Sex Footie Chavs Enjoy Hard Cock & A Sack-Load Of Jizz!
Cast: Jamie West and Leo Foxx
Also available: Brexit Fuckers 3 (2 DVD set)
You ever been to the urinals and noticed that the guy standing next to you is actually jerking off rather than having a piss? Well that's exactly what happens to soccer player, Leo Fox, when he comes off the pitch to take a slash – Jamie West taking full advantage of the situation to show off the finely proportioned equipment that he's got stashed in his trackers.
In fairness, Fox doesn't once appear to show any reluctance in responding; indeed it's pretty much no time at all before the sports-crazed youngster is displaying his other great love – hard cock! What's more, West is more than capable of providing for the fellow's deep-seated desires, thrusting his meaty uncut shaft down Foxx's throat like you won't believe.
On this occasion, however, it's the chav who's ultimately gonna be providing ass for the camera, with Fox sheathing up for the task of fucking West's tight man-cunt over the urinals and then promptly thrusting forwards to give the na'er-do-well the kind of screwing he probably always deserved. Little wonder that neither of the lads have difficulty in providing the money-shots at the scene's climax – Fox's dump over West's head serving as the crazed finale!
Scene 4: Geordie Boys Football Kit Threeway Sets Up A Lashing Of Hot Jizz!
Cast: Drake Law, Lucas Davidson & Luckas Leyton
Also available: Spunk Lovin' Spit Roasters 3 (Compilation)
Also available: Fit As Fuck (Compilation)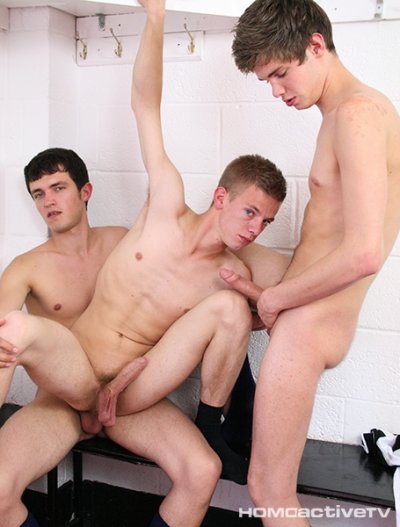 What do horny footballers get up to in the locker room before and after a game? It's not an unreasonable question given the amount of hot flesh that's always on show in those confined quarters, and Drake Law and Lucas Davidson go some way to providing an answer when they engage in a feisty session of mutual crotch-rubbing and subsequent cock-sucking for your inimitable pleasure. A session that only comes to a prompt conclusion when young chav, Luckas Layton, unexpectedly enters the room to catch the pair pleasuring each other. It's a development that promptly turns the session into a rip-roaring escapade of total dick worship, with Law (a cute young twink, it has to be said) and Davidson taking full advantage by thrusting their knobs down Layton's throat! Not that they're ever really gonna be satisfied until they've had the chance to give the young chav's ass-hole a good stretching, taking it in turns to plug Layton's hungry pucker and getting themselves into a feverish frenzy in the meantime. The spunk is always destined to roll big time – and those three juicy uncut phalluses don't disappoint. Prepare for a white-out of pent-up nad-froth!
Scene 5: Smooth Young Twinks Get Their Boy-Cunts Brutally Banged!
Cast: Aaron Aurora, Drake Law, Luke Desmond, Skylar Blu
Also available: Bareback Bukkake Frenzy 2 (2 DVD set)
With absolutely no disrespect intended to director Michael Burling, it's pretty damn obvious that this scene's gonna score big time even before the lads have left the field after the game and headed for the locker-room. After all, it's a veritable cornucopia of gay sporting fantasy. What's more, it includes some of the sexiest, horniest Brit twinks in the business – boys that you could quite easily fall in love with there and then, and whose sexual antics you could easily watch forever without ever tiring.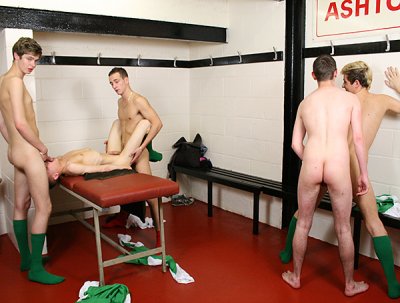 Picking a favourite from the five lads is a somewhat difficult task given that all the boys are as cute as new buttons and decidedly blessed on the cock front; but Luke Desmond's dick is (as always) an unmistakable monster, which in this instance gives young Drake Law's ass a real good workout, whilst Aaron Aurora's spit-roasting at the hands (or more accurately the cocks!) of Skylar Blu and Jonny Parker serves as a truly unforgettable focal point to the debauchery. There's always gonna be someone who quibbles otherwise, but we defy the vast majority not to have dumped a generous wad long before these boys declare a wrap with their cascade of jizz!