Summary:
They'd have us believe that they're too busy slogging away as grease-monkeys to find the time for any cock and ass action, but this latest escapade from the boys in Prague serves up a very different picture. Hard dicks galore, popping out of sweaty overalls and straight into hungry mouths and willing asses, act as the ethos of the business; with the grime and manly sweat matched only by the resultant trail of spunk from well-used mouths and finely stretched ass-holes!
Description / Review:

Scene 1: Filthy Twink Mechanics Get It On In The Garage!
Starring: Timmy Taylor and Jacob Fluke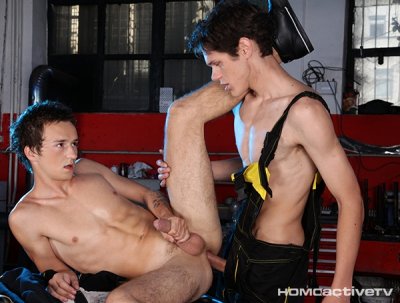 Young Jacob Fluke is a multi-talented twink it must be said – a fact that's not lost on his horny boss, Timmy Taylor. After all, not only can the boy blow somewhat impressive smoke-rings whilst drawing on a cigarette, he can also blow cock like you wouldn't believe – and let's face it, it's this second skill that attracts Taylor's attention more than the other when the two fellows encounter each other on the factory floor. Before you know it, Taylor has sidled up to the bright-eyed boy, forced the lad down to his knees and is thrusting his meaty uncut cock out of his overalls and down the boy's throat. It's a favour that the boss is subsequently only too willing to replicate in return; but it's pretty fucking obvious that ultimately it's gonna be Fluke's tight little pucker that's set to be the chief attraction in this garage. So it proves, with Taylor first rimming the hungry hole, then slipping his shaft deep inside. The ensuing rough fuck, with Fluke bundled over machinery, taking every inch of dick like a pro in the process, is hot enough; but it's Fluke's tongue-tastic reception of his boss' creamy eruption that'll have you jerking off with sweaty, knuckle-tight rigour!
Scene 2: Dick Casey Stuffs A Smooth Twink Hard!
Starring: Dick Casey and Timmy Taylor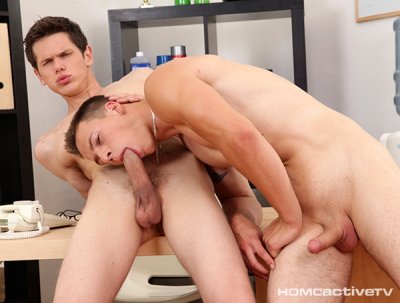 Timmy Taylor certainly tries mighty hard to give the impression of being a straight guy – sitting in his office looking at a porn mag filled page-to-page with naked girls – but it's pretty obvious by the way he looks at Dick Casey when Casey walks through the room half-dressed that he's nowhere near as interested in the opposite sex as his own. A suspicion confirmed by his ensuing fantasy involving the wide-mouthed Casey, a sponge and a bucketful of soapy water. It's a sensual display – and one that both horny boys clearly enjoy. So much so, in fact, that it's not very long before they're both splayed across Taylor's desk in 69-position, slurping on each other's thick, meaty, uncut dicks. It's only a matter of time before one of these lad's arses is gonna get a good, old-fashioned stretching – in this instance young Taylor, who proceeds to get fucked from behind before taking the opportunity to bounce up and down on Casey's ramrod like a common whore. There's only one way all this action is gonna end, of course – and so it proves, with Taylor taking a mouthful of pent-up jizz courtesy of his pal's knob. Some friends, it seem, just love to give!
Scene 3: Tim Law Is Banged Hard By Rudy Valentino!
Starring: Rudy Valentino and Tim Law
Also available: Young Dumb and Splattered in Cum Yet Again (6 scene compilation)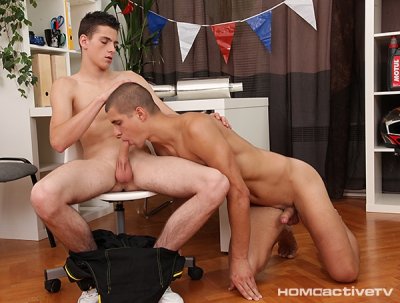 Everyone pretty much knows what a hot, horny fucker Rudy Valentino is – both on and off a film-set – but it still seems to come as something of a surprise to young Tim Law when he enters Valentino's room to discover that the guy has been watching porn on his computer and having a surreptitious wank under his desk. In Law's defence, however, it's probably not the kind of behaviour that you expect from a man in authority; although the young twink's surprise doesn't stop Law from immediately taking advantage of the situation by falling down onto his knees so that he can slurp on Valentino's famously swollen cock. What ensues is almost a masterclass in dick-worship, as Law feasts on the stud's handsome butt-picker like a bitch on heat. The favour replicated, it's soon time for Valentino to thrust his raw shaft deep into the lad's hungry pucker, now quite literally twitching in anticipation – at which point you're gonna be jerking like crazy with one hand and flicking for the remote with the other! Kleenex warning: savour Law's spontaneous cum-shot whilst fucked in the ass, followed by the glorious spectacle of Valentino erupting all over Law's blemish-free face!
Scene 4: 2 Hard Mechanics Use A Smooth Twink As A Cum-Rag After Banging Him!
Starring: Dick Casey, Zack Hood and Lucas Tree
Also available: Spunk-Lovin' Spit Roasters 2 Compilation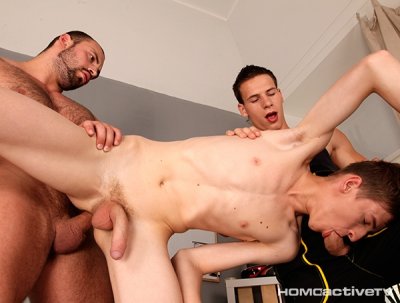 You can't help feeling that director John Smith perhaps had a little bit of mischievous fun putting young twink, Lucas Tree, in a scene with STAXUS exclusive, Dick Casey, and porn stalwart Zack Hood. Talk about a lamb getting thrown to the lions! Tree plays the role of a water-cooler guy who (accidentally or not) delivers an under-filled bottle to the hard-pressed workers. Needless to say, Hood is far from impressed and is soon forcing his gym-built frame down onto the hapless water guy. It's a turn of events that Casey quickly takes full advantage of, and before you know it Tree has a pair of hard dicks pushing their way into his mouth. That, of course, is only the beginning of the poor twink's misfortunes. There's no way that he's ever gonna be able to fend off Hood's advances, and before the kid knows it he's got the gym-buddy's raw knob pumping him from behind for all he's worth. It's the catalyst for a breath-taking romp of raw sex that results in Tree getting buggered and spit-roasted like a rag doll; culminating in Hood dumping a load in his ass and Casey splattering his face big style. Believe us, if you don't find this scene hot then porn ain't for you!
Scene 5: 2 Hot Young Stud Mechanics Fuck In The Garage!
Starring: Zac Tood and Alex Master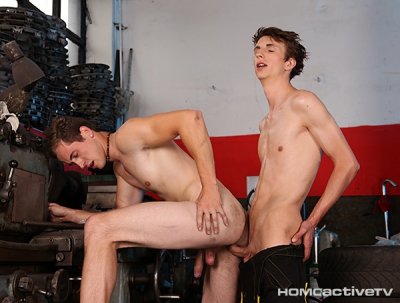 We're not exactly sure if it's the result of a factory policy or if it's just the trend in the Czech Republic at the moment but there's no disguising the fact that both Zac Todd and Alex Master are pretty much as smooth as the day they were born in this scene. From their oiled-down chests right to their hairless crotches, it's obvious that the razors have been hard at work in Prague – resulting in the perfect pick-me-up for anyone who likes their guys to look well-groomed in the crack and sac department! Not that their lack of bodily hair appears to have affected their overcharged libidos in any way, as the two twinks get embroiled in lengthy session of cock-sucking and smooching amidst the grime and dirt of the shop-floor. Indeed, Master's lack of ball-hair seems to provide the perfect opportunity for his workmate to suck nonchalantly on those cum-filled orbs; promptly followed by the kind of deep-tongued rimming that ought honestly be made compulsory in these kind of situations. It all makes for the perfect set-piece, with Todd banging away raw at his pal's pucker before spewing ass-wards for glory. Followed by a chin-dripping facial that leaves Todd's face all coated!