Summary:
Those expecting a "CSI: Crime Scene Investigation"-style romp into criminology and forensics, be warned. This gritty, cum-soaked portrayal of police work in the Czech Republic concentrates solely on the long cock (rather than the arm!) of the law. If you like officers in uniform fucking the confessions out of young and disarmingly cute na'er-do-wells, then this will be a wank-fest extraordinaire!
Description / Review:

Scene 1 - Night-Duty Cock Fantasy
No-one likes night duty – least of all a hot young man like Ian Dolman, who would otherwise be spending his time trawling clubs for other cock-obsessed dudes. If it's quiet, however, it does at least present the opportunity to fantasise about your work-colleagues and what you'd like to get up to them given half the chance. Cue the imaginary entrance of Hal Stubbs, who's clearly as devoid of work as Dolman – not to mention as horny. Needless to say, the appearance of this toned-up sex-god soon has the young fantasist savouring every inch of hard cock in his mouth, which (not surprisingly) promptly results in Dolman taking a generous load of fresh spunk in his gob. In comparison to many of Vlado Iresch's scenes it's short and definitely to the point, but as an opening salvo it's the perfect mood-setter.
Scene 2: 4 Man Orgy In The Police Showers
Cast: Zack Hood, Ian Dolman, Jacob Bishop & Jeff Stern
Also available: Sleazy Restroom Riders (2 DVD Compilation)
Also available: Locker Room Fuckers (2 DVD Compilation)
Anything with Zack Hood in is always hot. But put the guy into a police uniform, add three other stunners into the sweaty, claustrophobic backdrop of a shower-room and make sure there isn't a condom in sight and you've got the makings of a classic. Indeed, we defy anyone not to have their cock out even before Hood has pushed new-boy, Ian Dolman, into the showers and is encouraging his colleagues, Jacob Bishop and Jeff Stern, to assist him in the ritualised abuse of the fresh-faced rookie.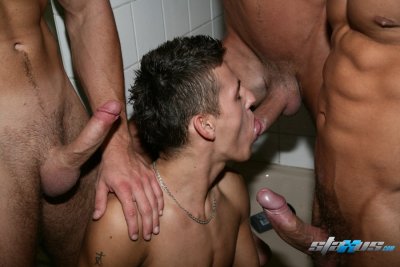 The narration is at pains to tell us that this is the first time that Dolman's hole has seen any action, but if that's really the case then the kid's very much a natural, with his crack brutally pounded by a succession of thick, uncut cocks (Hood's included) and his face ultimately whitewashed by the pent-up contents of three heavy sacs of cream. If you can hold off from wanking to the sight of this boy's mouth awash with sperm then maybe watching gay porn isn't quite as much your thing as you might think!
Scene 3: The "Police Bull" Takes A Long, Hard Ride

Cast: Neil Cross, John Kelland and Rico Armin
The so-called "Police Bull" in question is Neil Cross – and if you've already seen his previous performances in the likes of BAREBACK PISS SCHOOL and MASSIVE MONSTERS you'll know he's the perfect choice for the role. For this smooth, dark-haired wonder has the kind of thick, uncut shaft that pretty much all of us would just love to get to know much, much better; though on this particular occasion we must be content in watching compatriots, John Kelland and Rico Armin, enjoy the pleasure of his greedy, swollen rod.
Blond haired bottom, Kelland, is particularly accommodating – riding Cross and Armin in turns, and in the process shooting out two generous loads of spunk for his efforts. His ultimate satisfaction is achieved, however, when Cross' vein-filled knob-end spurts its contents all over his face with a succession of heavy, creamy bolts; whilst Armin dollops a generous wad of fresh jizz across his vest-top.
Scene 4: A Very Probing Investigation ...
Cast: Pablo Tuty, Jacob Bishop, Hal Stubbes and Jeff Stern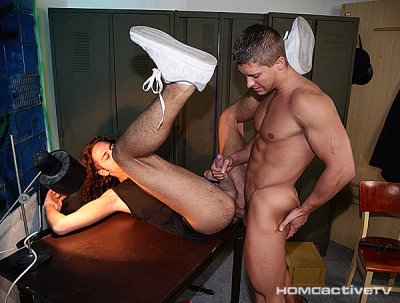 Held in an interrogation room, long-haired rogue, Pablo Tuty, faces the sort of probing investigation that would have even the most hardened criminal begging for mercy, as a succession of horny cops quite literally try to fuck the truth out of the guy. Beginning with Zack Hood, who has already shown his uncompromising nature in the earlier scene with Ian Dolman, and who on this occasion shows no hesitation in forcing his meaty truncheon down Tuty's somewhat reluctant throat. It's a line of questioning that the likes of Jacob Bishop, Hal Stubbes and Jeff Stern are only too willing and able to copy, resulting in Tuty getting the fucking of his life. The sight of his ass dripping with cum, as the officers enter the room (and his butt!) one-by-one, is naturally the highlight of the scene; though we are left to wonder whether such methods eventually secure a confession. Given the character of most gay porn lovers, however, we suspect that's not really going to spoil your viewing …
Scene 5: Horny Officers Savour A Little Uniformed Bonding
Starring: Andre Lopes and Jesse Shaw
Also available: Uniformed Shooters (2 DVD set)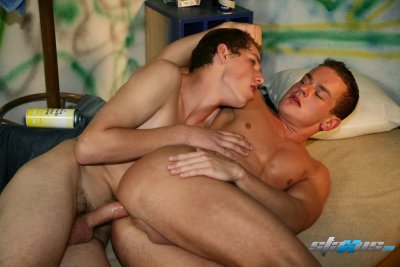 Andre Lopes and Jesse Shaw are called to the scene of a crime, where they discover what appears to be a vital piece of evidence – namely, a gay porn mag, which no doubt some young twink has been tossing off to just a few minutes before they arrived. It's a discovery that soon gets both officers into a somewhat predictable lather, as they strip away their uniforms, unleash their aching manhoods and start sucking and rimming with the sort of unrivalled gusto that one would surely expect from a couple of lads their age. It's not quite the sort of behaviour that's detailed in the Police Officer's Training Manual, we feel quite sure, but something tells us that the reality of the situation is not exactly a matter that's gonna concern you much. Indeed, our bets are on a whole cascade of spunk being milked from you guys long before the scene reaches its sticky, jizz-laden climax, which includes arguably the best cum-shot of the whole production.

Scene 6: Young Scally Feels The Long Arm (And Cock) Of The Law
Also available: Just 18 part 2 (2 DVD set)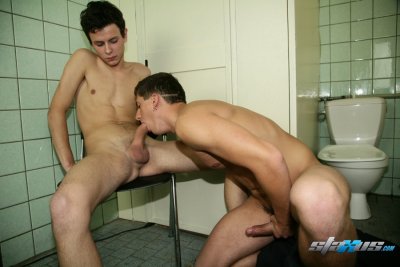 Warning – if ever you find yourself in police custody and decide to take the opportunity to have a wank in the toilets, then make sure you don't get rustled by someone of Neil Cross' calibre. For this is one officer who doesn't seem to take too kindly to folk relieving their sexual frustrations in the cubicles, as horny youth, Sam Brooks, promptly discovers! That said, previous demonstrations of Brooks' art in MASSIVE MONSTERS suggests that he's one young sex-fiend who wouldn't mind being disturbed by a bounty-hunter such as Cross. For the fact is that this bright-eyed, bushy-tailed beauty is the kind of youngster who lives for cock and loves nothing better than riding any thick, pounding ramrod that comes his way – as he very ably demonstrates by parting his legs and allowing the officer to fuck him every which way you can imagine. What's more, it's with a distinct smile on his lips that he takes Cross' load – proving, once again, that he's never happier than when he's acting the total slut!

Scene 7: Police Students Take A Fuck-Break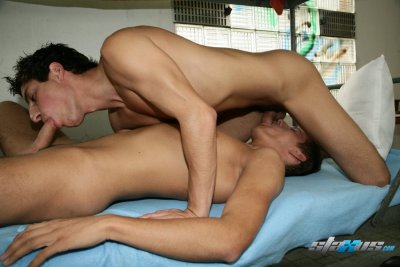 The film concludes with a wistful dose of nostalgia, as rookie cop, Ian Dolman, reminisces about the time he spent at police college with Daniel Wood. Like most students, both lads need a little time to relax as much as they need time to study, and what better way than to toss their books aside and engage in a little intense study of the male anatomy? Not that either boy seems to need very much coaching in this respect, it must be said, stripping away their clothes and gorging on each other's rampant, uncut shafts almost as if their final results depended on it! Then again, why the surprise? These guys are at the peak of their sexual game – a point that Dolman is quick to underline as he slurps Wood almost to the point of ecstasy, before clambering on his mate and riding his fellow student-cop like a bitch on heat. No wonder neither lad can hold back from giving a deliriously generous spurt of nad-juice at the scene's conclusion – a predicament that you the viewer are almost destined to emulate!