Summary:
Late summer in the countryside – and it's time for the boys from STAXUS to head out of the city to help out with the harvest. Unfortunately, any farmer who's hoping for the muscular assistance of these boys is likely to be somewhat disappointed. For whilst the corn might need cutting and the apples might need picking, the likes of Lucas Drake, Titus Snow and Ray Mannix are much more interested in the fruits of each other's groins to pay any attention to work. Whilst new lads Clyde Walton and Mike Branco ensure that the only seed being planted cums straight out of hard, uncut cocks into sweet twink arses!
Scene 1: Farmer Snow Gets His Ass Fingered & Fucked By Hot Hired Hand!
Starring: Luke Volta, Titus Snow
Also available: Alfresco Arse-Raiders (Compilation)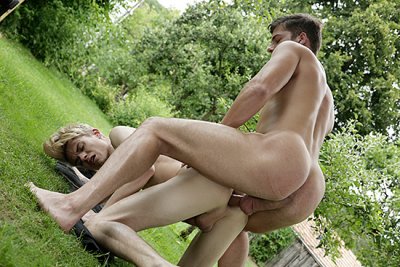 It's one thing to dream the dream, it's quite another to actually live it – as Brit boy, Titus Snow, discovers when he decides to buy a smallholding in Czechia so that he can farm the land. After all, this is a fellow who – by his own admission – knows absolutely nothing about farming! Fortunately, he's decided to hire a young local (Luke Volta) to help him out. Even more fortuitously, that particular assistant is drop-dead gorgeous and as constantly horny as fuck! So when Snow discovers the fellow with his feet up, enjoying a drink, it's no surprise that he decides to take full advantage of the situation and make a pass at the boy – a move that very quickly results in the two guys snogging each other's faces off and grinding against each other's already swollen crotches. The ripeness of the harvest is there for the picking; and suffice it to say that Volta is soon down on his knees giving his boss' hairless shaft a much-needed slurp.
It's a move that Snow himself is quick to replicate; before Volta takes complete mastery of the situation by bundling Snow onto a table and fingering the twink's clearly eager arse-hole. No question about it, Snow's pretty much ready for the taking; and you can almost hear the relief from both guys when Volta finally sinks his thick, uncut shaft into the farm-boy's guts.
From thereon in, of course, Snow is pretty much a total hostage to that handsome schlong, riding it for all he's worth in a series of positions before exploding midpoint cowboy-style. Leaving Volta the indisputable pleasure of jerking out his wad all across Snow's expectant face!
Scene 2: Outdoor Cock-Action For Solo Twink & His Three Spunky Mates!
Cast: Clyde Walton, Lucas Drake, Mike Branco, Ray Mannix
Also available: BB Bukkake Frenzy 3 (2 DVD Compilation)
Also available: Ass Exposure (Compilation)
The bees are buzzing, the butterflies are fluttering – and young Lucas Drake is out on a nature walk, enjoying the delights of the Czech countryside. Like most boys his age, however, it's the joys that his ever-attentive cock gives him that concentrates his senses most keenly – as eagerly demonstrated when he sits back in the great outdoors and fantasises about what it would be like to get a very oily massage from three very eager helping hands! Cue a fantastic jerk-off courtesy of Clyde Walton, Mike Branco and Ray Mannix, who – having relieved their horned-up mate of a heavy load of jizz – promptly decide to turn all their attention on each other.
Of course, it comes as no surprise whatsoever that it's Mannix who's the first to be down on his knees enjoying the taste of hard cock in his mouth; whilst Slovak buddy, Branco, and Brit-boy, Walton, passionately snog. Nor will it amaze anyone that it's Mannix who soon becomes the centre of attention. After all, this slut's reputation always proceeds him, and his two pals are clearly only too willing to make the most of it; with Walton burying his thick, uncut shaft deep into the fellow's arse whilst Branco slurps on his cock.
Anyone imagining that Mannix is going to get all the fun is sore mistaken, however. New boy Branco is clearly keen to get his share of ass-action; and plonking himself down on Mannix's ramrod he proceeds to demonstrate a ride that would give any self-respecting whore a run for their money. All of which culminates in three of the spunkiest climaxes imaginable, leaving a trio of mouths dripping with jizz!
Scene 3: Booted Farmhand Fuckers Enjoy A Kinked-Up Flip-Flop Nutting!
Cast: Clyde Walton, Ray Mannix
Also available: Flip Flopping Fuckers 1 (Compilation)
Given the country backdrop, it's perhaps rather fitting that young Brit, Clyde Walton, should have a penchant for country-and-western music – but to be fair that's not the element of his personality that particularly attracts Czechia's very own slut par excellence, Ray Mannix. Discovering the visitor in the local barn as gives a sweet rendition and sharpens his tools, Mannix immediately underlines his reputation as a cock-whore by making a beeline for Walton's crotch. Suffice it to say that it's barely seconds before he's down on his knees and savouring every fucking gorgeous inch that the boy from London has to offer; before very eagerly rimming the visitor's arse in anticipation of a hard fuck to come.
Clearly wishing to add a little spice into the encounter, however, Mannix decides to ease his mate towards ecstasy with a little tool play of a different nature – pushing the handle-end of a file into the hungry crack! Mannix being the boy that he is, however, it's not too long before his appetite for action gets the better of him and he forces his dick in its place; signalling the start of a terrific fucking that will almost certainly have you pulling on your zipper for relief.
Don't think for one moment that Mannix has turned top, however. Having pummelled Walton's cute pucker for all he's worth, he's soon demanding some attention of his own; at which point the horned-up Briton pushes Mannix onto a table and hammers the Czech lad with true British gusto. No fucking wonder that Mannix is busting his nut in no time at all; before Walton christens his pal's lips with a jizzy wad!
Scene 4: Big Dicked Mates Flip-Flop Twice Over For A Face-Load Of Spunk!
Cast: Andy Fisher, Mike Branco
Also available: Horny-Hung & Horny 3 (Compilation)
With the apples in harvest, young Andy Fisher is clearly keen to demonstrate his party-trick at the start of this stunning little escapade – juggling three fruit with remarkable ease, whilst simultaneously maintaining a cheeky grin on his face to look every inch the desirable little fucker! What's more, it's an achievement that clearly impresses his blond-haired buddy, Mike Branco; who arrives to smooch the face off our would-be circus act, and who very quickly has his handsome cock out to tempt Fisher into a much more carnal kind of performance.
Needless to say, it's an invitation that Fisher doesn't turn down. Before you know it, the lad is down on his knees and feasting on every wonderful inch that Branco has to offer; before the roles are reversed and Branco eagerly gobbles away on his mate's cock and rims his arse! What ensues is the kind of flip-flopping buggery that really is in a class of its own. For not only do these two beauties take it in turns to ride each other's thick, meaty, uncut shafts, they actually do it twice over!
It's the kind of show that will almost certainly have you jerking like crazy as a result; but of particular note is the slow-motion performance of Fisher as he bounces like a yoyo on Branco's ramrod cowboy-style, his heavy-laden balls and grossly swollen cock springing up and down as he does so! It's perhaps no surprise – given the sweaty intensity of the encounter – that the cum-shots that ensue really do have to be seen to be believed. A veritable tsunami of jizz from both lads that leave both fellows with very empty nads and cum-soaked faces!