Summary:
With STAXUS' latest XXX download to own, "Triple Whammy", fans of three-way action will be seventh heaven, as the horny twink boys abandon all thoughts of traditional one-on-one contact and concentrate on something a little more imaginative instead. All of which opens the door to the splendidly sordid delights of spit-roasting, daisy-chain fucking, double-penetration and whatever else cums to mind when there's three hard cocks in the room rather than two. And with six cum-laden balls to empty instead of four, you can rest assured there's a tsunami of pent-up spunk waiting for you in this gay XXX twink download!
Scene 1: Young Fucker Has A Whale Of A Time In A Double-Dicked Ride!
Cast: Alex Whale, Beno Eker & Navon Raffi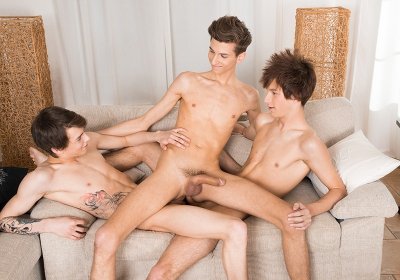 The thought of a colonoscopy is not something that fills the average guy with a great deal of excitement – having a camera stuck up your arse is not exactly most people's idea of fun, after all. But for mega-hung, Alex Whale – who is arguably the most aptly named model we've ever had given the oversized cock he stashes in his pants – it seems that the experience proved to be almost life-changing. For having headed to the hospital with trepidation, he returned from his appointment with an almost inane desire to see how much cock he could get stuffed into his guts in one sitting. Cue a meeting with director, John Smith, at the STAXUS studios, where he's introduced to the insatiable Navon Raffi and fellow newbie, Beno Eker – both of whom are clearly only too eager to satisfy Whale's insatiable anal urges. That said, there's the small matter of the fellow's oversized schlong to tackle first; which the two buddies slurp over together like a couple of wanton whores.
Then again, who can fucking blame them? Given a mammoth shaft like that to contend with, it's little wonder that neither lad looks able to drag themselves away with any ease. But this, of course, is Whale's scene – and before you know it we're on to the main reason for the encounter, with the king-sized beauty plonking himself down on Eker and Raffi's straining shafts simultaneously for a no-holds-barred double-dicked fuck-fest that will have you jerking off like crazy. All stupendously topped off by the sight of Whale getting his arse gooed by his buds, leaving him coated in jizz and happy as fuck!
Scene 2: Slutty Tenant Gets A Two Cocked Contract & A Face-Load Of Jizz!
Cast: Jake Stark, Ron Negba, Vittorio Vega
Does young Jake Stark know what's in store for him when he rents a room from the ever-horny Ron Negba? Maybe, maybe not. One thing's for sure, however – it's not long before he's introduced himself to Negba's boyfriend, Vittorio Vega, and is providing his landlord's beau with the same kind of sexual favours that Vega usually only gets from Negba himself. A threeway between the assembled crew seems nigh on inevitable; and before you know it we find the trio making out in Negba's room like the sexed-up sluts we always knew they were. Morality aside, the sight of the three locked up in a daisy chain on Negba's bed is almost enough to secure an appreciative – albeit somewhat premature – climax from even the most experienced fan; but rest assured that things get even hotter when (as you would probably expect) Stark's pert, hairless butthole becomes the main focus of the action.
To be fair, seeing Negba ram his throbbing shaft into that inviting pucker whilst Vega gobbles away on Stark's knob from beneath is quite simply unbelievably hot; and things turn pretty much stratospheric just a few moments later when the whorish little bottom plonks himself down on Vega's thick, meaty ramrod and rides it cowboy-style. Still not content, Stark then takes a turn on Negba's cock in the same position, before lying on his back for a further spit-roasting; and it's little wonder that the fellow is soon spewing a generous blast of goo in response. An ecstatic crescendo only eclipsed by the fact that Vega and Negba round things off by coating the lad's face with spunk!
Scene 3: Footballing Slut Kicks Off A Daisy-Chain Fuck & Oodles Of Cum!
Cast: Carl Chater, Jake Stark & Navon Raffi
Also available: Big Boys (Compilation)
Young, sporty lads tend to only have two things on their mind: soccer and sex – and not necessarily in that order! That said, the athletic trio of Navon Raffi, Jake Stark and new boy, Carl Chater, seem quite content to have a kick-around in the sunshine at the start of this horny session; and were it not for the fact that they end up knocking the ball through an open door, which in turn results in the boys literally falling onto a bed together, you might almost be tempted to think that the sex might never happen. Of course, this being a STAXUS scene, the hardcore action is always guaranteed; and suffice it to say that the guys have barely had chance to hit the mattress before Stark is very much the centre of all the attention and is getting his thick, uncut shaft gobbled by his teammates.
All of which soon results in a veritable suck-fest of almost biblical proportions; only to be topped off by the sight of Stark jumping up onto Raffi's lap so that he can take a cowboy-style ride of his mate's aching schlong. Not content, the filthy little slut – still donning his shin-pads and boots – promptly swops seats for a hot raw ride of Chater's love-stick. No doubt about it, Stark really is at his dirty-minded prime as he gets his guts pummelled for a few cheap bucks; and things only get even hotter when Raffi positions himself suitably mid-fuck to take every inch Chater has to offer, whilst continuing to bang Stark's hungry pucker. It's a cum-inducing vision of mindless fornication that soon results in spunk on tap; with Stark blasting like a geyser, before taking full-on facials from both buddies!
Scene 4: Cute Wannabe Slut Gets A Hard Spit-Roasting & Loads Of Spunk!
Cast: Carl Chater, Liam Stone & Ron Negba
Like many a young, horny slut, Liam Stone always had a secret yearning to be the centrepiece of a spit-roasting frenzy. Unlike so many of his contemporaries, however, he actually had the opportunity to turn that cum-sodden fantasy into reality – courtesy of the ever-obliging STAXUS team, led by legendary director, John Smith. As a result, the handsome Belgian can quite literally be chatting to the screen one minute, then accompanied by two equally horned-up beauties on each side the next – in this instance, Ron Negba and Carl Chater. Suffice it to say that none of these three lads waste so much as a minute to get down to some very serious cock-slurping action; with Negba burying himself into Stone's lap and Chater working his way around the back of the sofa in order to thrust his own throbbing shaft down Stone's throat.
It all sets the scene perfectly for what quickly becomes a writhing mass of cocks and mouths; until Stone's sweet little arsehole becomes the focal point of the action, as Negba rims and fingers his mate's inviting pucker. It's a move that proves the perfect prelude for the lad's top-notch buggery; as he first skewers himself down on Negba's throbbing manhood, then gets taken doggy-style by Chater's equally engorged ramrod. A final spit-roasting flourish ensues, as Stone takes Negba once again – this time from behind – whilst Chater attempts to get balls-deep down his throat; before both Stone's on-screen buddies sign off by coating him with a facial blast, that just leaves this five-star whore the chance to erupt geyser-like in hot response!
Themes: Big dick, Blond Twinks, Cum in arse, Gay Spitroast, Gay Threesome, Gay Twinks (18+), Monster cocks, Raw Gay Sex, Tattoos, Twink Double Penetration, Uncut Twinks