Summary:
Some boys are square and unwilling to experiment – but that's not something that can be said about this bunch of kinky young things. Fact is, the likes of Paul Walker, Billy Rubens and Aaron Aurora are only too willing and eager to try something different once in a while, be it fucking around in a sling, getting fisted, playing with sex-toys or banging their mate whilst he's wearing a leash!
They may look all sweetness and light to their grannies back home, but when it comes to their more private moments they're just a gang of mindless pervs!
Scene 1: There's A Good Doggy! Leashed Young Twink Gets To Know His Place In A Sling-Fuck Frenzy!
Cast: Paul Walker and Tristan Wood
Also available: Kinky Fuckers 1 (Compilation)
Two things are pretty fucking obvious at the start of this kinky little encounter. The first is that young Tristan Wood – who barely looks old enough to be out and about without his parents, never mind starring in porn! – is a somewhat reluctant sub. The second is that Paul Walker is a distinctly cocksure (some might even say arrogant) top. Needless to say, you don't need to be Einstein to work out which of these two parties calls the shots when the two of them embark on some fun together in a sex-dungeon – after all, the fact that Walker leads his buddy into the room on a leash pretty much says it all! What you might not be expecting, however, is just how much these two fellows are into their roles – in particular Wood, who gives a truly stellar performance as Walker first forces him down onto his knees to give head, then bundles him into a sling and thrusts some rather oversized sex-toys up his ass!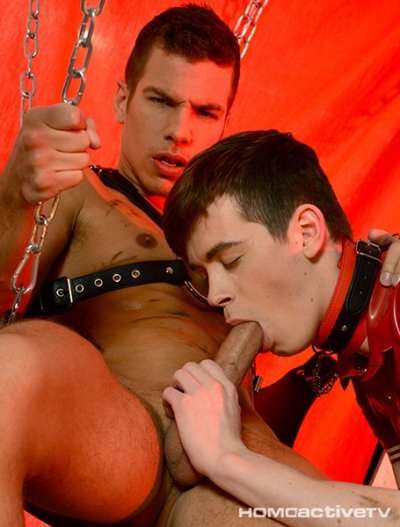 Of course, by the time that Walker's ready to consummate their antics by replacing the said dildos with his own neatly cut cock, we're absolutely sure that you'll be totally convinced in Wood's performance here. As such, the fuck that follows is a veritable joy to watch – both lads getting off on their respective roles, as Walker slams his way up Wood's guts! Little surprise, therefore, that neither of the fellows display any problem in rubbing out a copious quantity of jizz – Wood all over his own belly, and Walker all over Wood's expectant face! Puppy love has rarely looked hotter!
Scene 2: Daniel Johnson and Oscar Roberts
Some guys like to be treated with respect and made to feel of value – but that's not something that young Oscar Roberts is looking for, that's for sure. In fact, this horny little slut literally can't wait to be laid out in a sling, with his hands and feet tied and his ass open and ready for whoever walks in through the door! Which in this instance just happens to be Daniel Johnson – a rather determined fellow, who seems to know instinctively how to treat a lad who clearly has no self-worth or self-respect. Ripping Roberts's shirt from his chest and promptly forcing his dick down the boy's throat, Johnson immediately establishes himself as the major force in this encounter, and is soon casually thrusting a donkey-sized dildo up the bottom's nicely lubed arse.
Needless to point out, Roberts shows little difficulty in taking the monster; followed by a succession of ass-stretching toys that most guys his age would almost certainly balk at. But what Roberts wants inside him most of all, of course, is Johnson's dick, and you can almost hear the sigh of relief from the lad when the top finally slips his rock-hard knob right between his fuck-buddy's ass-cheeks! Cue a tremendously raunchy and hyper-energetic session of man-on-man sling-sex that will almost certainly have you jerking away with much the same gusto as Roberts himself; and which finally crescendos with a copious volley of pent-up jizz from both of these dirty-minded fuckers! A must-see for any lover of mindless fornication!
Scene 3: Skylar Blu ands Billy Rubens
We've all known for a long time that Skylar Blu is an insatiable bottom – a boy who quite simply lives to be fucked and to have his ass-hole stretched on a nigh-on permanent basis. But sometimes – as on this occasion – his appetite for a good old-fashioned anal pounding astounds even those of us who've become almost numbed to his antics! Of course, the fact that the lad is quite literally on-heat is apparent from the off, as he promptly stuffs a dildo up his pucker. But his desires simply intensify the moment that Billy Rubens walks in through the door – and understandably so.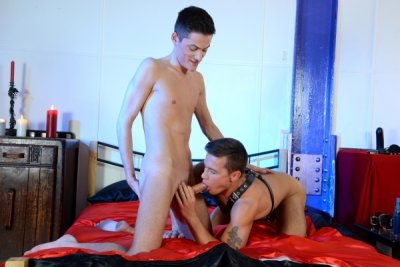 Rubens is, after all, a fuckin' gorgeous bastard who could have his way with pretty much most of us; but Blu's got a longing for big-time abuse, and the arrival of his divine fuck-buddy simply drives the fellow into overdrive. Before you know it, the lad's laid out prostrate so that he can take as much raw fist that Rubens can force into his ass; before the top decides it's time for Blu to taste the dick of a real man and (having handcuffed the guy) thrusts his own rock-hard knob deep inside instead! Suffice to report that young Blu's pucker is more than adept at swallowing the full length of man-meat between Rubens's thighs – not exactly a surprise given his earlier fisting! What may amaze, however, is the sheer intensity of this coupling; which finally culminates in Blu jizzing all over his own belly and Rubens squirting a fabulous wad of cum all over Blu's face. All in all, a scene that just has to be savoured!
Scene 4: Two Horny Fuckers Give Aaron Aurora A Double Penetration Treat, Topped Off With Oodles Of Spunk!

Cast: Chase Evans, Mickey Taylor and Aaron Aurora
Also available: Double Dick 1 (Compilation DVD)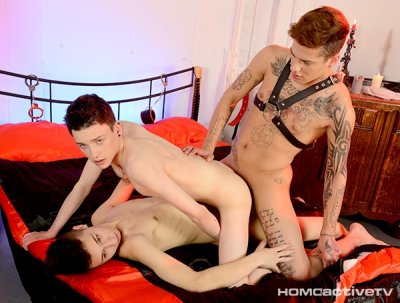 There aren't any official awards for sluttish behaviour – that we know of, at least – but if they did exist then Aaron Aurora would almost certainly be a leading contender for the prize. What's more, this sordid little scene with Chase Evans and Mickey Taylor pretty much underlines why. First strapped to a bed, then taking a big black dildo up his ass, this boy has a distinctly promiscuous side – and he's not afraid to show it! Good news for his two fuck-buddies, who can't seem to wait to give his ass-hole a real hard stretching; and even better news for you dirty wankers, who just want to sit back and stroke to one of the kinkiest displays filmed in a long time. Suffice it to report that it isn't long before Aurora – donning a collar and chain for even an even greater thrill – is being fucked by both his buddies in turn, which in itself is quite an achievement given the weapon that Evans has stashed between his legs.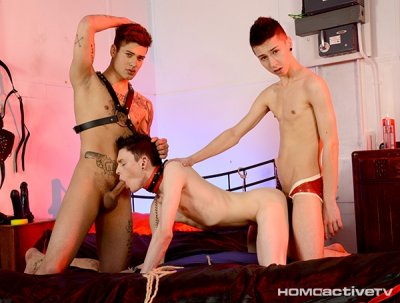 But the amazement only continues to grow when the horny young bottom finally succumbs to his perverse fantasies and allows Evans and Taylor to thrust both their dicks up his ass simultaneously. What's more, the action only seems to get even hotter – if indeed that's possible – when Aurora sits himself down on the two ramrods and gets buggered from below! Given the intensity of the action it's probably not too much of a surprise that all three youngsters are soon at the point of no return, at which point all three seem to quite literally rupture with jizz! The resultant tsunami of spunk proves a worthy finale to a pervy scene that's five-star filth!