Summary:
Portugal's the destination, but the mission on this vacation is to score as much horny cock and fresh ass as possible (Portuguese or otherwise!) – and believe us, this gang of dick-crazed dudes never disappoint.
With the likes of Paul Walker and Orlando White on the ticket, however, would you expect anything else? These lads aren't so much interested in the sun and sand, as the sex – and plenty of it!
As such, it's off to the dunes and the surf for a catalogue of open-air, cum-filled escapades that will almost certainly make your holiday look tame in comparison!
Scene 1: Two Horny Lads Catch Some Rays – But End Up Sucking & Riding Cock As They Do So!
Cast: Mickey Taylor and Paul Walker
Also available: Alfresco Arse-Raiders 2 (Compilation)
Paul Walker and Mickey Taylor head for the sand-dunes to catch some rays, but it's not long – about twenty seconds to be precise! – before Walker's in the mood for a wank. Not that this should come as any surprise to anyone who knows this young sex-god. The fact remains that Walker pretty much thinks about his cock morning, noon and night, and certainly Taylor doesn't seem to be at all perturbed at the sight of his buddy yanking his dick out to give it a well-deserved tug! Indeed, it's no time at all before Taylor's helping his over-sexed mate out – and who the fuck can blame him?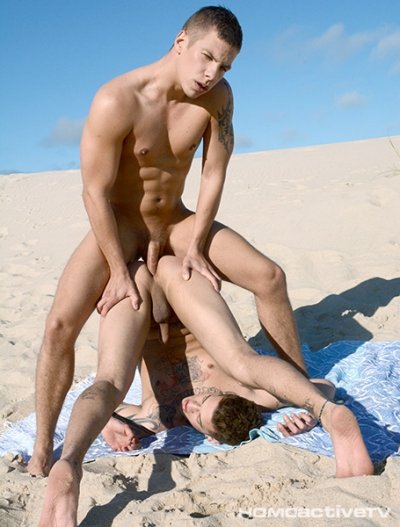 Let's face it, pretty much all of us would react in exactly the same way given the same circumstances; and, what's more, Walker promptly responds in kind. The result is a fantastic session of outdoor cock-sucking that we all know can only lead to one thing very quickly! And so it proves, with Taylor mounting Walker's nicely cut shaft cowboy-style for a no-holds-barred ride that both lads are gonna remember for a long, long time.
Indeed, we defy anyone who sees these guys in full rut not to reach for their own zipper in appreciation, and chances are you'll have dumped a load (or maybe even more) long before Taylor has been fucked to within an inch of his life in a whole series of eye-watering positions! However, whether your own wad proves as generous as the ones produced by these guys – most notably Walker, who pumps a magnificent squirt over Taylor's face – is another matter entirely!
Scene 2: Beachside Frolics Turns To Fireside Fornication As Orlando Gives His Pal A Raw Ride To Remember!
Cast: Louis Blakeson & Orlando White
It might have been the bright surf and the warm sunshine that's got them in the mood, but Louis Blakeson and Orlando White abandon the beach and head for the glowing warmth of an open fire to kindle their earthly passions in this terrific duo that we just know you're gonna love big time! Of course, STAXUS favourite, White, is a welcome addition to any scene. Add the winning charm of the boyish Blakeson and throw in the unquestionable romance of an open hearth and you have a winning formula right from the start – which in this instance involves the two beauties ripping off their speedos and heading straight for the floor to partake in some heavy-duty fellatio. And who the fuck can blame them?
You could easily catch a nasty chill doing that sort of thing out on the sands, but here in the warmth of a beach-chalet, with the flames licking the air in the background, it seems the most natural thing in the world. Mind, it's licking of a very different nature that's gonna interest you horny fuckers; though the cock-sucking frenzy is soon overtaken by Blakeson's desire for hard dick in his ass, a raw, animalistic instinct that the lad clearly has to act upon or be damned! So it is that the lad plonks himself down on White's handsome love-stick, riding it for all that he's worth; before White bundles him to one side and fucks him from behind. It's a sweaty, breathless coupling that is totally in keeping with the fire in the background; culminating in Blakeson knocking out a wad over his belly and White creaming his buddy's cute little face with a copious rope of hot jizz!
Scene 3: Two Horny Tops, Two Cock-Crazed Bottoms, One Beach. Result? One Fucking Hot Foursome!
Cast: Paul Walker, Orlando White, Mickey Taylor and Pedro Ribeiro
The music, the bright sunshine, the sight of four gorgeous young guys frolicking together on the beach ... geez, the opening few moments of this stupendous outdoor fuckfest could almost be mistaken for a publicity offering for some up-and-coming boy-band. As it happens, however, the fact that the lads in question are Paul Walker, Orlando White, Mickey Taylor and Pedro Ribeiro tells you pretty much straight away that it's "up-and-cumming" of a far more carnal nature that's set to be concentrating attentions here – and so it proves, as the horny quartet head straight for their dug-out in the sand-dunes for an immediate (and very satisfying) session of explicit, deep-throating fellatio courtesy of the inked pairing of Taylor and Ribeiro.
Indeed, there's no questioning the fact that White and Walker are very much the dominant parties in this escapade – first eagerly face-fucking their two beach-buddies, then fucking them both with much the same level of high-octane energy. Not that anyone who knows these fellows would ever expect anything else from either top – least of all Brit-boy Walker, who quite blatantly lives for sex and the next hungry hole. And let's face it, if it's hungry holes you're looking for then these two power-bottoms can supply all the accommodation you will ever need – as Walker and White discover, taking turns to swop ass-holes like it's mating-season on acid! All in all, then, a totally rampant, ball-bustin' set-piece that'll have you squirting long before all four cocks on offer pump out their own generous wads of creamy, satisfying spooge!
Scene 4: Confession Is Good For The Soul – Not To Mention Young Hard Cocks & Horny Ass-Holes!
Cast: Louis Blakeson and Mikey Taylor
Also available: Brexit Fuckers 2 (2 DVD compilation)
With the warm Portuguese sunshine beating down and the roar of the Atlantic in the background, it's no small wonder that boyfriends Louis Blakeson and Mickey Taylor are feeling as fresh and as horny as it's possible for young men to feel. But for all that feel-good glow, there's something eating into Taylor's mind – a sense of guilt that's casting a shadow on this boy's holiday. Time for confession, it seems.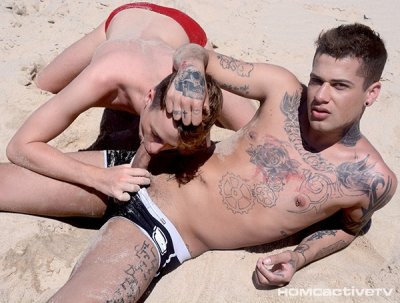 If anything, however, Taylor's admission that he's had sex with Paul Walker simply ups the ante – mainly because Blakeson has his own confession to make regarding Orlando White. Realising that they're clearly both as faithless as each other, they're now free to make up by enjoying the hottest, wildest sex imaginable – and boy do they go for it! Sucking each off in the sand, then heading for the nearby woods to fuck each other silly, these two fellows put any notion of holiday romance to one side in order to savour the thrills and spills of mindless fornication – exactly the kind of action that we all love to see!
Each moaning and groaning like a pair of wild dingos, grinding their hips into each others' asses as they do so, it's no real wonder that they're both very quickly at the point of no return – at which point they each lie side by side in the sun and simultaneously jerk out hefty wads of ball-batter over their own bellies. Whether you like the inked physique of Taylor or the pale skin of Blakeson – or maybe even both! – this spunktastic trip to the seaside is sure to drain your balls dry!