Summary:
Forget the jokes and innuendos – scientifically, the skin is the largest organ of the human body, and it's no fucking wonder that it's integral to the hottest, most satisfying sex. Something the likes of STAXUS favourites, Joshua Levy, Jaro Stone and Milan Sharp are only too happy and eager to demonstrate to the new boy in town, Jeffery Lloyd. Coupled with returning cock-fiend, Kris Blent, this is one sensual, cum-inducing escapade that will leave every inch of your flesh tingling for more. Your well-stretched foreskin included!
Description / Review:

Scene 1: Coffee-Loving Newbie Gets Rimmed, Fingered, Fucked & Jizzed!
Cast: Jeffrey Lloyd, Joshua Levy
Also available: Mega Cocked, Mega Loaded 3 (Compilation)
New boy, Jeffery Lloyd, is in the mood for a relaxing cup of coffee – but, as he very quickly discovers, there's no time to sit supping hot beverages when you're a STAXUS boy. Indeed, once Joshua Levy has finished his shower and slipped into some sexy, silky underwear, the focus is very quickly on what you'd expect in a top-notch porn scene; with both lads releasing the hard, handsome, uncut schlongs from their pants in anticipation of some clearly much-needed action. Mind, with the kind of equipment that they've both got stashed in their crotches is it really any wonder?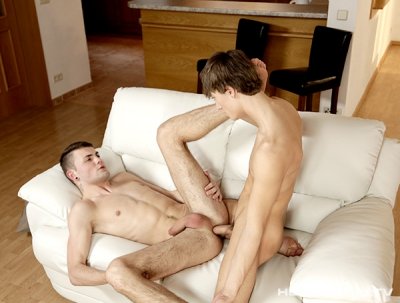 First Lloyd feasts on Levy's delicious ramrod – showing little if any first-night nerves as he does so – before Levy returns the favour on the rookie's nicely upturned shaft. But the action really starts to intensity once the buddies have enjoyed a nicely choreographed session of 69-ing on the sofa; with Lloyd stretching his legs akimbo almost as far as nature will allow, leaving Levy full access to his tight little pucker. No surprise, of course, that Levy takes full advantage of the opportunity to tongue and finger that hungry hole; before finally ramming his pole balls-deep into the crevice.
That signals the beginning of a terrific session of unrestrained sodomy, with Lloyd's sweet ass treated to a no-holds-barred stretching that quite literally leaves the boy purring in delight. Never one to disappoint, Levy then concludes his sterling performance by caking his new mate's hole with spunk, before licking and fingering the creamy residue. Little wonder that the cute newcomer violently erupts just a few moments later!
Scene 2: Sensual Fuck & A Rook Of Jizz For Two Checkmate Czech Mates!
Starring: Jaro Stone, Milan Sharp
Also available: Twinks Get Stoned (6 Scene compilation)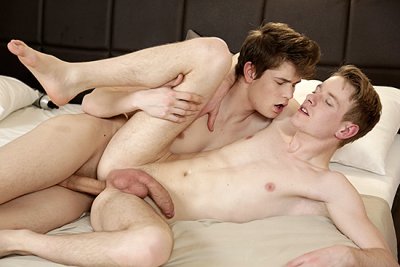 Chances are that neither Milan Sharp or Jaro Stone are ever going to be a chess grandmaster anytime soon, but we very much doubt that any one of their legion of fans is going to be too disappointed. Indeed, the vast majority of viewers will undoubtedly spend the first few moments of this superb coupling wishing their game would come to a premature end so that they can concentrate on the really important matters in life – like sucking each other's cocks! A task that both lads energetically embrace once their pretence of liking chess has been abandoned; with Sharp making a prompt beeline for his buddy's schlong, before Stone then returns the favour to feast on every generous inch of flesh that's hiding in the mega-hung Sharp's pants. However, anyone thinking that this is a scene that's going to be heavy on oral may be somewhat disappointed given that the main thing on Stone's mind is very clearly how quickly he can get into his mate's ass – something he achieves with arguably unremarkable ease once he's rimmed and fingered Sharp's hungry little hole.
From thereon in, of course, poor Sharp's pucker doesn't really stand a chance; with Stone on top-notch form as he buries his handsome poleaxe into his mate courtesy of a whole variety of positions. It's a sensual, passionate session of love-making; which slowly seems to gain with intensity, culminating in Sharp riding his mate reverse-cowboy and then jizzing mid-missionary. Nicely topped off by Stone splattering the contents of his balls all over his fuck-bud's face; before the two lads smooch their way to a sign-off!
Scene 3: Breakfast Buggery Leads To A Sticky Cascade Of Hot Twink Goo!
Starring: Joshua Levy, Kris Blent
Also available: Bigger By The Fucking Dozen 2 (Compilation)
Everyone knows that the best time for sex is first thing in the morning, when the mind and body are fully refreshed – a philosophy that Kris Blent and Joshua Levy are clearly determined to uphold when they each get up for breakfast and encounter one another over a dining table. After sharing a few niceties, their primeval urges are soon clearly getting the better of them – as any thought of eating cereal is eclipsed by the tantalising desire for hard, fresh meat. Suffice it to say that it's not many seconds before the two handsome beauties are sucking each other's faces off; before both are eagerly reaching into their pants so that they can enjoy the unrivalled delights that are straining away inside!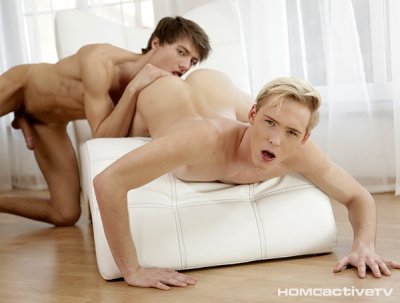 Blent, in particular, simply can't get enough of his buddy's gorgeous joystick, happily slurping on every inch and deep-throating the shaft in the process. But anyone who's ever seen this blond Dutch wonder before will know that his very keenest ambition is to get cock in his arse; and it comes as no surprise whatsoever that he's soon laid out over the table, legs outstretched, inviting Levy to bury his hatchet deep inside that hungry little hole. It's an invite that doesn't ever need repeating, of course.
Levy's soon balls-deep in his mate; signalling the start of a fantastic no-holds-barred coupling that sees Blent in a whole series of positions, culminating in him squirting the contents of his balls all over his belly. If that doesn't get you climaxing, then the sight of the boy from the Hague sucking the jizz out of Levy's erupting cockhead will almost certainly do the trick. Beautiful!
Scene 4: Three Amigos Hit On A Double-Dicked, Spunk-Sodden Fuck-Fest!
Starring: Jeffrey Lloyd, Kris Blent, Milan Sharp
They claim to be just good friends – pals who spend pass the time together in downtown Prague – but you know damn well that a trio that consists of Jeffery Lloyd, Kris Blent and Milan Sharp is always gonna be up to no good. Something that becomes apparent pretty much right from the off, as Blent exposes his arse whilst they walk down the street. But it's what happens once the three lads are safely ensconced in their apartment that will almost certainly be of the greatest interest to our horny fans; although director John Smith adopts an arguably somewhat teasing approach to begin, with Blent paired up individually with his mates rather than as a threesome.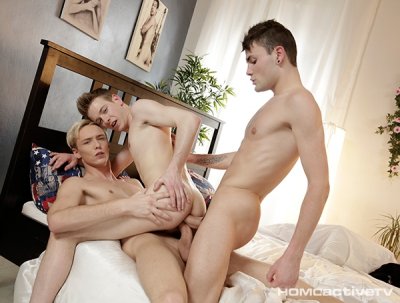 Having enjoyed the sight of Lloyd's pierced tongue doing the ropes on the Dutch boy's dick and the unparalleled delight of Blent being speared by Sharp's oversized schlong, the three fellows are finally brought together for a hardcore session of fellatio – feasting on all that rampant phallus in a daisy-chain, before Lloyd and Sharp join forces to give their blond-haired buddy the kind of blow-job that fucking dreams are made of. It's a bit of a mystery as to how Blent doesn't bust his nuts there and then – or indeed how he holds on when Lloyd begins to bang him from behind whilst Sharp continues to slurp on his shaft.
But ever the stalwart, the Dutchman holds out to team up with Lloyd to give Sharp a well-deserved double-fucking; before a terrific stream of pent-up spunk begins to emerge from each of the guys, leaving mouths and ass-holes literally dripping with jizz. All in all, an absolute cum-inducing classic!