Summary:
The sporting event of the summer arrives in a blaze of glory – and no, we're not talking about what's happened in Brazil these past few weeks! Yuri Adamov, Shane Hirch, Sven Laarson and Johny Cruz lead from the front for a full ninety minutes of prime-time sporting fornication that'll have you reaching for the tissues long before the final whistle! No need for the excitement of penalties with these boys. Instead, sit back, unzip and get your balls get drained time and time again by the hottest festival of football imaginable!
Description / Review:
Scene 1: Football Kick-About Turns Into A Raw Fuckathon For Three Over-Sexed, Well-Hung Twinks!
Also available: Donkey Dicks 5
Starring: Sven Laarson, Yuri Admaov, & Darko Simic
There's a very good chance that the first thing you'll notice in this scene – other than the fact that Sven Laarson is gorgeous (as ever!) – is that he's actually not too unskilled with a football. Perhaps if things had been different he might even have turned professional. Fortunately for us all, sport's loss is gay porn's gain; and having proved his worth on the field of play he's keen to prove himself with balls of a very different nature – on this occasion provided by Yuri Adamov and their diminutive pal, Darko Simic. As a result, the action quickly transfers to the bedroom, where all three lads are soon clean forgetting about the rules of the beautiful game and concentrating instead on the pleasures of three beautiful, uncut dicks!
Centre-action of which, it would seem, appears to be Simic's meaty ramrod, which Laarson and Adamov take great delight in pleasuring together; before Laarson succumbs to temptation and, having eagerly rimmed Simic beforehand, begins to ride his buddy's raw shaft like it's his dying act! From which point onwards events very quickly descend into a veritable frenzy of mindless bareback fornication.
Simic fucks Laarson ... Simic fucks Laarson, who simultaneously fucks Adamov ... Adamov gets fucked by Simic ... Laarson fucks Adamov ... the combinations appear almost endless! But it's the spunk-tastic finale that surely warrants greatest acclaim – most notably that of Simic himself, who quite literally whitewashes Adamov's face in the process. If this horny escapade doesn't do the trick then (with respect) what the fuck will?
Scene 2: Soccer-Crazy Pals Relish A Sweaty, High-Octane Suck-And-Fuck-Fest In Their Jocks!
Starring: Yuri Adamov and Shane Hirch
Also available: Bareback Rookies, Playtime
STAXUS favourites Yuri Adamov and Shane Hirch may not exactly see eye to eye as to which South American national team is best – Brazil or Argentina – but there's one thing they can agree on and that's that there's nothing hotter than a little man-on-man interaction in the locker-room, be it before, after or even during a game! A point that they're only too willing to highlight to the entire world during the course of this truly spunktastic scene – and one that you will almost surely agree with without exception! Mind, when you've got beauties like these two fellows to admire there's little danger of a counter-argument, particularly when both lads are donning football kits and jockstraps and are each (quite evidently) as horny as fuck!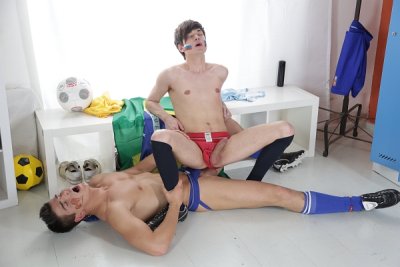 Indeed, we defy anyone with even just a passing interest in gay porn not to have their dick in their hand by the time these guys are out of their strips and engaging in a fevered session of mutual cock-sucking; and chances are that a copious amount of jizz will have already been spilled even before young Adamov lands his twinkish frame down onto Hirch's thick, manly, uncut dick! Never fear, however – the energetic act of raw copulation that ensues is easily sufficient to warrant more than just the one load from you filthy-minded wankers.
Indeed, the sight of Adamov being rigorously banged in a series of positions, before taking Hirch's load on the lips, is more than enough to get even the most impotent of admirers into a veritable frenzy! All in all, a top-notch sporting classic that's got oodles of cum written all over it!
Scene 3: Young Punk Gets His Mouth & Arse Stretched To The Max By Jace Reed's Monster Cock!

Starring: Alexander Dorch, Jace Reed
Also available: Donkey Dicks 3 - Compilation Gay DVD
You don't need to be an expert in the beautiful game to comprehend why Jace Reed never quite made it in the footballing world – you only have to watch the first few moments of this superb scene with Alexander Dorch to see that the natural-born sporting talent required just isn't there. Nor does it take a great amount of brainpower to understand why he became a porn star instead – the moment Dorch tugs at the guy's shorts and unleashes the oversized cock that Reed has stashed away inside you realise he was literally born for the job! For Reed's handsome, uncut shaft really is a force of nature in every sense – a thing of beauty that has to be seen to be believed! – and it'll surely come as no great wonder that Dorch immediately falls to his knees to give the meaty monster a robust oral workout.
Not surprisingly, given the enormity of the task, the young fellow struggles somewhat to encompass the full length of Reed's ramrod; but having subsequently enjoyed Reed's efforts on his own dick, as well as a very enthusiastic rimming of his arse-hole, Dorch is soon plonking himself down on the end of his buddy's knob and then slowly feeding its entire length into his guts! It's a hesitant process to start – and no fuckin' wonder when you consider the dimensions involved! – but Dorch is clearly not one to be easily defeated. As such, it's not long before he's riding the rod like a bitch, taking every inch in a breathtaking series of positions before completing his submissive role by getting his face quite literally whitewashed in jizz! An immediate classic in every sense!
Scene 4: Shane Hirch Gives His Footballing Rival A Hard, Raw Fucking – Not To Mention A Sticky Facial!
Starring: Shane Hirch and Johny Cruz
Also available: Let's Play with Shane Hirch
Also available: Bareback Rookies, Hot Fuck
Brazil and Argentina have always had a very long and colourful rivalry on the football pitch, but Shane Hirch and Johny Cruz are determined to bring the two countries together when they don the respective shirts of these two South American giants for a friendly kick-about. Indeed, they appear to maintain more for sporting diplomacy in the space of a few minutes than is usually achieved in your average lifetime given that they've soon abandoned the ball in favour of a rather intimate rapprochement – ripping off their shirts (the apparent symbols of their differences) and enjoying a long, lingering session of open-air French kissing whilst dressed in nothing more than their jocks!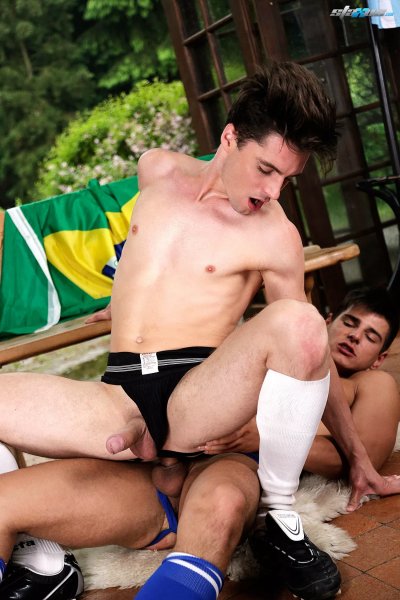 Sadly, any hope for an outdoor union between these two handsome beauties is promptly scuppered by the arrival of a heavy, tropical downpour; but by this point both fellows have very clearly been carried away by the passion of the moment, and before you know it they're engaged in a rigorous session of mutual cock-sucking and ass-rimming. So sit back, relax, unzip – and enjoy the sight of these two beauties engaging in a fabulous kitchen-floor romp that'll quite easily blow your dick into a premature frenzy!
Indeed, there really is a genuine risk that you'll have spilled a significant wad of ball-juice long before Hirch finally mounts Cruz's hungry little ass-hole. No need to worry, however. This superb display of bareback copulation is more than capable of delivering a subsequent blow-out from most fans; and by the time these boys are wanking out their creamy climaxes (most notably Hirch into Cruz's face!) the chances are your balls will be totally spent!