Summary:
With Hallowe'en just around the corner, the boys of STAXUS conjure up a scary, spooky tale of loss, unresolved histories and supernatural terror. All nicely interspersed with exactly the kind of hardcore action that we've long since grown accustomed to from the likes of Yuri Adamov, Sven Laarson and Noah Matous. Fear is definitely only part of the story; as this horny band of cock-lusting terrors joins forces with new boys, Johny Cherry and Tristan Archer, for a blood-curdling, ball-draining romp of totally spunktastic proportions!
Scene 1: New Boy's Cherry Gets Well & Truly Popped By Well-Hung Stud!
Cast: Johny Cherry, Nick Vargas
Also available: Big Fat, Thick & Juicy (2 DVD set)
Old favourites are always good to watch, but is there genuinely anything hotter than watching a new lad being shown the ropes by a more experienced hand? That's certainly the underlying premise of this exquisite duo between handsome STAXUS stud, Nick Vargas, and our hyper-horny new boy, Johny Cherry; whose wholesome, innocent looks are totally at odds with the filthy performance that he puts in here.
Indeed, we've a sneaking suspicion that even Vargas was taken by surprise by what transpired on this shoot given that Cherry was a porn virgin before the scene was filmed. For the young, fresh-faced beauty takes to the role like a duck to water, feasting on Vargas's somewhat daunting, uncut shaft with real gusto once the older lad has provided an initial demonstration. Not that Cherry looks like the kind of boy who needs to be shown what to do with a cock!
No, this is a young guy who clearly has a natural affinity to all things carnal – a fact that becomes even more apparent by the manner with which he then allows his buddy to finger him. After all, this isn't just a half-hearted penetration we're talking about. This is "legs akimbo" style all the way from Cherry – his ass quite literally gagging for attention, which Vargas is only too willing to provide, whilst Tristan Archer adds a little bit of voyeuristic kink by skulking in the background to watch. And what a fucking show! Cherry's cherry is popped big time, with Vargas's poker showing no mercy whatsoever and (not surprisingly!) creaming his hole as a result. Little wonder the lad fires like a Roman candle as a finale!
Scene 2: Cute, Horned-Up Farm Boys Take A Spunky Ride In The Hay!
Cast: Sven Laarson, Tristan Archer
Also available: Mega Cocked, Mega Loaded Compilation
Also available: Naked Beauty, Cum Outside (Compilation)
What is it about young Czech lads and remote barns out in the countryside? As Sven Laarson and Tristan Archer demonstrate in this terrific set-piece, it seems that director, John Smith, only has to take them to one and they become like beings possessed – totally unable to contain their lust for hard, throbbing, uncut cock! Certainly Archer can't wait to get inside his buddy's pants as they sneak inside the building. Indeed, before you know it he's down on his knees – not to propose, of course, but so that he can get his lips around the blond boy's meaty ramrod. A task that he undertakes with real gusto, it must be noted. Not that that should come as any great surprise given how much we already know he loves dick – an appetite that only seems to intensify here with every passing moment.
For his part, Laarson just sits back and enjoys every spine-tingling, ball-tightening moment of the fellow's performance; before eventually joining up with his pal for a sweaty session of 69-ing down in the straw! Just seeing these two handsome beauties rollicking around on the floor is surely enough to get even the most hardened porn-viewer into a full-on lather; but matters intensify still further when Laarson finally presses home the advantage and buries his shaft deep into Archer's guts.
It's something that the young bottom has clearly been gasping for from the off; and now that it's arrived he makes the very most of the occasion, riding his pal's pole in a variety of positions for all he's worth. Little wonder that both guys are soon spewing all over each other as a result!
Scene 3: Cock-Crazy Twink Enjoys Two Dicks Up His Ass & A Face Of Cum!
Cast: Jace Reed, Johny Cherry, Yuri Adamov
Also available: Double Dick 5 (6 Scene Compilation)
For one reason or another, estate agents always seem to get a bad press; but maybe this wouldn't always be the case if they were more like Yuri Adamov. Polite, obliging, and ready to get his pants off at a moment's notice – it's little wonder that Johny Cherry and Jace Reed are bowled over by the fellow pretty much straightaway! Indeed, given that this is a double-penetration scene that you're about to watch, with Adamov taking two dicks up his ass for both his pleasure and your entertainment, it's safe to assume that the lad's very obliging nature clearly knows no bounds.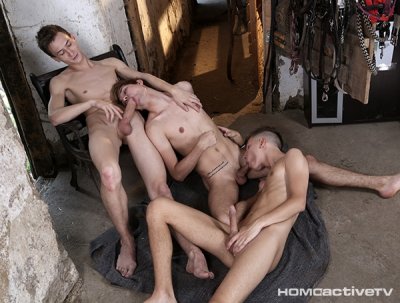 Then again, what else would any of us ever expect from this cock-crazed youngster? Certainly there's no holding him back once he realises that his two clients have a taste for cute twinks; though to be fair he's not the only one showing a serious dick-addiction once Reed unburdens his oversized ramrod from his pants. Why, Cherry's down on that monster like his life depends on it; and for a short while he and Adamov quite literally fight over the beast like a pair of bitches on heat. Nevertheless, it's the boy from the Russian steppes who eventually wins out; with Cherry teaming up with Reed to give the young lad's ass the kind of stretching that it both yearns and deserves!
If the sight of a cute young man getting his ass-hole pounded to its physical limits is your kind of viewing, then believe us this is most definitely for you! And for those who like full-on facials, rest assured this scene ticks all the boxes too. All in all, a five-star, ball-splitting escapade that will leave you totally drained.
Scene 4: Tristan Archer Shows His Nasty Side By Creaming Hot Twink Ass!
Cast: Noah Matous, Tristan Archer
Also available: Donkey Dicks 6 (Compilation Gay DVD)
We've only known Tristan Archer for a very short time, but even so the sight of him wielding a knife at Noah Matous's throat at the start of this powerful little scene comes as something of a shock. Seems like there's something of a devil in this horny, handsome fellow; but if anything that only seems to add a certain appeal to his character. Besides, it quickly transpires that Matous is more than willing and able to undertake what's demanded of him from Archer in the form of sexual favours, and before you know it he's down on his assailant's dick and feasting on it with characteristic fervour.
That, of course, will come as very little surprise to anyone who's enjoyed watching Matous in the past – he is, after all, a complete and utter whore where cock's concerned! What's more, having enthusiastically enjoyed every inch of Archer's shaft in his mouth, he's clearly soon got an appetite to have that same meaty, uncut phallus deep in his ass. As a result, he's soon flaunting his ass in Archer's direction with all the discretion of a she-cat in season – a provocation that the would-be top is quick to take full advantage of. Fingering and rimming the gaping pucker, Archer works that hole in anticipation of the hard, bareback fucking that he now knows he's gonna be giving it; and within minutes finds himself balls-deep in the lad's guts, pounding away with youthful passion and gusto and pushing Matous towards a mega-jizzy crescendo in the process. Needless to tell, it's not long before he's creaming Matous's boy-cunt with his very own tsunami-style climax! Fucking fantastic!!