Summary:
Finding the resolve to keep fit can be hard at times, especially when you're going solo. The solution? Find yourself a running mate – someone who can go the pace with you or even push you to another level. And if they're willing to suck cock and fuck ass three-times daily (or more), so much the better! In fact, screw the conventional exercises – as the likes of Carl Ross, Sven Laarson and Yuri Adamov are only too eager to demonstrate, when it comes to maintaining fitness levels there's nothing better than a good old-fashioned fuck-and-run! So grab hold of your starting gun, guys, and prepare for the race of your life ...
Scene 1: Reluctant Athlete Takes On His Two Horny Mates For A Flip-Flop Spit-Roasting Fuck-Fest!
Starring: Carl Ross, Erik Franke, Jaro Stone
Also available: Twinks Get Stoned (6 Scene compilation)
Also available: Naked Beauty, Sexual Overdose
As every athlete worth their salt knows, half the battle of winning the race is in the preparation – which explains why Carl Ross and Jaro Stone are so fastidious in their pre-race warming-up exercises. Not that their mate, Erik Franke, seems in any way interested in joining them – puffing on a cigarette appears to be his strange method of keeping fit! But everything changes completely once the trio have headed back home. Ross and Stone are clearly keen to engage in another form of exercise, and this time they're not taking no for an answer.
As a result, blond-haired twink soon finds himself literally squeezed into action – which, after an initial show of reluctance, he engages upon with decided gusto. So it is that all three lads quickly have their dicks out and are enjoying the kind of cardiovascular workout that surely all of us can relate to. By the time Ross is enjoying having his ass-hole enthusiastically rimmed and is quite literally crying out to be fucked, there's every good chance that your own keenness may have got the better of you – but hang on in there!
Not only does Ross take every raw inch that Stone has to offer, but the two guys actually flip-flop positions; whilst Franke continues his off-track observations by intermittently slurping on their cocks in turn. No doubt about it, just watching these three dudes in full rut is almost a privilege to behold; and by the time Stone and Ross seal the deal with the director by squirting their wads all over Franke's face, your own sticky sign-off is nigh-on guaranteed! Indoor athletics has surely never looked so inviting!
Scene 2: Two Horny Twink Fuckers Run To Sven Laarson's Flat For A Kinky, Cum-Soaked Threeway!
Starring: Erik Franke, Roman Smid, Sven Laarson
Also available: Bareback Butt Stretchers 3 (2 DVD set)
Let's be quite honest here, is there anyone who looks sexy whilst running? Why, even someone of Brad Pitt's calibre would probably look worse for wear whilst pacing the cobbles of Prague. So look on the opening few minutes of this scene – featuring Roman Smid and Erik Franke in their rather unappealing jogging-gear – as just a mild distraction to the main action that follows. For having undertaken a hardcore cardiovascular workout out on the streets, the two would-be Olympians crash out at Sven Laarson's place, where their horny host immediately puts them through their sexual paces!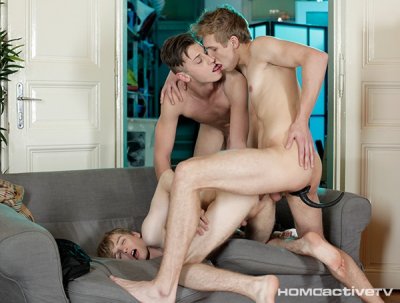 Initially, the action is seen through the eyes of blond-boy Laarson, as Smid and the diminutive Franke kiss and fondle for his apparent entertainment. But it's not long before director John Smith engages in a more traditional method of filming – at which point the ensuing threesome takes on a more familiar (and arguably increasingly heated) nature. Indeed, within a few moments Laarson is feasting on all that hard flesh that has come running (quite literally) to his door; before he reaches for a plastic "dog-tail" and thrusts the toy into Franke's eager little ass-hole.
Inspired, the fellow is soon taking his turn to be "doggy"; then pushes Franke over the sofa and gives his petite pal the kind of raw, animalistic fuck he surely needs and deserves! Cue a fantastic ball-bustin' threesome that culminates in a pile-on fuck-fest – Smid fucking Laarson fucking Franke – and which eventually results in Franke getting a absolutely terrific face-load of jizz from both his filthy mates!
Scene 3: It's A Fuck-&-Run Bonanza for One Horny Bitch As Harry Vakker Ploughs His Hungry Ass!
Starring: Florian Mraz, Harry Vakker
Also available: Athletic Ass Bangers (6 Scene compilation)
Running can be a lonely affair – as Alan Sillitoe detailed in "The Loneliness Of The Long Distance Runner" – but then people who play the recorder don't have many friends either. Perhaps that explains why Florian Mraz and Harry Vakker seem to hit it off so quickly at the start of this spunk-inducing duo. Then again, it could have something to do with the fact that they're both top-notch beauties, neither of whom any right-minded fellow would kick out of bed in a hurry.
To be fair, it's Mraz who (perhaps not surprisingly given his previous escapades) gives initial impetus to proceedings, laid out as he is in nothing more than a pair of sexy briefs and throwing come-to-bed eyes at his mate right from the off. What's more, the lad's clearly in the mood for a little bit of kink from the pairing – sniffing Vakker's running-shoes and socks as if he was inhaling poppers. But whilst the athlete isn't the one who does the initial running – excuse the pun! – he's not shy at responding to his horny little pal's advances; and before you know it the two fellows are greedily 69-ing each other over a sofa like a couple of sex-starved cock-fiends.
Suffice it to say that it's not long before Vakker is getting a very different form of exercise courtesy of Mraz's over-worked fuck-hole - still sporting his fitness-tracker round his waist as he does so - by which time you'll no doubt be giving your wrist a similarly furious work-out! And the fat-burning, nad-churning antics only conclude when both lads rupture like a couple of volcanoes, the jizz quite literally firing in every direction imaginable!
Scene 4: Yuri Adamov Takes A Face-Load Of Piss – Then Takes His Mate's Thick Dick For A Raw Ride!
Starring: Roman Smid, Yuri Adamov
Also available: Piss Me A River (Watersports Compilation)
After a hard session of cross-country running, is there any better way to clean off and relax than to strip right down and to take a shower? Certainly young Roman Smid doesn't appear to think so, that's for sure; although his time alone only lasts a few moments. That's because he's very quickly joined by the ever-adorable Yuri Adamov, who immediately lathers up and helps his buddy to soap down. All of this will obviously help Smid to wash away the grime and sweat of the run. What it might not do, however, is help the fellow wind-down – in fact, Smid's excitement levels are soon raised to fever pitch when his mate invites him to piss all over his face!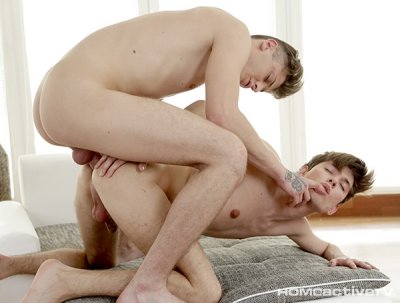 It's certainly not behaviour that's conducive to taking it easy; and it might go some way to explaining how quickly the two lads are enjoying a passionate raw fuck almost as soon as they've quit the bathroom together just a few minutes later. Indeed, there's no holding these two beauties back once they've located a mattress – Adamov is quite literally riding that long, meaty shaft of his mate's like a bitch in season before anyone really knows what's happening.
Not that you blame him the lad, of course. With a pole like that between his legs, Smid is surely everyone's idea of a welcome break; and it should come as no wonder to anyone that he's soon taking the handsome rod in a whole series of positions! All climaxing in a hands-free eruption whilst being duly buggered; before Smid seals the deal in return by busting his nuts at Adamov's welcoming mouth. Surely another shower is but moments away ...?