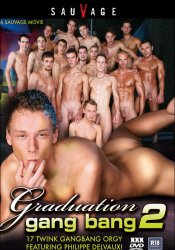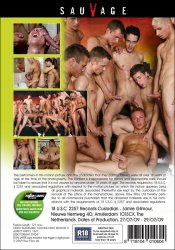 In this series:
Graduation Gangbang 1




Graduation Gangbang 2




Graduation Gangbang 3


Summary:
Hearing that the education system in his native Belgium doesn't cater for his own particular niche-studies in male human anatomy, blond-bombshell, Philippe Delvaux, heads to Prague in search of a degree in cock and ass worship!
Description/ Review:

Scene.1: Philippe Delvaux and Rico Armin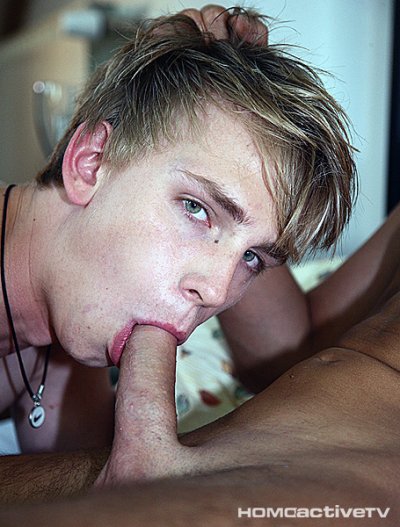 You could almost feel sorry for poor Philippe Delvaux. He travels all the way to Prague for a long weekend, only to discover – horror of horrors! – that the apartment he's staying in is also being used by a horny group of Czech twinks, in the first instance by blond cutie, Hunter Lea, and his dark-haired compatriot, Rico Armin. As a result, the weary traveller – who at this point is still clearly unaccustomed to the ways and customs of his hosts – finds himself having to wait outside whilst the two spunk-magnets engage in a heady 69-session. Then, as if to add insult to injury, his wait is prolonged further by the arrival of Eric Harper, who bolts through the door at almost the same moment as Lea has dumped a generous load of cum and left the room stage right! As a result, it's actually Harper's pert little ass that ultimately gets the attention of Armin's handsome, uncut shaft – the two over-sexed pups banging away for all their worth as if to practice for the major event to cum! Rest assured that Delvaux's unexpected wait, however, is very much our gain …
Scene.2: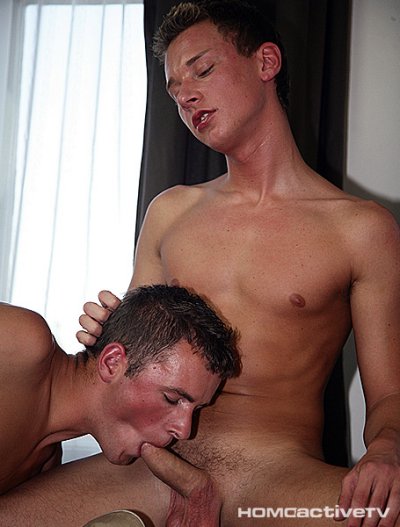 For all the apparent hassle, the Belgian visitor's wait is not without its merits – as this second scene quickly makes apparent. After all, who wouldn't want to be inconvenienced when it meant the opportunity to make out with the deliciously formed Alan Craft? It's certainly a chance that young Delvaux doesn't spurn, that's for sure, in a stunning, sensual encounter that will appeal to anyone who enjoys watching young blonds at the peak of their sexual prowess. In many respects, this will always serve as a build-up to the real action later in the film – this is primarily a gang-bang flick, after all. But who could possibly fail to be moved by the sight of Delvaux slurping along the generous length of Craft's meaty, uncut shaft? Or that of the two cocks being rubbed together in a mutual wank, just prior to the Belgian spurting the contents of his balls into Craft's open mouth? If European integration does nothing more than bring gorgeous young twinks like this together then us porn lovers will have no complaints!
Scene 3: Zach Hood, Kamil Fox, Philippe Delvaux
Also available: Sleazy Restroom Riders (2 DVD Compilation)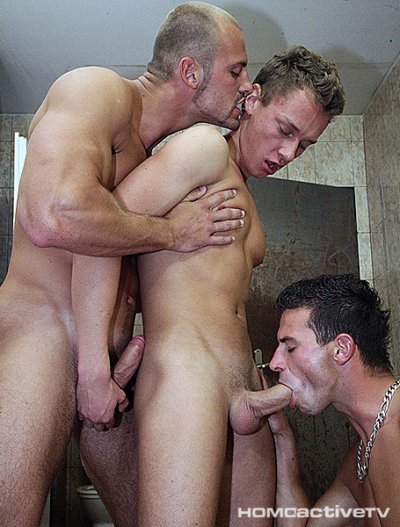 The arrival of the fabulously toned and generously equipped Zack Hood into any flick surely signifies that a film means serious business. Add the living legend that is Kamil Fox and the twinkish delights of Philippe Delvaux, then set the action in the confines of a toilet block, and you really do have the makings of a would-be classic. Indeed, this is a scene that (on paper at least) has cum-stains written all over it! What's more, it doesn't for one moment disappoint. Hood for his part is at his totally arrogant best, pushing young Delvaux about the room and rubbing his cock against the Belgian's rump in preparation for some hard fucking to come. Whilst Fox for his part has lost none of his manly charm in front of camera. The result is a truly mind-blowing – and, more to the point, ball-blowing! – escapade, culminating in the terrific moment when Hood and Fox simultaneously spurt their jizz all over Delvaux's cheeky young face. A definite must-see that'll have you tugging on your skin time and time again!
Scene 4: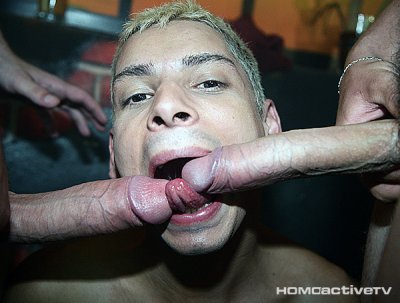 Just when you possibly thought that the action couldn't get any hotter, Vlado Iresch wheels out the heavy guns with the introduction of the Czech mega-slut that is Martin Corvin – a blond-haired, dark-eyed beauty who seems to literally exist for the sole purpose of riding cock. Corvin hereby takes every opportunity to fulfil his personal life-goal with the kind of gusto that we've quickly grown to expect from him. He's helped, of course, by the fact that he's partnered by two of the hottest, horniest tops in the biz, in the shape of Marcel Bimore and Jesse Shaw – a pair of handsome young studs who love nothing better than to use their oversized tools to stretch any eager, hungry hole. Of which Corvin's is arguably one of the hungriest that you're ever like to see! Needless to report, the session ends in characteristic fashion where this particular young whore's concerned, with Corvin down on his knees, mouth wide open, feasting on ever drop of spunk his pals can muster. It's a sight to burst a mother with pride – and one that'll have you bursting as well, but for completely different reasons!
Scene 5: Stunning, nad-draining orgy
Cast: Johan Volny, Kamil Fox, Martin Corvin, Milos Zambu, Thomas Dyk, Zack Hood, Zac Powers, John Paul, Jacob Bishop, Marcel Bimore, Eric Harper, Lukas Leung, Jesse Shaw
Also available: Bareback Orgy Sluts (2 DVD Compilation)
Unquestionably, the moment you've all been waiting for, though given the quality of the four scenes preceding it we seriously wonder whether you'll still be in a fit state to fully appreciate this stunning, nad-draining orgy. Something tells us, however, that you'll eke out the strength from somewhere – after all, any scene that contains the likes of Johan Volny, Thomas Dyk and Kamil Fox is unlikely to run the risk of falling from the radar. And so it proves, as director, Vlado Iresch, pulls out all the stops to ensure that this is one group scene you won't forget in a hurry.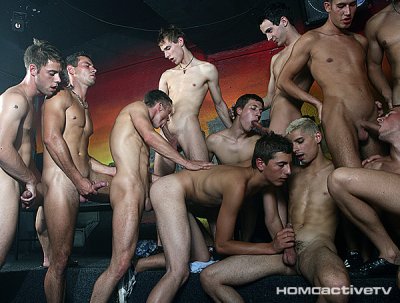 Young Philippe Delvaux serves as the lynchpin to the action; though the presence of Martin Corvin, who at one point takes a particular liking for Thomas Dyk's thick shaft (and who can blame him?), does provide the Belgian with a sense of competition. If anything, however, that merely adds to the sexual tension, which finally culminates in Dalvaux taking load after magnificent load of premiere Czech spunk. One can only imagine how long it took to clean up the resultant mess afterwards – but we know for a fact that (after seeing this scene) you'll agree with us that it was totally worth it!
Additional Information
Categories: UK R18 / XXX Gay Adult
Running Time: 120 mins, Year: 2010
Price: Around £26*
Starring: Rico Armin, Marcel Bimore, Jacob Bishop, Martin Corvin, Alan Craft, Philippe Delvaux, Thomas Dyk, Kamil Fox, Eric Harper, Zack Hood, Hunter Lea, Lucas Leung, John Paul, Zac Powers, Jesse Shaw, Johan Volny, Milos Zambu
Director: Vlado Iresch
Studio: SauVage Movie
Buy DVDs online at: Homoactive, Simply-Adult and RadVideo (US)
Homoactive downloads: SauVage
Gay Video On Demand: SauVage, See also: www.gaydvds.tv
Country: Czech Republic, Language: Czech with english subtitles
Additional info: No Regional Coding