Summary:
Some boys love the buzz of the big city and the excitement of the metropolis – but not these horny fuckers! No, they're country lads through and through. Not that they spend much time admiring the natural wonders around them. No, they're way too busy enjoying the pleasures and delights that only other guys can give. Orlando White, Kamyk Walker and Josh Milk are just three of the cum-crazy fellows whose country pursuit is to hunt down cock and enjoy it to the full. Forget milking the cows! It's milking balls that these boys love ...

Scene 1: Early Morning Getaway Becomes An Early Morning Ass-Stretching For A Dick-Lovin' Beauty!
Starring: Orlando White, Tristan Wood
Also available: Now That What I Call Staxus 1 (2 DVD set)
Let's face it, most guys would wake up next to STAXUS favourite, Orlando White, and probably be quite convinced that they'd died during the night and woken up in Nirvana! For whatever reason, however, Tristan Wood is not one of those guys! Maybe the young beauty has had a bump to the head during the nocturnal hours, or maybe he's a straight lad after all. Whatever the cause, he begins this scene by actually trying to leave his buddy alone in bed – an act of arguable rank stupidity, but which immediately leaves White with little choice but to pull out all the stops in an effort to get the early-morning fuck that a chap of his calibre and quality demands and deserves!
Of course, we probably don't need to tell you that White's advances quickly gain results. Before you can say "Bore Da", this little Welsh cottage bedroom has been transformed into a den of bareback iniquity – first by Wood deep-throating his mate's handsome ramrod; then by White returning the favour, before rimming Wood's hairless ass; and then finally by White pushing every inch of his raw knob deep into his mate's pucker in order to give Wood a salient lesson in man-on-man fornication!
Not that a fellow of Wood's form requires any such instruction; but it's not every day that you get the chance to have your guts stretched by a sex-god of White's quality, and given the look of pained ecstasy that he displays during the course of his buggery we hazard a guess that this is one fuck he won't forget in a hurry – or for that matter want to! And the resultant cascade of jizz proves our point!
Scene 2: Outdoor Picnic-Table Fuck Sees Horny Stud Get Spit-Roasted & Creamed By His Mates!
Starring: Gabriel Angel, Josh Milk and Orlando White
Also available: Donkey Dicks 3 - Compilation Gay DVD
We all know that supping alcohol can increase a guy's libido, but whether it usually has such an immediate effect as in this glorious, outdoor threesome is another matter entirely. Nevertheless, by the time that Orlando White has taken a few gulps of Carling he's already sporting quite an obvious hard-on in his denim shorts – something that neither Gabriel Angel nor Josh Milk are able to ignore. Indeed, within a few moments all three lads have their dicks out and are busily engaged in pleasuring each other – just as good friends should!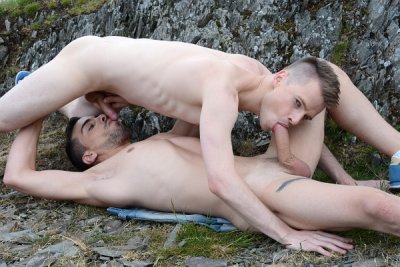 What very quickly becomes apparent, however, is how integral the wooden picnic-table is to the sordid antics of these three gorgeous beauties, not least of all when Angel and Milk enjoy a fantastic 69-ing session whilst White sucks Milk's balls! It's a theme that continues when Milk finally succumbs to the inevitable and takes every inch of White's handsome ramrod up his ass, sucking on Angel's thick, meaty dick as he does so – again, the table provides the backdrop of all the hardcore action!
Fortunately for all concerned, any danger of getting splinters in somewhat delicate quarters is skilfully avoided. Instead, the action continues unabated, with Milk clearly savouring everything that his two buddies can thrust in his direction; before first White and then Angel cream Milk's hole, and finally Milk jerks a fine wad of his own over his belly! All in all, a sweaty, spunky end to the kind of outdoor adventure that all of us surely dream about!
Scene 3: Romantic Picnic Quickly Turns Into A Hard-Hitting, Ass-Splitting Kitchen Table Power Fuck!
Starring: Josh Milk, Kamyk Walker
Also available: Now That's What I Call Staxus 4 (2 DVDs)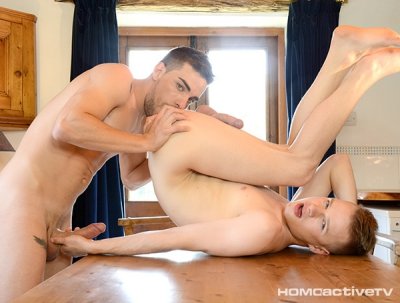 It's pretty obvious from the off where the champagne-picnic at the start of this marvellous, ball-draining escapade will soon be leading – after all, Josh Milk clearly hasn't bothered to wine-and-dine his lithe Polish buddy, Kamyk Walker, in the hope of merely enjoying the splendid scenery! No, this horny Spanish stud has much more intimate ambitions on his mind; and within moments of the pair returning to their Welsh cottage, he's pushing his mate down onto the kitchen table and ripping the lad's clothes away in a bid to get his hands (or, more precisely, his mouth!) on Walker's ever-eager ramrod. It's a relatively subdued beginning, however, in comparison to the energetic skull-fuck that quickly ensues – Walker deep-throating his mate's cock right down to those dark, Mediterranean pubes! Nor is Milk any less energetic when it comes to rimming his buddy's hole and subsequently ramming the entire length of his knob into Walker's guts! For our boy from Warsaw is clearly in the mood for a high-octane anal invasion, and Milk's more than ready and capable of delivering such a key-note performance.
The result is a truly superb rut between two of the horniest fellows you're ever like to encounter; the highlight of which is that of Walker riding Milk's dick cowboy-style like the total bitch we've all long-since known him to be! Finally, with the young twink being brutally hammered against the table, Milk signs off by creaming Walker's pert little ass; before the young Pole (very understandably) milks out a fine, multi-shot wad to call it a wrap!
Scene 4: Two Dick-Lovin' Beauties Underwrite The Entente Cordiale With A Raw, Rustic Fuck!
Starring: Gabriel Angel, Louis Blakeson
Also available: Now That's What I Call Staxus 3 (2 DVD set)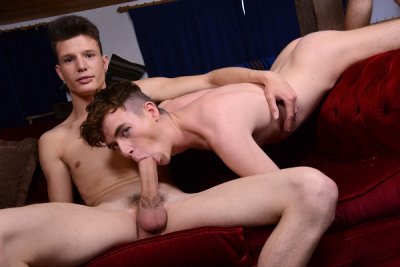 Having returned from doing goodness-knows-what, goodness-knows-where, the aptly-named Gabriel Angel and his equally horny buddy, Louis Blakeson, decide to flop down onto a sofa and get better acquainted with each other's bodies – a task that both lads quickly uptake with characteristic gusto. As a result, it seems barely a matter of seconds before the boys are stripping out of their clothes and taking it in turns to suck on all the achingly hot cock that's soon on display; Blakeson, in particular, proving decidedly keen to practise his oral skills on the French guy's handsome and ever-ready ramrod! Then again, with a knob like that to entertain you, who the fuck can blame him? What Blakeson wants more than anything, however, is the feel of that raw monster as it pounds away quite unmercifully up his hungry little ass; and the enthusiastic rimming that Angel subsequently provides him with proves a more-than-adequate entree to the main course of sodomised debauchery that's about to follow.
Suffice it to say that the puppy-like Brit is like a being who's been whisked off to paradise once Angel's dick is where it should be – namely pummelling energetically into his guts with unapologetic fury! Then again, who wouldn't enjoy getting that kind of no-holds-barred attention from a cutie of Angel's standing? And who wouldn't take full opportunity to ride the said shaft cowboy-style, as Blakeson does here? All told, a fabulous, ball-bustin' encounter that (not surprisingly) results in a veritable flood of sticky, pent-up boy-batter. Folks, you have been duly warned!

Themes: Bareback, Outdoor, Spit roasting, Threesome