Summary:
It's been described as the sexiest machine ever invented by man – and is it any wonder? With its sleek, aerodynamic form and pumped-up exhaust, there's simply no denying the eye-pleasing aesthetics of the motorbike.
Put some oversexed cutie on the seat, however, and what was a thing of beauty takes on a whole new carnal appeal, as Yuri Adamov, Mike James and Tom Crua (each blessed with oversized exhausts of their own) are only too eager and willing to demonstrate. Life on the open road has rarely looked so utterly spunktastic!
Scene 1: Biker Boy Gives His Smooth, Horny Lover A Heavyweight, Open-Air Raw Fucking!
Cast: Tom Crua and Vadim Lust
Also available: Bareback Rookies, Summer Sex Fest
Also available: Open Air Sluts 3 (Compilation)
It's not without good reason that Tom Crua has been described as the new Zack Hood – tall, dark, dominant and sexy – and this fabulous scene with young Vadim Lust will do little to stem the fellow's ever-growing fan-base. Mind, putting him in motorbike leathers at the start of the encounter will only add to the guy's appeal – geez, you could almost blow your load watching him remove his crash-helmet! – and it's no surprise at all that Lust lives up to his name and promptly heads south to feast on his boyfriend's swollen ramrod.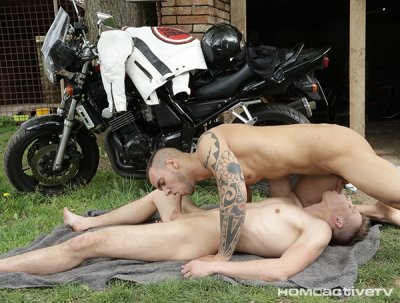 It's a response that Crua himself promptly replicates a few minutes later; but, having taken the chance at an initial introduction, both lads are soon laid out on the grass next to Crua's bike and are taking the time to indulge in a more leisurely session of fellatio. For those who appreciate it, the presence of the bike almost serves as a third party in the act of fornication; but there are surely very few who will not be won over by the seductive mix of Crua's brute masculinity and Lust's totally hairless physique.
Indeed, there's every strong possibility that plenty of pent-up jizz will have been spilt even before Crua takes full control of proceedings and first rims and then raw fucks his buddy's ass-hole! If this does prove to be the case, however, the sight of Crua bashing Lust's pucker up against the bike will surely give opportunity for a second blast – director John Smith capturing every disgusting, debauched detail for your peverse enjoyment! Needless to say, both guys are soon squirting copious ropes of spunk in exchange for a fist of Euros!
Scene 2: Hot, Horny Wank Turns Into An Even Hotter, Hornier Fuck For These Two Raw Biker Twinks!
Cast: Shane Hirch, Sven Laarson
Also available: Bareback Rookies, Wild Attraction
Being around motorbikes all day has left young Shane Hirch feeling very much on the frisky side – so much so, in fact, that he's laid out in a chair having a wank when Sven Laarson walks in on him wearing nothing more than a rather provocative pair of pants! It's a turn of events that can clearly have only one effect on the handsome young lad, and as such it will come as no surprise at all to see him immediately reach for Laarson's crotch so that he can gobble down on his mate's hairless crotch!
What's more, Laarson doesn't display any sign of resistance – evidently savouring the delicious feel of Hirch's tight lips on his dick and groaning and gasping in delight! As a result, it's no time at all before the two beauties are engaged in a rather unusual session of 69-ing, which sees Laarson briefly hanging over Hirch's head – a sight that's almost worth the price of the scene in itself. Don't bolt your load in excitement too soon, however; for having then greedily rimmed Hirch's hairy ass, the blond lad subsequently sinks his generously-sized ramrod straight into his dark-haired mate's fuck-hole, signalling the beginning of a truly fabulous session of hardcore, rubber-free fornication!
Needless to say, Hirch's ass gets stretched in a series of positions; before he finally succumbs to the inevitable and spews a deliriously hot blast of man-cream all over his six-pack. Evidently unsatisfied, he then encourages Laarson to splatter his face with spunk – a fitting finale to a five-star display!
Scene 3: Yuri Adamov Gives His Hunky Mate Total Adoration & Enjoys A Hard Raw Fuck For His Troubles!
Cast: Tom Crua, Yuri Adamov
It won't take much of an expert in the niceties of gay porn to appreciate where this scene's headed pretty much from the off – but don't let that put you off what proves to be a terrific biker-themed offering from director, John Smith. On the one hand we have the magnificent Tom Crua, a tattooed beast of a hunk whose military-style cropped hair and pitch-perfect physique is enough to make even the most reluctant of admirers go weak at the knees!
On the other hand, we have uber-sexy twink, Yuri Adamov, whose delicate physique and pretty face are in total contrast to his fuck-buddy's primed masculinity. Given the obvious differences between the two, it won't come as any surprise to discover that Crua plays out the dominant role, whilst Adamov is very much the passive party. But part of the beauty of this scene – apart from the fact that it features two of the hottest dudes on the circuit at present – is the simplicity surrounding this particular expectation.
So sit back, relax and unzip to the sheer delight of seeing a horny young twink giving his fullest attention to a fellow who could quite easily pick the lad up and swing him around the room without even the slightest modicum of effort! Not that Crua does anything so untoward. Rather he merely lifts the lad up and plonks him down on his dick – a move that (not surprisingly) sends Adamov into total rapture. Suffice it to say that the youngster goes on to enjoy the fuck of his life, culminating in a fine blast of hot man-juice all over his perfectly coutured hair courtesy of Crua's erupting cock. In short, fucking hot!!
Scene 4: Horny Biker Boys Relish An Outdoor Flip-Flop Suck-&-Fuck-Fest On The Back Of Their Machine!
Cast: Alexander Dorch and Shane Hirch
Also available: Let's Play With Shane Hirch
Also available: Bareback Rookies, Summer Sex Fest
Okay, so maybe his rather untraditional haircut is not going to be to everyone's liking – some might even go so far as to say that he should sue his hair-stylist! – but there's one thing that pretty much everyone can agree about regards Alexander Dorch and that's that he's a horny little runt who can't keep his hands off other guys! Especially when those other guys are as gorgeous and fuckable as Shane Hirch, whose appeal in this scene is only intensified by the fact that he's wearing a pair of leather motorbike chaps.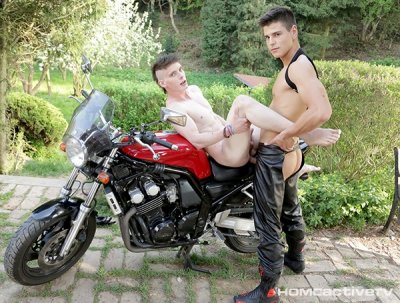 As such it should come as no surprise that Dorch is down on his buddy's dick with almost lightning speed, slurping on Hirch's ramrod with the kind of enthusiasm that you'd expect from a lad as sexed-up as himself. Not that Hirch is in any way less responsive, it must be said. Indeed, the dark-haired beauty is quickly returning the move in kind, playfully working on Dorch's dick with a teasing, provocative manner that soon has his pal quite literally gagging for hardcore action. Having eagerly rimmed Hirch's ass-hole, therefore, Dorch plonks himself down on his fuck-buddy's lap in no time at all – allowing Hirch to quite literally fuck his brains out from below and (in the process) underwriting his slut-like credentials to a world-wide audience.
Unwilling to allow Dorch all the slice of the action, however, it's not long before Hirch is urging a flip-flop response; before seemingly normal service is resumed and Dorch has his butt-hole pummelled on the back of Hirch's bike! A move that promptly results in fine wads of jizz from both motorhead beauties!