Summary:
Riding a bicycle is one of the simplest pleasures in life – but it's nothing compared to the overriding joy of fucking some cute twink's tight arse, as this bunch of horned-up beauties are only too eager and willing to demonstrate! Kris Blent and Chris Jansen lead the cast as they head to Czechia from Holland and Denmark respectively; discovering a whole legion of cock-crazed cyclists (new boys Seb Priestley and Johnathan Strake amongst them) who are not so much interested in joining the Tour De Czech as the Tour De Suck-&-Fuck!
Scene 1: Biking Buddy Takes A Pit Stop To Enjoy A Rigorous Raw Fucking!
Cast: Chris Jansen, Johny Cherry
Also available: Alfresco Arse-Raiders 2 (Compilation)
It's a tale of two contrasting personalities. Johny Cherry, innocently enjoying the countryside, using a blade of grass to make bird noises; and Chris Jansen, biker boy extraordinaire, wearing an ass-less suit that pretty much leaves nowt to the imagination! Of course, you don't need to be a rocket scientist to realise what's going to happen once these two young lads meet up; with Cherry quickly bowled over by Jansen's brazenly provocative attire, and the Danish lad taking full advantage right from the off. Indeed, neither lad remains dressed for very long, as they each take turns to gorge on each other's handsome cocks; before Cherry finally displays his distinctly carnal side, bundles his buddy over onto all fours and promptly starts to finger that beautiful bubble butt.
A few moments on and he's balls-deep in Jansen's pucker – which, given the Nordic boy's lewd reputation, is exactly where Jansen wants him to be. Fucking outside is never the easiest of options, however, so it shouldn't come as too much of a surprise that the action soon transfers to a nearby cottage, where both fellows can fully express their most promiscuous desires; and where (basically) Jansen gets his arse fucked in a whole series of positions.
Indeed, this is where the horned-up fucker is at his happiest – his hungry little fuck-hole being banged unmercifully, culminating in him squirting like a geyser mid-reverse cowboy! Which leaves him to bring proceedings to a happy conclusion by means of a helping hand – quite literally! – as he jerks Cherry's drooling cock off to a very sticky climax!
Scene 2: Young Czech Twink Gets A Right Dutch Buggering & Hot Facial!
Cast: Jacob Waterhouse, Kris Blent
Also available: Athletic Ass Bangers 2 (Compilation DVD)
Also available: Facial Buddies (Compilation DVD)
Being a proud Dutchman, Kris Blent's cycling skills are second to none. Being one of the horniest gay guys on the planet his boy-craving skills are equally well-defined – as becomes apparent here (once again!) when he returns home after a bike ride in the country to find Jacob Waterhouse patiently sat awaiting attention. Something Blent gives him big time! Indeed, these two buddies are soon gyrating against each other, kissing and fondling like a couple of whores; before Waterhouse finally falls to his knees and starts to feast on his mate's big, uncut schlong!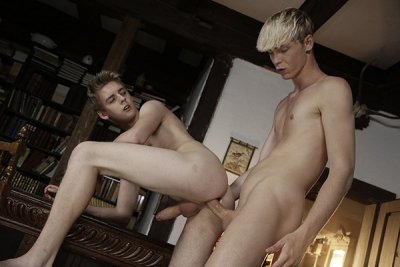 It's a somewhat understandably lengthy show of appreciation, that's for sure – and it leaves the boy from the Low Countries with a particularly keen appetite for dick even for him. As a result he's soon slurping on his mate's ramrod and rimming and fingering his arse; before the temptation just gets way too much and he finally forces his aching shaft deep into Waterhouse's pucker. It's a move that certainly seems to press all the right buttons as far as this very horned-up bottom is concerned, with Waterhouse riding dick in a whole series of positions – and clearly loving every fucking minute of it!
So much so, in fact, that he's soon reached the point of no return, squirting a very handsome wad of pent-up jizz all over his own firm, toned belly. That's more than enough to get Blent teetering on the edge – at which point he promptly towers above his pal, then jerks out a tremendous volley of pure Dutch ball-brew over Waterhouse's face! A lingering, snowballed smooch finally serves as the wrap to this classic!
Scene 3: Oiled-Up New Boy Gets His Butt Stretched By Dunn's Hard Axle!
Cast: Benjamin Dunn, Seb Priestley
STAXUS favourite, Benjamin Dunn, has always been keen to teach a fresh face a few new tricks – and no less so than when it comes to showing young rookie, Seb Priestley, how to keep a bicycle in tip-top condition. But it's not long before he's taking advantage of the situation for his own carnal interests; using the gear oil to splash onto his buddy, then rubbing the lubricant into Priestley's skin! It's a clearly very erotically-charged move, of course, made all the more intense by the fact that both lads are sporting such provocative gear; but suffice it to say that the newcomer displays no sign of any reticence, allowing the older guy to eagerly slurp on his now-swollen shaft.
It's an opportunity that Dunn doesn't shun for one moment – unsurprisingly! – as he feasts on all that young, fresh dick like a being possessed; but the truth remains that his number one priority at this point is getting access to Priestley's tight, underworked pucker. Anyone fearing that this might become a mission too far for Dunn shouldn't worry too long, however. The long-time pro makes getting balls-deep into the young lad's fuck-hole look as easy as riding a bike; piling almost mercilessly to ecstasy and leaving Priestley's pucker literally gaping in the process.
It proves the perfect starting performance for a no-holds-barred banging that will almost certainly leave you as drained as the boys themselves – Priestley riding Dunn cowboy-style, then taking every inch on his back. All culminating in two stunning blasts of pent-up spunk, one of which (Dunn's) leaves Priestley's ass dripping with jizz!
Scene 4: Bike Mechanic Gets To Screw His Cute Pal's Tight Ass – Literally!
Cast: Johnathan Strake, Kellan James
Also available: Horse Hung & Horny 4 (Compilation)
Kellan James is a young man of many talents – one of which, it seems, is the ability to pick things up off the floor using his feet. Whether that's the aspect of this spunktastic scene with Johnathan Strake that you'll end up remembering is open to question, of course; but it certainly adds a certain curiosity to the first few moments here, as he carries out some maintenance to his bike ahead of the arrival of Strake, who (not surprisingly) immediately distracts the fellow with a horny smooch. It's a move that quickly has the desired effect on James, that's for sure; as the now horned-up biker promptly switches his attention away from his cycle in favour of his pal's thick, engorged salami, which he begins to feast upon with undisguisable relish.
Then again, who can blame the guy? Strake has a dick to die for, after all. Not only that, however, but the lad also possesses a handsome pair of bollocks that James is only too eager to nuzzle and worship. But there's no denying the fact that James's keenest attention is on his buddy's hungry little ass-hole; and having allowed Strake a rigorous slurp on his own cock in return, the fellow is soon rimming and fingering Strake's pucker like a being possessed.
Cue a fantastic arse-buggering session that sees the young lad pummelled in a series of hot positions; and culminating in some rather kinky sex play that involves James thrusting a screwdriver up the sweet boy's hole. It all proves way too much for Strake, who is soon exploding right across his own belly; before James finishes the round by jerking out a wad into his pal's mouth!