Summary:
Forget "Dancing Queen", guys! This group of cock-lusty whores prove that, when it comes to making all the right moves on the dance floor, it's most definitely the pelvic thrust that counts – particularly when it's directed towards some tight, raw, hungry ass! Of which there are plenty in this ball-draining, cum-soaked riot of hot, bareback fucking and spunk-splattered holes.
Description / Review:

Scene 1: Total Cock-Whore Twink Delights In Two Thick, Meaty, Uncut Monsters!

Cast: Caleb Moreton, Nick Deniels, Lex Olsen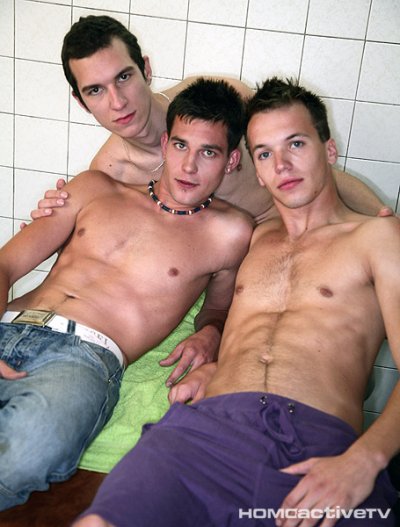 Don't be fooled. The three young lads in this scene might be talking about their dancing skills, but the only thing really on their mind is what each other have got packed inside their tight, skinny shorts. Which in Caleb Moreton's case is a thick, meaty, uncut monster that's just aching to plant itself inside some hungry, tight arse. Ultimately, it's young Nick Deniels who's gonna take every inch of that beefy schlong; but in the meantime he and Lex Olsen have to content themselves with a little oral stimulation. Cue a superb session of mutual cock-sucking that ultimately results in Olsen blasting the entire contents of his cum-sac all over Deniels' face! It's a sight that'll get you frantically tugging on your own cock for sure, but remember Moreton's cock ain't finished yet. As such, the scene immediately continues with Deniels mounting his mate's butt-picker and riding it bareback for all it's worth; culminating in Moreton making a prompt withdrawal to coat Deniels' chin a second time. No doubt about it, it's a performance that seals Deniels' reputation as a complete and total cock whore!
Scene 2: Hot, Horny German Twink Takes Every Inch Of His Horse-Hung Underling!
Cast: Peter Till , Zaho Sebastian Mann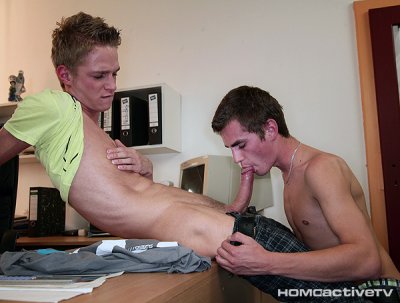 He has all the mannerisms of an arrogant, self-conceited twink, not least of all when he prompts Peter Till to take off his shirt whilst he himself continues to chat aimlessly on the phone, but there's still something undeniably irresistible about Zaho Sebastian Mann. The fact is that he knows exactly what he wants – in this case, Till's throbbing cock between his butt-cheeks! – and it's little wonder that the visitor to his office is so keen to do his bidding. Who could resist that slim, lithe frame and those sapphire blue eyes, after all? As such, the two almost hairless youngsters are soon 69-ing each other across Mann's desk; until Mann's delicate little butt-hole becomes the sole focus of Till's attention. It's no time at all from that point before the young German is taking every straining inch of Till's ramrod – ultimately resulting in him unburdening his tight nads across his own belly. Don't think that's the end of Mann's afternoon of pleasure, however; as he promptly kneels down and allows Till to wank off across his face, grinning like a Cheshire cat as he does so.
Scene 3: Another Monster Dick – And A Cute Teen Gets Right Royally Skewered!
Cast: Caleb Moreton, Robin Snoyer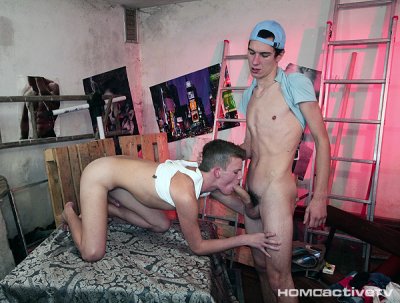 Young Robin Snoyer's a naive young thing if ever he thinks that someone of Caleb Moreton's pedigree is gonna waste time entering some pointless dancing competition when he could be fucking some cute, barely-legal twink (like Snoyer himself) – but that's exactly Snoyer's approach in the opening moments of this scene. Not surprisingly, it's an idea that receives short shrift from Moreton, who immediately reaches for his zipper and tells his comely companion to concentrate on more important matters – like sucking his beefy, uncut shaft! A suggestion that meets with little if any resistance from Snoyer, whose interest in dancing clearly isn't matched by his enthusiasm for cock! Then again, who can exactly blame him? Moreton's knob is the kind that you could spend all day admiring, and it's little wonder that Snoyer should soon be presenting his rump in eager anticipation of the inevitable fuck to come! Moments on, and Snoyer is firmly skewered on the monster, gasping for breath in much the same fashion as he does when Moreton finally dumps a fine load of cum into his open mouth!
Scene 4: Mammoth Cocks All Round As Two "Giants" Get Awash With Boy Juice!
Cast: Alex Granger, Lex Olsen
Also available: Horse-Hung and Horny 2 (Compilation)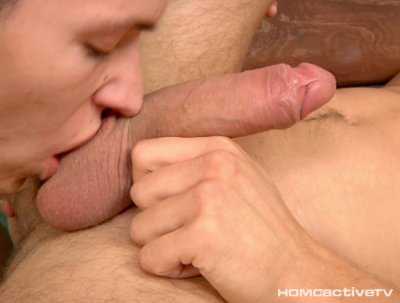 With arguably two of the biggest cocks on the circuit, this magnificent warehouse pairing of Alex Granger and Lex Olsen is always destined to be a definite highlight for dick-lovers everywhere – particularly those who like their guys a little buffer than the average Prague-based twink. Granger, in particular, is every little bit the perfect manly specimen, with his trademark shoulder tattoo and a muscular frame that surely stands as testimony to time well-spent at the local gym. He also has a distinctly greedy butt-hole, which Olsen is undoubtedly only too willing and eager to take advantage of. First, however, it's Olsen's turn to ride dick, as Granger lubes his pal's pucker with spit and forces that meaty pole of his deep inside. Only after Olsen has taken every inch that Granger has to offer do the two guys swop roles, with Granger seating himself down on his partner's weapon for the sort of rutting usually reserved for mating season only! No question about it, Granger's not gonna be happy until his boy-cunt is awash with Olsen's sperm – a wish that Olsen himself is only too willing to grant, before he in turn takes a mouthful of jizz as a sign of manly appreciation!
Scene 5: Cute? Of Course! Innocent? Not Fuckin' Likely With These Bare-Lovin' Beauties!
Cast: Nikolas Cox, Todd Reid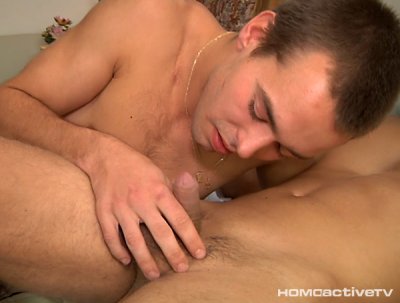 Fans of coy young college boys are in for a treat here, as Nikolas Cox and Todd Reid indulge in an illicit session of man-love that gives every impression of being totally unrehearsed and heartfelt. Reid, in particular, looks admiringly nervy in the opening moments; whilst Cox acts the part of temptress, knowing full well (it seems) that his companion will soon be allowing lust to overcome whatever reservations he might have. Needless to say, it's only a matter of a minute or two before the lads have thrown any caution they have to the wind, savouring each other's bodies and then finally indulging in a magnificent session of 69-ing and ass-rimming. It's anyone's guess right up until the last moment as to whose hungry little butt is gonna get a well-earned stretching, but in the end it's cropped-haired Reid who we see riding dick – first cowboy-style, then on his side. A position that gives a totally unrestricted view to Cox's magnificent cumshot – wad after creamy wad over Reid's red-raw pucker! Just the sight to get any bareback-loving viewer pulling back their own skin in ecstasy!