Summary:
Winter in Prague is the perfect time to enjoy some hot intimacy with the sexy locals – a fact that Danish new boy, Chris Jansen, clearly has foremost in his mind when he heads to the Czechia capital. Unsurprisingly, he doesn't have to wait too long before his efforts are met with raw success; as Joshua Levy, Jaro Stone and Tristan Archer extend a traditional Czech-boy welcome to his pert little arse! Add the meaty, uncut cocks of Tony Conrad and Enzo Sky into the frame and you have the makings of a superb, spunk-soaked classic!
Scene 1: Great Dane Gets His Arse-Hole Played & Pounded By Hot Fucker!
Starring: Chris Jansen, Joshua Levy
Also available: Ball Busters (Compilation)
New boy Chris Jansen clearly enjoys a bit of cruising in the local park – but it's a pastime that doesn't go without its reward when he encounters none other than the ever-delicious Joshua Levy. Within minutes the two fellows are smooching away like a couple of horned-up alley-cats; before heading off to a nearby apartment, where their antics become (not unnaturally) much more intimate in nature. Jansen, in particular, clearly can't wait to get his new-found buddy's dick out of his pants; and before you know it the young Dane – still donning his jockstrap! – is providing his Czech host with a badly-needed oral massage.
It's a move that could never fail to inspire a chap like Levy, of course, who we already know very much appreciates the adoration of a horny fucker; and matters only intensify still further when Jansen turns his attention to his buddy's balls, which he sucks and worships with undisguisable gusto. Little wonder that the pair are very soon prostrate on the sofa, 69-ing each other like a couple of over-sexed animals; before Levy adds an element of kink by using one of his ornaments to invade Jansen's hungry ass-hole.
Not that this lad from Copenhagen is going to be ultimately satisfied with teasing, of course. What he's wanted from the start is Levy's cock deep inside him – an ambition that his newly-discovered fuck-buddy is soon fulfilling in a series of sexual positions, and which ultimately results in Jansen squirting all over his jocks mid-fuck. But it's Levy's conclusion – a stupendous wad of spunk across Jansen's face – that surely steals the show!
Scene 2: Park Stroll Becomes A Flip-Flop Roll For Two Horned-Up Fuckers!
Starring: Tony Conrad, Will Simon
Fans of Tony Conrad – of which there are many, as everyone knows – will be in seventh heaven at the start of this, his latest episode. Not because he engages in anything unnaturally erotic or sordid – rest assured that comes later on! – but very simply because he's filmed being utterly natural and normal, walking in a park on a cold winter's day. In effect he becomes an "every man" – the kind of fellow any of us could encounter in our daily lives. Suffice it to say, however, that this heart-stealing beginning is quickly transformed once he's safely back in his apartment – the clothes come off, the sap quickly starts to rise and the lad is soon fingering his arse into a cum-churning fantasy, courtesy of the arrival of young Will Simon.
From this point onwards it's very much business as usual, with the newcomer quickly engaging in what can only be described as "worship" of Conrad's handsome body. Mind, who the fuck can blame him? There's simply no doubting that Conrad is one of the most beautiful creatures ever to grace the screen – not to mention one of the horniest! And it's in that latter capacity that the fellow is soon laid prostrate on his back taking every inch of Simon's cock; before the two fellows flip-flop around so that Simon can enjoy the feel of his mate's dick in his ass in return.
If the sight of these two horned-up beauties doesn't get the juices flowing then we don't know what will; particularly since both fellows finish their efforts with an energetic show of pent-up jizz. Conrad calling it a wrap by shooting his wad into Simon's expectant mouth! Beautiful!
Scene 3: Archer's Got The Horn & Unloads His Quiver Into Hot Cute Blond!
Starring: Chris Jansen, Tristan Archer
Tristan Archer's feeling horny. We know this because he's laid out on a rug in front of an open fire, wearing nothing more than a pair of briefs and rubbing his crotch with an almost insanely enthusiasm. Truth, of course, is that the lad's at an age where he feels like this most of the time; and the introduction of Chris Jansen into the equation does nothing to dampen his ardour. Far from it, in fact; with the two fellows promptly making the most of the opportunity to smooch, before Archer makes a beeline for his new-found buddy's groin and pulls the Dane's swelling shaft into the open.
At that point, of course, you just know that we're at the point of no return. There's no way on this earth that Archer is going to let this handsome Scandinavian cock out of his sight; whilst the knowing look in Jansen's sapphire eyes tells you that he's not going to be happy until his pal has switched attention to his hungry little arse-hole. But first there's the not so insignificant question of fellatio to consider; with both lads taking it in turns to slurp on each other's bulging dick-heads.
Ultimately, however, both these mates are in the mood for some ball-busting, ass-stretching action; and it should come as no surprise whatsoever when Tristan first fingers and rims Jansen's slit, then buries his hatchet balls-deep into the inviting crack. For all its predictability, we defy anyone not to be completely entranced by the unrestrained rutting that ensues – the fire and the rug merely adding to the sexual thrill. No wonder it's little time before Archer creams his mate's hole, before Jansen erupts in return!
Scene 4: Cock-Hungry Dane Gets Double-Dicked By His Two Horny Mates!
Starring: Chris Jansen, Enzo Sky, Jaro Stone
Also available: Twinks Get Stoned (6 Scene compilation)
There are certainly far worse names that you can be called, but for some reason Jaro Stone seems to take exception to Chris Jansen's admission that his friends back in Denmark refer to Stone as 'Elephant Dick' – a revelation that provides Enzo Sky with much amusement when the three lads get together for some idle banter. Not that the playful animosity is anything but momentary, it must be said. Indeed, before you know it the trio is engaged in some extremely spirited reconciliation; kissing and smooching with heavy gusto, whilst stripping out of their clothes.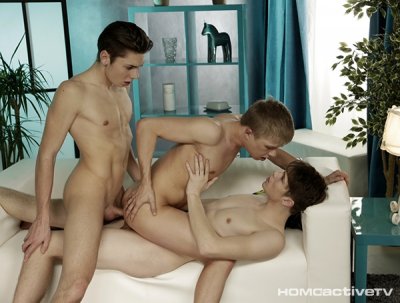 Suffice it to say that none of these guys will be needing to wear anything for the rest of this scene – although Stone does hold onto his briefs for a little while, whilst Jansen and Sky simultaneously feast on the fellow's donkey-sized donger. Forget any notion about Stone being the centre of attention in this threesome, however. For, as soon becomes apparent, it's Jansen who's very much the centrepiece of proceedings here; with his two buddies first fingering his pert little arse-hole, then taking it in turns to slam into his rear.
Given how new the blond fellow is to the scene you might be somewhat taken aback at just how responsive he is to the anal assault. But it's the sight of him being double-dicked by his two mates that's surely the highlight of proceedings, and that will unquestionably underline his credentials as the year's filthiest new find. That and the fact that he eagerly takes a mouthful of jizz from both pals afterwards, before jerking out a very heavy pent-up load of hot spunk all over his own belly!
Scene 5: Loved-Up Buds Fuck Like A Pair Of Cheap, Cock-Crazed Whores!
Starring: Joshua Levy, Noah Matous
Also available: Fuck Buds (6 Scene compilation)
STAXUS favourites, Noah Matous and Joshua Levy, are having a very romantic day together in downtown Prague – eating lunch in a café, walking along the river and smooching in a doorway. So it's little wonder that the two handsome dudes can't wait to get back to their apartment to express their affections for each other in a much more intimate manner. Indeed, you only have to glance at the boners in their pants when they're finally sat side-by-side on the sofa to realise that these two beauties are as horny as fuck and are raring for action – an ambition that both lads are soon putting into practice, as they each take it in turns to gobble on each other's gorgeously meaty ramrods.
Indeed, it's difficult to appreciate which one of these über horned-up fuckers is more desperate for cock, as they top-and-tail like a couple of cheap trollops; before Levy finally turns his attention to Matous's arse and starts eagerly rimming the hungry little button. By this point, of course, it's pretty obvious that Matous's guts are soon going to be accommodating his pal's thick, uncut shaft.
What might come as a surprise, however, is the inventive manner with which the act of unbridled fornication takes place – a succession of imaginative positions that prove that sex between lovers doesn't always have to be just missionary and doggy-style! Needless to report, it's not long before Matous is squirting the contents of his ball-sac all over his young, toned belly; leaving Levy to conclude proceedings by unburdening onto his mate's rump, then fingering the goo into the delicate hole!