Summary:
Leaving Prague, cute dark haired Alex Stevens heads over to Crete with some of his hottest mates to have one hell of a fuck fuelled holiday. Barebacking on the beach and group orgies in the bars it's one holiday we'll all never forget.
Description/ Review:

Scene One: Johan Volny, Martin Filip
Also available: Backstroke Bangers (2 DVD set)

With a stellar cast and the beauty of Crete as a backdrop, director Vlado Iresch was never, ever going to go wrong with this Mediterranean foray; kicking off with a truly stupendous seashore set-piece featuring Martin Filip and STAXUS legend, Johan Volny. Few gay porn stars have ever enjoyed the adulation and notoriety that Volny had here in his prime; and this escapade simply underlines every reason for such an achievement. Good-looking – not least of all when donning a pair of speedos! – and with a libido that could easily have fuelled the electric grid, Volny was a veritable sex-god in every sense. A fact that clearly didn't escape Filip, who climbs up the rocks at the start of the scene to enjoy his full-on encounter with one of the industry's greats.
Suffice it to say that the lad doesn't hold back from immediately diving into Volny's crotch, savouring every inch of the hard cock that had made its owner such top-drawer material. What's more, it's no time at all before Filip has parted his butt-cheeks to accommodate the monster, signalling the start of a truly classic outdoor coupling that is just as hot today as it was when first filmed a decade ago.
Indeed, we defy any one of our fans not to be truly enthralled by what ensues; culminating in Filip riding his new-found buddy's cock cowboy style, and erupting like a volcano as a result. That leaves Volny the inimitable pleasure of rupturing his hot seed into Filip's open mouth – all captured in close-up detail, and in the process setting the scene for one of the true STAXUS highpoints. In short, a veritable ball-buster!
Scene Two: Alex Stevens and Julien Breeze


With the coupling of a pair of porn stalwarts like Alex Stevens and Julien Breeze in prospect it's really very difficult to imagine where director, Vlado Iresch, could have gone wrong with this scene. After all, pitching together Breeze's effortless and disarming smile and Stevens's energetic boyishness was surely a sure-fire winner even before the camera had actually rolled. In reality, of course, putting two egotistical giants of the industry in the same vignette is always a much riskier task than might seem the case on paper; and it's credit to Iresch's genius that the result appears so effortlessly easy.
Of course, one of the major problems here is the fact that the action is even more predictable than usual, with Stevens unquestionably destined for the role of power-bottom and Breeze maintaining his position as a five-star top. But surely whatever expectation the audience of 2007 had is exceeded here, with both lads pulling out all the stops to produce a performance that is second to none. Stevens, in particular, is in perfect form from the very off, tempting his buddy out of his shorts and then promptly feasting on the heavy roll of man-meat that bounces out.
What's more, having enjoyed the pleasure of Breeze gently rimming his arse – a move that clearly excited the lad to an even higher level of sexual stimulation! – the fellow quickly follows on by jumping onto his mate's lap and riding cock with true Alex Stevens gusto! The result is a world-class performance in sodomy that fittingly finishes with Breeze spraying a wad of cum all over Steven's cute face!
Scene Three: Alex Stevens Solo


Admittedly this is something of a mini-scene – less than six minutes in total – but anyone who remembers just how crazily gorgeous Alex Stevens and Thomas Dyk were in their prime will appreciate that half a dozen minutes of these two guys is arguably worth six hours of watching someone else! In short, both these fellows were/are divine – pure unrivalled testimony to young masculinity at its peak. Indeed, is there any gay man alive who wouldn't be completely and hopelessly bowled over by either of these two buddies?!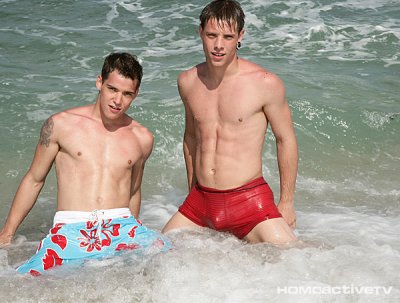 Here Stevens continues to enjoy his holiday in the sun, taunted by regular appearances by Dyk as he runs along the beach wearing nothing more than a skimpy pair of speedos. But the young fellow's torment only intensifies when Dyk heads for the showers; whereupon Dyk rips the swimwear off and manfully soaps himself down in the water. Just seeing the fellow's ripped physique is surely more than enough to get anyone into a sexual frenzy; but in Stevens's case it quite literally makes him act like a complete fool, producing the feeblest of excuses to enter the room to return a towel, before finding a quiet spot in an adjoining shower to jerk-off like some crazy, horned-up schoolboy!
Then again, Dyk is the very picture of a Greek god, and there's no question in our mind that countless guys have wanked themselves silly watching this escapade. So sit back, relax and savour one of the briefest but most satisfying vignettes that STAXUS has ever produced; all blessed with warm, Cretan sunshine and nicely topped off with a thick, gooey wad of best-quality spunk courtesy of Stevens's insatiable cum-sac!

Scene Four:


The beach is calling once again for the horny boys of Crete. Cley and his fellow horny boys frolic on the clear seas, coming on the beach ready for butt pounding under the scorching sun. Bending his friend over a rock, Cley pushes his dick right up to the hilt, hearing the groans from a mile off, these boys love every horny second of hardcore barebacking, emptying their balls on backs and faces, creaming up the smooth twinks from head to toe.
Scene Five: Thomas Dyk Gets Fucked From Both Ends Courtesy Of Four Horny Mates!

Cast: Thomas Dyk, others
Also available: Bareback Bukkake Frenzy (2 DVD set)


Everyone loves an orgy scene – it's top of the list of almost every gay porn lover's wish-list – but those inside the industry know how difficult they can be to put into viewable action. Plonk five young guys in a room together and what you end up with is not always something that makes for good porn. Fortunately for STAXUS, director Vlado Iresch was a dab-hand at the art of transforming what might otherwise have been a shambles into a veritable art-form – as clearly demonstrated here in this quintet bar-room showcase.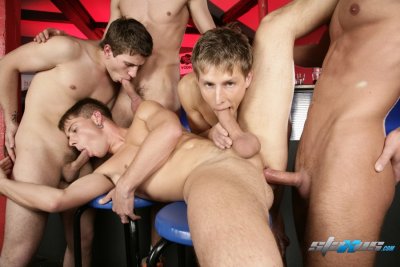 With all due respect, of course, his task here is made all the simpler by the fact that the main action is held together by the legendary Thomas Dyk – a fellow who not only lived for hot cock in his youth, but who could somehow transform that lust into top-notch entertainment at the drop of a hat. Indeed, there's no denying the fact that this is Dyk's scene from beginning to end; with James Byron, Jerry Brand, Nikolas Markov and Peter Village quite simply revolving around his orbit like planets round a star. But, of course, "star" is the appropriate word when describing Dyk – a chap who quite literally lights up any scene he's in, and who underlines his porn-celebrity status here by serving as the centrepiece for the action.
All of which culminates in him being surrounded by the other guys to first suck them all off, and then to have them ceremoniously fuck him like a common whore. His reward – not a meaningless trophy for the mantelpiece, deserving as it may be! Rather a torrent of pent-up spunk that leaves the boy splattered head to foot!
Scene 06: More outdoor fucking
Cast: Johan Volny and Matt Woody
Also available: Load Monsters (Gay Compilation)


Johan returns for more outdoor fucking, this time picking up a handsome Matt Woody, looking really buff and fucking gorgeous in his swimming shorts. The cover model and Johan drive off to a remote area and get down and dirty, licking, kissing and sucking their bronzed bodies before Matt gets Johan pushed into him, enjoying the fuck of a lifetime.
Scene 7: Thomas Dyk & Alex Stevens
Also available: Open Air Sluts (2 DVD compilation)
Also available: Virgin Loads (Gay Compilation DVD)

Having spent almost the entire duration of his Cretan fantasy-adventure teasing his audience with the prospect of teaming up STAXUS favourites, Alex Stevens and Thomas Dyk, legendary director, Vlado Iresch, finally puts his audience out of its spunk-induced misery courtesy of this amazing beachside fuck-fest. All the same, the great man can't help but eek out the encounter just that tiny bit longer by introducing the one-on-one action by means of some group horseplay with the rest of the cast; before Stevens and Dyk finally head off to the cliffs together for a bit of "alone time".
Needless to say, these two horned-up buddies don't seem to give one fuck for the splendid views of the Mediterranean as they promptly engage in a fevered session of outdoor cock-sucking – the kind that surely serves as the mainstay of any holiday romance fantasy! Why, these lads are boned up to the max as they feast on each other's handsome hard-ons; and it's no wonder that Stevens isn't able to contain his animalistic urge for cock for very long.
What ensues, however, is no mere ordinary fuck. Stevens actually props himself up mid-air to give Dyk the optimum access to his hungry fuck-hole; before the two mates continue their near-desperate act of fornication by means of a whole series of positions! It's really precious little wonder that young Stevens is unable to hold back from rupturing his nads before very long, caught mid-fuck with an explosive wad. Before Dyk signs proceedings off by squirting the contents of his cum-sac across his mate's face. All in all, fucking beautiful!