Summary:
Ludwig van Beethoven managed only nine symphonies, but for this horny bunch of sluts it seems that 69 is a much more appropriate number. Not that time on the piano features too heavily – and no fuckin' wonder given all the hard dick on parade. Thick uncut organs of the carnal kind, courtesy of the likes of Justin Conway and Milan Sharp; which are soon filling and fucking every cute twink ass around. The highbrow world of classical music has never looked so hot – or so downright sordid!
Description / Review:

Scene 1: Piano Practice? These Boys Would Rather Have A Raw Fuck & A Face-Load Of Jizz!

Cast: Xander Hollis and Felix Webster
Also available: Young Dumb & Splattered in Cum - One Last Time (Compilation)
We're not exactly sure how many concert pianists practice their art whilst wearing a rather revealing jockstrap, but clearly for dark-haired beauty, Xander Hollis, it's something of a must. Perhaps the feel around his ass and cock help improve his playing, who knows? What we can say with some level of certainty, however, is that his kinky fetish soon attracts the attention of Felix Webster, who wanders into the room with the clear intention of stopping the fellow from working the ivories so that he can work on his dick instead. An ambition that's achieved with arguably unremarkable ease. Before you know it, Hollis is down on his knees and sucking the life out of Webster's cock – a compliment that the blond boy is only too happy to return a few minutes later.
What's blatantly obvious through all this wanton fellatio, ball-sucking and ass-rimming is that it's only a matter of time before Webster's ultimate ambition – of getting his fuck-buddy's raw shaft up his ass – is achieved; so it comes as no surprise when the moment finally arrives for Hollis to start banging away at the blond lad's ass-hole with characteristic gusto. A hot sweaty, on-the-floor fuck that culminates in both guys enjoying the kind of sticky, no-holds-barred facials you folks adore!
Scene 2: Dreams From The Music Room See Justin Conway Getting Fucked & Spunked On!

Cast: Justin Conway and Stanley Black
Also available: Bigger By The Fucking Dozen 2 (Compilation)
Also available: Bareback Rookies, Secret Addiction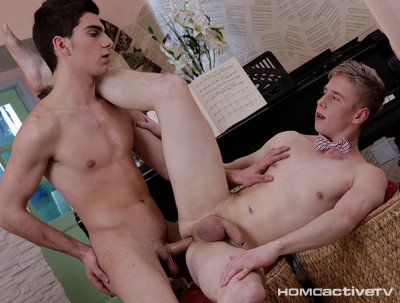 If music be the food of love, a certain William Shakespeare once declared, play on. In this particular instance, however, it's not so much love that dictates the pace as down-and-out lust – which for young blondie, Justin Conway, comes in the rather dreamy form of Stanley Black, a dark-haired, Latin-looking beauty who promptly (and all-too-easily) distracts Conway from his musical studies. Then again, given the choice of doing scales and arpeggios alone on the piano or enjoying a little "getting to know you much better" time with a horny mate which would you choose? Yeah, thought so – and it's exactly the same decision that our fair-headed beauty comes to as well, as the two lads immediately begin to exchange blowjobs before savouring a sultry session of head-to-toe cock-sucking.
Unsurprisingly, it's not at all long before Conway is lifting his legs into the air in order to be fucked in pretty much every conceivable position – from behind, from beneath, from on top ... no doubt you get the picture! No surprise, therefore, that the guy is soon squirting a generous wad of jizz in appreciation; whilst Black sprays all over Conway's tongue, before the two lads exchange the kind of cum-laden, open-mouthed kiss that ought to a prerequisite in all porn!
Scene 3: Music Is The Food Of Lust For These Spunky Big-Dicked Fuck-Buddies!
Cast: Milan Sharp and Marco Rivera
Also available: Now's That's What I Call Staxus 5

Is there anything more likely to attract a sexual partner than the ability to play the piano? Well okay, maybe there is – a big cock being the most obvious alternative quality! – but it's still a skill that doesn't seem to stop Milan Sharp from getting all the right sort of attention from the wrong sort of boys. Marco Rivera being one such horny admirer, whose dark, lean looks are bound to get pulses racing and knobs pounding! The STAXUS new-boy certainly seems to have a quickening effect on Sharp, that's for sure. Just a few seconds on from him entering the room, blond-boy Sharp is as hard as fuckin' nails, which gives Rivera the perfect opportunity to demonstrate his rather exquisite oral skills. True, they might not be quite as classical as Sharp's work on the old ivories, but we hazard a guess that you're gonna appreciate them all the same.
Certainly young Sharp seems to enjoy the attention, that's for sure; indeed it's not long before he's gasping for the opportunity to relieve his burgeoning sexual tensions by fucking the bejeebies out of the cute little pianist. A move that signals the start of a hot, sweaty, balls-busting set-piece that'll have you creaming in no time. All topped off by two spunky climaxes from both of those big, uncut dicks!
Scene 4: Kris Wallace Steps Out Of The Shower & Into Tight Raw Ass Action!
Starring: Jason King and Kris Wallace
Also available: Now That's What I Call Staxus 2 (2 DVD set)
It's no fucking wonder that young blondie, Jason King, can't keep his mind on his piano recital. After all, whilst he strums the notes on the old Joanna, Kris Wallace is busy soaping himself down in the shower next door, lathering his hot, toned body and making sure that his cock is lovely and clean. Needless to say, the lad's reaction to Wallace's return is exactly what you would expect, as all thought of musical exercise is replaced by decidedly more earthly manoeuvres.
Seconds on, and Wallace has pulled away the flimsy looking towel that he'd just wrapped around his waist and seated himself down on the ivories so that King can suck his cock – an invitation that immediately gets an eager response as the young pianist buries his face down on Wallace's meaty uncut dick. The favour promptly returned, Wallace is soon rimming his mate's eager little pucker before thrusting his thick raw knob deep inside for the ultimate pleasure.
A pleasure that Wallace himself is obviously unwilling to miss out on given that a few minutes later the roles have flipped and he's frantically working his own ass up and down King's ramrod! A frantic and very sticky conclusion is all but inevitable; with Wallace's oral reception of King's load serving as the highlight!