Summary:
Some young guys dream of winning Wimbledon or some other tennis slam; but others, like this horny bunch of top-notch fuckers, simply want to enjoy slamming of a very different kind – namely into horny, tight holes!
So it's off with the whites and on with a hot serving of wild, raw fornication, as the likes of the ever-popular Orlando White and living sex-god, Paul Walker, cum off-court for a volley of spunk-stained escapades that'll get you fuckin' creaming in no time! Prepare to face game, set and match for the wank of your life!
Scene 1: Tattooed Beauty Surrenders His Racket For A Fuckin' Hard Ride On Orlando White's Pole!
Starring: Orlando White and Pedro Ribeiro
Also available: The Spanish Are Coming (2 DVD set)
Sometimes in life it's just best to stick to the things that you're good at. Okay, so Orlando White and Pedro Ribeiro both clearly enjoy a game of tennis, but it's pretty obvious from the off that their talents definitely lie elsewhere – which probably explains why they're soon eagerly tossing their rackets to one side and heading straight inside for ball-play of a very different nature.
Needless to say it doesn't take very long for White to get tattooed beauty Ribeiro out of his shorts – at which point he's down on his knees and giving his buddy's dick a generous oral workout! A few moments on and Ribeiro is giving return of service, feasting on White's handsome ramrod and no doubt wondering how long it's gonna be before it's thrashing away up his ass-hole! Well, the good news for this young slut – and for the rest of us – is that he doesn't have to wait long. Having given Ribeiro's pucker an energetic fingering, White's soon sat on the sofa with a cock like a fuckin' flag-pole – and believe us, his mate doesn't need any heavy hints about what's expected here.
Seconds on, and Ribeiro's riding that beauty for all he's worth; before White takes him from behind for a sweaty, excruciating blast of hardcore fornication. In truth, Ribeiro never so much as stands a chance. White quite literally takes no prisoners, pounding away like it's his last fuck till Christmas; and the young bottom creams his load onto the floor, before taking an eye-level vista of his mate jerking himself to a similarly jizz-tastic crescendo!
Scene 2: Two Hot Tennis Studs Give Their Buddy A Stiff Spit-Roasting & A Face-Load Of Hot Spunk!
Starring: Mickey Taylor, Alex Santana and Orlando White
Let's be brutally honest, there's about as much chance of Mickey Taylor, Alex Santana or Orlando White breaking through into professional tennis as there is of them doing a conga on the dark side of the moon! But what they lack in skill they more than make up for in enthusiasm – most notably when the rackets are put to one side and they begin to concentrate on balls of a very different nature! Indeed, there's no denying the natural ability of this horny trio when it comes to more carnal matters – all three lads displaying an almost unhealthy taste for dick as they promptly abandon their whites and begin to suck on cock like a gang of oversexed whores!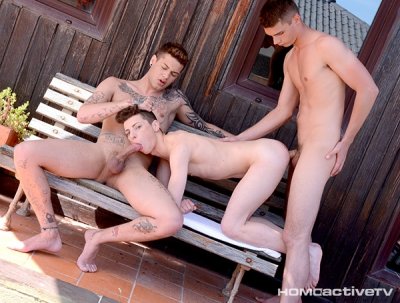 Santana, in particular, feasts on multi-inked Taylor's offering with real gusto; and it'll come as no surprise to anyone that the lad is soon taking that same knob up his chute whilst White completes the spit-roast from the other end. Not that White is ever going to be content with a mere blow-job – no matter how skilful Santana's mouth is at giving oral relief. He clearly wants a taste of that bountiful ass for himself, and is soon banging away at it at full pelt – first from behind, then from underneath.
Unwilling to be outdone, Taylor's then soon back on the case, fucking Santana to a very spunky climax. It's almost as if these two studs are competing to mark their boy – a point only underlined when they each blow their wad over the bottom's cute little face! Game, set and match to Taylor and White; but given the twinkle in Santana's eye it's clear that this is one horned-up slut who's got what he wants!
Scene 3: Horny Coach Gives His Dick-Lovin' Pupil A Real Rough Ride On His Thick, Meaty Shaft!
Starring: Paul Walker and Alex Santan
Also available: Eye Candy Films, Best Friends
Also available: The Spanish Are Coming (2 DVD set)
Somehow you can't imagine the likes of Rafael Nadal or Roger Federer sneaking off-court to enjoy a cigarette, so it's little wonder that Alex Santana's coach (Paul Walker) is rather disgruntled to find his charge puffing on a fag when the lad should be out on the baseline practising his game. Except it quickly becomes apparent that it's not this particular foible that has upset the coach, but rather the fact that Walker has discovered that the fellow has been fucking around with Orlando White – quite literally! As Walker eagerly points out, he's the one who should be doing the fucking around here – and given his rather domineering, masculine persona he probably has a very valid point.
Needless to say, it takes about five seconds for Walker to bundle Santana indoors, push him down onto a sofa and to begin abusing the youngster with some determined ass-slapping; before the coach then thrusts his handsome ramrod down his pupil's throat. If you're looking for romance then this ain't the place to begin your search. Walker is every inch the dominant party here – a point that's eventually underlined by the hardcore fuck that follows, with Santana's ass-hole taking a pounding in a whole series of positions.
It's almost enough to make a grown man weep – but on this performance we'd say that Santana enjoyed every fuckin' minute of his appraisal here, and the fact that he so keenly ruptures his nads whilst helplessly skewered on Walker's knob says it all. As does the undeniable look of delight on his pretty little face when Walker finally coats it with a torrent of creamy cum!
Scene 4: Young Tennis Wannabe Proves Himself An Ace When It Cums To Taking Cock Up The Ass!
Starring: Louis Blakeson and Paul Walker
Also available: Brexit Fuckers 3 (2 DVD set)
Also available: Eye Candy Films, Hot Shots
Not wishing to sound harsh, but we've a sneaking suspicion that Louis Blakeson is gonna need a whole legion of tennis coaches to get him up to Grand Slam quality. Indeed, on the evidence of the opening few moments of this scene it's unlikely that Andy Murray or Rafael Nadal have much to worry about! But what the youngster lacks in ball skills on court, he more than makes up for in ball skills between the sheets – as the ever horny Paul Walker discovers when he invites his sporting charge to take a break from training.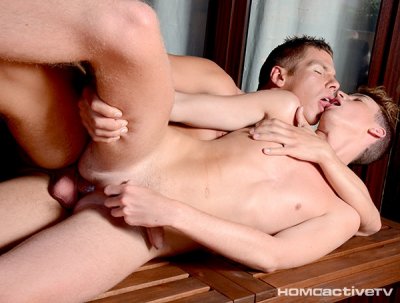 Indeed, the two guys have barely made it back indoors before Blakeson is down on his knees and giving his trainer's nicely cut dick a very thorough inspection – with his mouth, of course! It's a move that a guy like Walker – who pretty lives for sex morning, noon and night – is always going to appreciate; and it's not too long before the fellow is sufficiently aroused to want to first finger and then fuck the tight little ass-hole that Blakeson's got stashed between his buns. And what a coupling it proves to be, with the trainer feverishly slamming that meaty knob of his balls-deep into the eager twink's pucker – much to Blakeson's evident delight!
Yes, this is a boy who clearly loves to be taken and dominated by an alpha male; and it's no great wonder that the lad is soon squeezing out a handsome wad whilst Walker continues to bang him senseless. But that's nothing compared to the geyser-like spray that Walker knocks out over Blakeson's face – a magnificent fountain of cream that leaves the pup helpless and dripping, just like his tennis!