Summary:
It's Premier League action all the way courtesy of Sauvage, as a team of the horniest players in the business strip off their shirts and shorts in this cock-crazed fuck-fest.
From the club gym to the post-match shower-room, the likes of Sam Brooks, Alan Craft and cute main cover-boy, Kyle Davis, love nothing better than to team-bond in typical Czech twink fashion – with lots of meaty, uncut cocks fucking tight hungry holes and spurting over eager, sweet young faces!
Description / Review:
Scene 1: With A Cock This Big, No Wonder Caleb Moreton's Such A Massive Hit In The Locker Room!
Cast: Caleb Moreton, Sam Brooks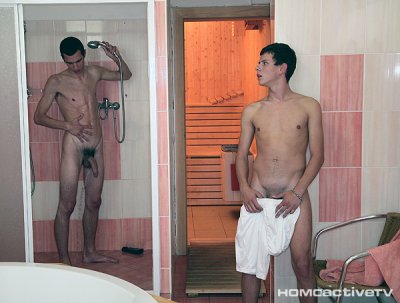 He's hung like a donkey, and if anything his bulge looks even bigger than usual when he's sporting a pair of football shorts – a point that's not lost on young Sam Brooks when he discovers Caleb Moreton taking a shower in the changing room after a game. Little wonder the boy's desperate to get into the cubicle with the monster, grinding himself against Moreton's cock like a bitch on heat. Seems like the only thing he's interested in is getting that big slab of meat inside him – an ambition that he achieves with his usual charm and persuasion, as he falls down onto his knees and starts feeding off the thick, uncut beast. Once back out of the shower, of course, there's only one place that Brooks wants Moreton's piece, as he parts his legs and sits on his pal's rod like an over-sexed lap-dancer! A mesmerising session between the boys thereby follows, culminating in Moreton dumping his load over Brooks's face and Brooks returning the favour with his comparatively dwarf-like shaft! Then again, with a monster like Moreton's in the room, how many fellows could hope to compete?
Scene 2: Soccer Player Gets A Hard Rub Down, Then Gives His Masseur A Hard Fuck In Return!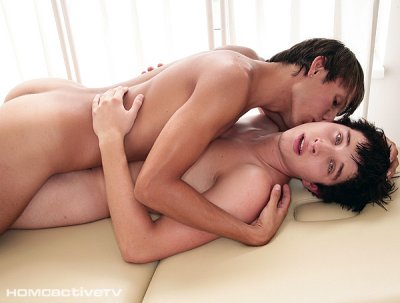 A good masseur is worth his weight in gold to a professional sportsman, and it's not exactly surprising that young Carl Baxter should be taking the time out to get a good rub-down on all his firm muscles. And let's face it, Ian Samson knows exactly what muscles need attention, as he makes a bee-line for Baxter's knob and starts to grease it up for the action to come. Whether he actually realises at this point just how big his client's shaft can grow is open to question, but it isn't very long at all before he's making the most of every inch of that firm, uncut trouser-snake – taking it in his ass-hole right up to Baxter's balls! It's at this point, of course, that we realise just how much of a professional service that the young masseur provides and why Baxter's so keen to employ him – not least of all when the footballers spews the entire contents of his nads onto his hungry ass! In return, Baxter provides Samson with a somewhat unusual foot-wank that has to be seen to be believed – a definite must-see for anyone who has a fetish for the sight of fresh cum on hunky footballers' feet!
Scene 3: Horny Twink Jerks Off, But His Buff Blond Haired Pal Just Wants To Ride A Monster Cock!
Cast: Caleb Moreton, Johny Bravo, Brian Nash
Also available: Big Is Beautiful (2 DVD Compilation)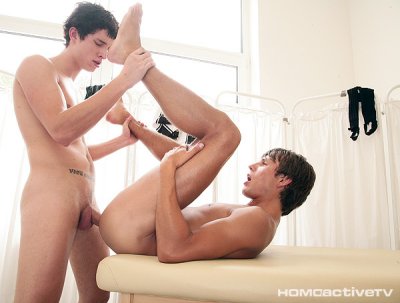 With Caleb Moreton returning to the shower-room to flaunt his assets once again, it's no wonder that a young boy like Johny Bravo can barely contain himself. In fact, he's jerking away like a teenager on Viagra almost as soon as he's stripped out of his sports-kit – dumping a terrific load on the changing room floor whilst Moreton watches from the next room. Whether Moreton's a little disappointed not to have got the opportunity to fuck Bravo's tight ass is something we shall never know; but a few seconds later and blond-haired hunk, Brian Nash, has emerged from the field of play to take Bravo's place. He shows no sign of reticence when it comes to stripping and joining Moreton in the showers. In fact, it's only a matter of a few seconds before Nash is taking every single inch of Moreton's cock up his ass – the slut!! A fantastic coupling thereby ensues, with Nash eventually sitting on Moreton – no mean feat! –and having the spunk banged out of him in the process. But it's the sight of Moreton spurting into Nash's mouth that eventually warrants the greatest accolade!
Scene 4: Cute As Fuck, These Two Gorgeous Uncut Soccer Twinks Fuck & Spurt Like Beauties!
Cast: Stephen Blake, Alan Craft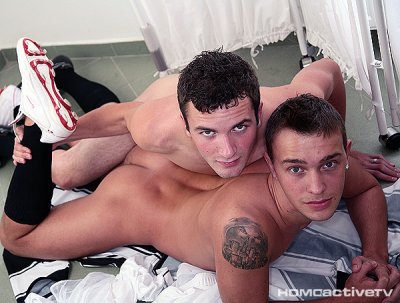 Technically this isn't a bareback scene – we'll be the first to acknowledge – but we defy anyone not to be suitably impressed by cover-boy Stephen Blake whether he's supporting a raincoat or not! Cute as a fresh daisy and as randy as a March hare, he's soon giving Alan Craft every reason to be in seventh heaven when the two lads meet by the club's Jacuzzi. As it happens, mind, they don't actually make use of that particular facility. Instead, they head straight for the sauna next door and begin to feed off each other's cocks as if both their lives depended on it. Little wonder that Craft's soon gagging to get Blake's knob-end deep into his ass – an ambition that he achieves with undeniable relish, positioning himself first on top in order to savour that thick, meaty ramrod to the max, before lying on his side so that Blake can screw him from behind! With action this hot it's no surprise that neither boy can restrain their natural urges for very long, with Blake erupting over Craft's face whilst Craft knocks his own pent-up load over his belly. Twink action rarely gets hotter than this!
Scene 5: Group Session Down At The Gym Results In Young Teen Getting His Face Coated In Jizz!
Cast: Mark Lee, Brian Nash, Johny Bravo, Rob Levin, Carl Baxter
Pitch two horny, well-hung studs and three hyper-sexed twinks into a gym, tell them to let nature take its course – and what do you get? Well, if there's any doubt in your mind then let this scene help remove any doubts! Mark Lee (who's an incredibly sexy bald guy!) and Brian Nash (who'll take anything up his ass so long as it's big and bare!) are the hunks; whilst Johny Bravo, Rob Levin and Carl Baxter provide the younger side of this spunk-inducing equation. Needless to report it isn't very long at all before cocks are being sucked, arse-holes are being fucked and the whole gym is being reduced to the level of a brothel!
Whilst none of the participants disappoint, top marks eventually go to young Carl Baxter, who having spewed the contents of his balls across Brian Nash's rump, positions himself centre-stage like a new-born chick and allows all the others to wank themselves off over his cute little face!
Suffice it to say that it isn't very long at all before his mouth, chin and hair are dripping with cream as each thick, uncut shaft unburdens itself in turn! Who knows (or cares!) if his mother is proud of him? But believe us, you're gonna enjoy every fuckin' debauched second of this brazened perversion!