Summary:
As if one trip to the dungeon of dreams was ever gonna be enough! Once again, the boys from STAXUS arrange a rendezvous amidst the sweaty, spunk-laden confines of the hottest fuck-parlour in town – a place where no ass is safe and where each and every cock can be assured of a warm, wet welcome!
Johny Cruz and Dick Casey join the perverted assortment of sling-lovin' regulars – lads like Yuri Adamov and Mike "the slut" James – for a further series of perverse encounters. Watch out folks, this one's gonna hurt ...
Scene 1: Little Johny Cruz Gets His Ass-Hole Seriously Stretched In A Double-Dicking Bonanza!
Cast: Dick Casey, Johny Cruz, Will Sims
Also available: Double Dick 2 (Compilation gay DVD)

It's no fucking wonder that Johny Cruz is quite literally gagging for cock, trapped as he is at the start of the scene in a dark, dank dungeon with only a few candles for light. Geez, this boy probably hasn't seen dick for months! But if anything his appetite for hard, uncut meat seems only to intensify even further once the fellow is back in normal surroundings with Dick Casey and Will Sims on either side! Then again, who wouldn't be tearing at the bit in such terrific (and decidedly well-hung) company?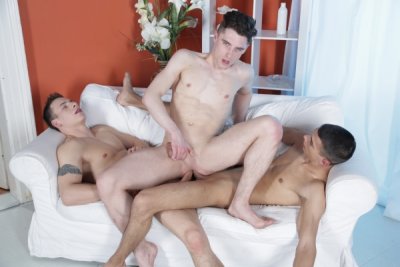 As such, it comes as no surprise that the lad is very quickly giving both his companions his fullest attention, slurping on all that rampant rod with youthful exuberance and quite clearly longing for the kind of ass-stretching that we all know is soon gonna cum his way – big time! Whether he's quite prepared for just how turned on and ready for action Sims and Casey actually are, however, is another matter entirely; but suffice it to say that we don't have to wait long before Sims is banging away at the lad's ass whilst his team-mate thrusts his cock down Cruz's throat.
Roles having then been quickly reversed, it's soon time for proceedings to take on an even more intense nature, as both tops proceed to squeeze their shafts into Cruz's ass simultaneously! It's exactly the kind of filth that we just know's gonna appeal to a whole legion of fans out there; but things get even hotter when Cruz changes position and sits down on both shafts for a cowboy-style double-dicking that neither he (nor you) will ever forget! No question about it, his hole gets seriously stretched; and with a plethora of jizz to top proceedings off, this is one fuck you don't want to miss!
Scene 2: Kinky Fun For Two Hairless Beauties Results In A Flip-Flop Fuck & Lashings Of Hot Twink Cream!
Also available: Let's Play With Shane Hirch
STAXUS exclusive, Mike James, shows us the kinkier side to his personality in the company of fellow sex-addict, Shane Hirch. The truth of the matter is that you're gonna be hard pressed to choose between these two beauties - both lads being almost as fucking gorgeous as the other - but the good news for each and every one of us is that you simply don't have to choose.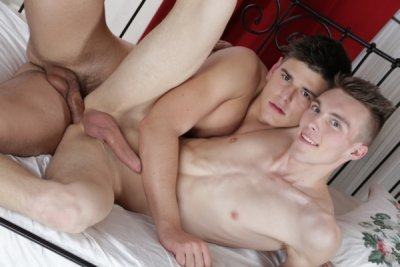 Just sit back, unzip and savour every single sordid little second of ripened perversion that these boys can throw in our direction. Beginning with James being handcuffed to a bed whilst his buddy captures his pal's plight via a hand-held camcorder; before Hirch takes a cane to James's buckled, leather hot-pants! What's more, the kink is made all the more intense by the fact that Hirch conducts his "interrogation" whilst donning some rather provocative underwear of his own, together with a pair of Doc Marten boots - which, incidentally, remain on his feet throughout! It's an unquestionably erotic start to what quickly becomes an even more intense coupling, with the fellows soon splayed out in 69-position on the sofa sucking each other's dicks!
Shortly after, James is grinding down on Hirch and taking every solid, uncut inch that his buddy can thrust in his direction - a move that Hirch himself replicates a few minutes later. The result is a fantastic, ball-breaking flip-flop that'll have you jerking off in no time, and which leads to both these Adonises jerking out terrifically satisfying wads of sticky, gooey nad-juice!
Scene 3: Cute Twink Gets Handcuffed To A Chair & Fucked By His "Master" – Just How He Loves It!

Cast: Benjamin Dunn, Yuri Adamov
It's no real wonder that young cutie, Yuri Adamov, is looking terrified. Strapped to a chair, with his hands handcuffed behind his back, he faces the prospect of being the play-thing of Benjamin Dunn, who in this instance – armed, as he is, with a horse-hair whip – is looking decidedly menacing. Then again, considering the hard-on that Dunn uncovers in Adamov's crotch during the course of their opening play together, it's hard to believe that the youngster's "terror" is quite as genuine as he'd have any of us think.
Fact is, Adamov clearly enjoys the thrill of Dunn's invasive attention; and the situation only gets worse for the boy when Dunn plugs his ass with a pony-tail and presents him with a thick, meaty, uncut cock to suck on. Suffice it to say that Adamov doesn't make any attempt to escape, and the removal of his hand-cuffs simply appears to free him to indulge in his adoration of Dunn's body even further! As such, the eagerness with which the lad eventually presents his ass for Dunn to fuck ultimately comes as no real surprise whatsoever.
Nor does the manner with which he skilfully rides every hard inch that the older lad can thrust in his direction present us with too much incredulity. Indeed, you might even be left to wonder just who exactly is in control here given Adamov's indelicate manipulation of events. Putting such mind-games to one side, however, what you will almost certainly appreciate is the sensuous performance of both young men, culminating in Dunn spewing all over Adamov's face – just exactly what Adamov had maybe planned all along!
Scene 4: Handcuffed & Humiliated, Johny Cruz Gets Tormented & Fucked For A Horny Guy's Pleasure!
Cast: Starring: Drew Paskin, Johny Cruz
Also available: Eye Candy Films, Passion Unleashed
Whatever you think of the threat and anguish displayed in the opening moments of this dungeon-based thriller, one thing is pretty certain – Drew Paskin is one mean bastard! Faced with the pleadings of young Johny Cruz, handcuffed to a chair and looking every inch a fellow who's at the point of despair, he doesn't even flinch. Instead, he kicks his hostage to the floor, drags him over to a nearby sofa – which is somewhat conveniently placed nearby – and proceeds to thrust his dick into the poor lad's face. At which point, it has to be said, Johny's resistance is completely overcome.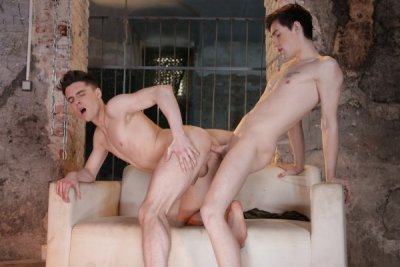 Instead of being the poor, pitiful creature that we saw pleading to his capture in the opening moments, the young cutie is transformed into a top-notch, five-star cock sucker – which, let's be honest, is exactly what we expect of the chap! Cue a fabulous session of deep-throated fellatio from both dudes, which only concludes when Paskin's desire for further extremes manifests itself in the form of a lighted candle, the wax from which he not only drips onto Johny's body but also his own!
It's all enough to make you winch; but it quickly sends both these horny fuckers into a frantic sexual frenzy, and before you know it Paskin is thrusting his engorged ramrod deep into his fuck-buddy's now very willing hole! What follows is a truly terrific display of hardcore fornication, which sees Cruz banged in a series of positions before Paskin completes the guy's humiliation by pumping a truly fantastic wad of jizz into his face. Has anything so seemingly thoughtless ever looked so fucking hot?