Summary:
Once you go black, as they say, you never go back – a sentiment that this gang of hot and horny Czech boys are definitely determined to follow when they come across (quite literally!) the fabulous Hector Agusti. STAXUS exclusives, Noah Matous, Erik Franke and Victor Diamond, lead a stellar cast of white boys who just can't get enough of dark skin and big, black cock! Expect an avalanche of spunk and even a double-penetration, as the biggest cock-whores in the whole of Prague go mad for the blackest dick in town!

Scene 1: Noah Matous's Hungry Little Arse-Hole Gets Blacked & Creamed!
Cast: Hector Agusti, Noah Matous
See also: Big Boy, Black Monsters
Also available: Big Fat, Thick & Juicy (2 DVD set)

Okay, so Hector Agusti isn't the best darts player in the world – but that's not a problem to young Noah Matous. In fact, the horny little twink doesn't really have the slightest bit of interest in the black dude's sporting prowess. All this filthy-minded dude wants is to get his hands on the Dutchman's oversized weiner; and suffice it to say that it doesn't take the lad many seconds to work his way into Agusti's pants so that he can have a generous feast on the thick, uncut black salami that the fellow keeps stashed inside. And who the fuck could possibly blame him? With a monster like that between his legs, Agusti is quite literally every cock-slut's dream-date; and suffice it to say that Matous slurps and gags on the beauty with characteristic relish.
Not that our black hero is averse to enjoying a bit of tasty dick given the way that he returns the blow-job on the young lad's own aching shaft; but it doesn't take too much foresight to realise that there's only going to be one bottom in this scene and that Matous's eager little fuck-hole is never going to be quite the same again as a result! And so it proves; with Agusti bundling his young buddy over a table and pounding away at his crack like a train in full throttle. No wonder Matous gasps and cries in response – teetering between pleasure and pain with every thrust of the black guy's hips! But as if that wasn't enough, the lad is soon riding the shaft reverse-cowboy style; culminating in him spurting like a volcano mid-fuck, and leaving Agusti to wrap the performance up by creaming the youngster's pucker!
Scene 2: Big Dicked Three-Way Pile Up Gives Noah Matous A Cummy Arse!
Starring: Shane Hirch, Noah Matous & Victor Diamond
Also available: Let's Play with Noah Matous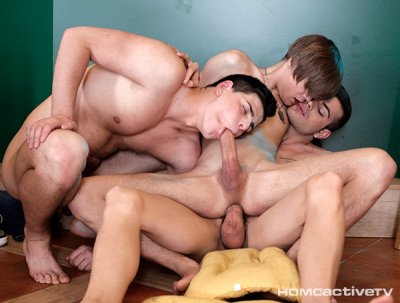 There may be snow on the ground outside, but inside the bar it's nice and warm – and getting hotter by the minute given that Shane Hirch is serving drinks and Noah Matous and Victor Diamond are his customers. In fact, this is definitely one watering-hole that pretty much all of us would love to frequent on a regular basis, especially when the lads begin to get down to business and start feasting on all the hard, uncut cock that's on offer. Little wonder that young Matous – who's always been a real sucker for dick! – is like a kid in a sweet-shop when presented with his buddies' big fat shafts to gorge on; though that's not to say that either Hirch or Diamond appear in any way less animated by the thick, juicy, uncut offerings. Nevertheless, it's Matous who's arguably the centrepiece of proceedings here – a position he only consolidates once his two mates have turned their eye to his ever-hungry little pucker.
Indeed, having rimmed the hole in preparation, Hirch is soon pounding away for all that he's worth – a performance that is quickly mirrored by Diamond, who thrusts that monster Italian salami right up to the balls without so much as a care or leave! Indeed, it's perhaps seeing Matous skewered cowboy-style on Diamond's love-pole that inspires Hirch to indulge his own ass, plonking himself down on the cute twink's todger to instigate a three-way pile-up! As a result, Diamond's fucking Matous who's fucking Hirch; and it's only natural that the whole trio are soon on the brink, with Diamond and Hirch creaming their pal's ass before Matous jerks off!
Scene 3: Victor Diamond Goes Black & Gets An Arse-Load Of Creamy Jizz!
Cast: Hector Agusti, Victor Diamond
Also available: Black Does White 7 (Compilation DVD)
Also available: Huge Thrills (Compilation)

The divinely sculptured Victor Diamond is about to go black! Will he ever go back, we wonder? Well, not if Hector Agusti has anything to do with it, that's for sure; as their eyes meet whilst out watching their friends on the piste, before quickly heading back to their nearby chalet where things promptly get heated in the extreme. Indeed, the young Italian clearly can't get enough of that big black Dutch mamba given the way with which he eagerly feasts on every fabulous inch on offer; though in fairness Diamond's own ramrod is hardly the kind that one would be blasé about, and Agusti makes certain that he gets his fair share of the white boy's own handsome offering.
But there's still no question here as to whose tight little pucker is going to be getting all the attention; and having gorged on Diamond's shaft, Agusti soon pulls his buddy down the sofa, parts the fellow's legs and rims the soft, sweet honey-trap in anticipation of the fucking to come! And geez, what a fuck! The hot, horny black dude quite literally buries his sword to the hilt as he pounds down on Diamond almost mercilessly; before bundling his pal over the back of the sofa and pummelling him with equal fury! Just watching those powerful black hips as they rock back and forth is enough to get you creaming; and the sight of Agusti's cock quite literally exploding into the white lad's ass will surely do the trick. No question about it, the intensity of that rupture is almost volcanic; and it's no fucking wonder that Diamond's so horned up that he flips over and eagerly jerks himself off. In a word, fan-fucking-tastic!
Scene 4: Horned-Up Yuri Adamov Takes On An Interracial Double-Dicking!
Cast: Erik Franke, Hector Agusti, Yuri Adamov
Also available: Black Does White 8

Who hasn't enjoyed a playful session of arm-wrestling with their friends? What you might not have experienced, however, is the manner of "celebration" that marks Hector Agusti's victory. Then again, unlike this black sex-god, you might not have had the company of two very eager white-boys in the form of Erik Franke and Yuri Adamov to celebrate with! Suffice it to say that Agusti's thick, uncut black mamba doesn't stay concealed in his pants for long – the two cute twinks are down on their knees and giving it some clearly much-needed oral appreciation in no time at all!
It's a move that can only have one effect on a guy like Agusti, of course. Before you know it this handsome stud is turning his eye to giving Adamov's rump a full examination – at which point you pretty much know which way the action is going to go! Indeed, the second half of the scene is very much centred on Adamov's ever-eager butt-hole – first Franke giving it a good old-fashioned screwing, then Agusti stretching the said pucker to the max by means of that oversized ramrod of his! You'd be forgiven for thinking at this point, of course, that that would be more than enough dick for any young white lad to handle – but you'd be wrong! Never one to hold back from a challenge, Adamov proceeds to take both dicks at once – even allowing his two tops to swop positions mid-point to maximise the effect. Little wonder he squeals with a mix of agony and delight in the process; before both Agusti and Franke jizz all over his ass, leaving him to call it a wrap by jerking his load over Franke's face!