Summary:
One cute German blond twink takes on a host of stiff cock! He loves it up his arse and down his throat...This cutie is truly insatiable: Watch as he takes cock after cock and load after load, loving every single minute!
The Gang Bang Movie of the decade!
Scene 1: Cute German blond twink
Starring: Johan Vohny and Zaho Sebastian Mann
Also available: Fuck Buds (6 Scene compilation)
They're arguably an unlikely couple, but in love anything is possible. Indeed, is it really that impossible to believe that young blond German starlet, Zaho Sebastian Mann, could possibly fall for the experienced delights of porn veteran, Johan Volny ...? Besides, when all's said and done we very much doubt that anyone watches porn in the hope of it reflecting reality. What really counts is how hot the sex is – and with Volny at the helm it can pretty much be guaranteed that you won't be disappointed. And so it proves, as these two over-sexed love-gods embark upon the kind of honeymoon coupling that dreams are made of.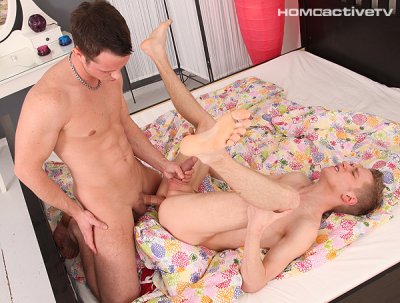 No quick furtive fumble for these lads. Instead, there's a lengthy session of cock-sucking and ass-rimming that'll have you tugging on your own dick aplenty even before the moment that Volny finally gets his chance to skewer his boyfriend's ass with cock. Perhaps the highlight of the encounter comes when Mann's hairless pucker is bouncing up and down the length of Volny's knob; but with both guys on heat and each producing generous wads of jizz to round off proceedings, it's an unforgettable tryst from start to finish!
Scene 2: A Host Of Stiff Cock Gives This German Whore A Monster Fuck!
Starring: Rusty Rock, Zac Powers, Ennio Guardi, Jack Rider, Fanny Glow, Benito Moss, Paul Cube, Zaho Sebastian Mann, Michael Moon, Luis Bigdog, Marty Love, Lukas Leung, Ricky Boy, Sam Brooks, Johan Volny, Ricky Burke, John Saidel, Chris Young, Simon Clay, Paris Neeo, Denis Reed, Thomas Fiaty, Jack Cameron

Also available: BB Bukkake Frenzy 3 (2 DVD Compilation)
An orgy scene is only ever as good as the guys who are on the receiving end of all the hard cock on offer – and nowhere more so than in a scene like this, where there's only one main bottom and where all the sexual energy (not to mention the dick!) is pretty much aimed in a single direction. Fortunately for director, John Smith, young blondie, Zaho Sebastian Mann, doesn't disappoint for one moment, as he embarks on a pre-wedding fiesta of sucking and fucking that'll have you reaching for the remote again and again and dumping a succession of pent-up loads in the process.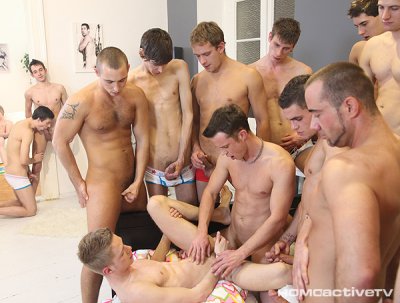 The reality of the situation, of course, is that Mann is a natural slut of the highest magnitude – a boy from the school of hard fucks who was literally born to fulfil the role here, and who clearly thinks nothing of being passed from one horny top to the next in a succession of ball-bustin' spit-roasts. As a result, Jack Rider's own performance in the background is something of a sideshow, as the likes of Ennio Guardi, Lukas Leung Sam Brooks and Marty Love stretch the German blond almost to the breaking-point. Needless to say, there's an almost Biblical display of jizz at the scene's finale, as cock after cock unloads an appreciative wad of man-juice!
Scene 3: Loving Every Single Minute
Starring: Jack Cameron and Jack Rider
Also available: Super Buddies Love To Cum
As bonus scenes come, this is most definitely one that you won't want to overlook, as STAXUS exclusive, Jack Cameron, proves once again why he's the man of the moment – on this occasion in the company of his blond pal, Jack Rider. In fairness, we very much doubt that you'd want to kick either of these twinks out of bed in a hurry, but Cameron's thick, uncut shaft is always the star of the show in any scene it appears in, and this scene is no exception, as Rider slurps on the aching meat with understandable relish.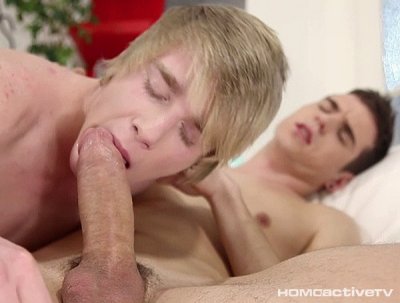 That said, it's not Cameron's dick that's destined to be doing the shafting during the course of this fabulous coupling. Instead, the young exclusive quickly finds that it's his own ass-hole that's having to do the accommodating, as Rider takes his mate from behind for the kind of balls-slapping union that Cameron won't be forgetting in any damn hurry. With his knob bouncing up and down in appreciation throughout, it's a miracle that Cameron doesn't quite literally get the spunk banged out of him; but in the end both boys take it in turns to conclude their unexpected encounter by splurging all over the other with typical teenage fury!