Summary:
Prague - the capital of the Czech Republic and (as all gay porn fans surely know) the home of some of the hottest, horniest twinks ever to grace the world of celluloid! It's little wonder, then, that so many cock-hungry buddies should head to this wonderful city to enjoy the delights that this ancient city holds, in the hope surely of being a part of the spunk-draining action.
Dick Casey, Shane Hirch and the ever-fabulous prince of fresh-faced fornication, Noah Matous, make this one holiday romp that no-one's ever gonna forget in a hurry!
Scene 1: Two Loved-Up Tourists Head For A Spunky Fresh-Faced Fuck!
Starring: David Sky and Ray Mannix
Also available: Let's Play With Ray Mannix
David Sky and Ray Mannix are in love – with each other, with life, with the city of Prague – and what better way than to express their array of affections than by sitting down together with a tourist guide and using it as the perfect excuse to explore their surroundings, i.e. each other's handsome bodies and thick, meaty, uncut love-sticks! Indeed, any pretence that they've actually got any interest in the sights and sounds of the Czech capital is very quickly washed away with a veritable tsunami of almost over-energetic cock-sucking; each fellow taking it in turns to slurp on all that gorgeous man-meat, before they finally slip into 69-position on the sofa and mutually work all that gorgeous dick into a frenzy.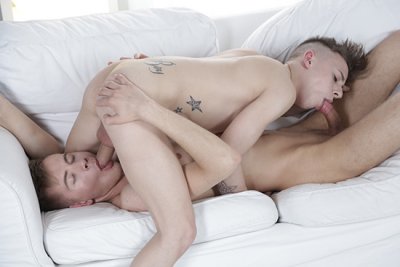 For young cock-whore like Mannix, however, a session sucking cock – as fantastically pleasurable as it is – is never really going to be enough to negate his overriding appetite for hardcore action. As such, it'll surely come as no surprise when the budding little cum-bucket finally stakes his claim on Sky's rampant knob, sliding down on its length and riding it for all that it's worth.
It's a sight that's almost certainly gonna have you burgeoning on the point of over-excited appreciation; but make sure you edge yourself enough to savour every ball-churning inch of this performance, which culminates in Mannix quite literally having the spunk knocked out of him by his ass-crazed buddy. That leaves Sky to call it a day by releasing a fine stream of jizz right across Mannix's crack, leaving the hyper-sexed bottom with a Cheshire Cat smile and a jizzed-up ass!
Scene 2: Riverside Date Becomes A Flip-Flop Fuck With A Flood Of Spunk!
Starring: Noah Matous and Ruben Bart
Also available: The Spanish Are Coming (2 DVD set)
It always feels good to enjoy a bit of fresh air and fine scenery in the company of one of your best friends, especially when you find yourself in a beautiful city like Prague; but there's no way that either Noah Matous or Ruben Bart are going to let such simplistic pleasures get in the way of a hard fuck! Indeed, having sat by the river and glanced teasingly at each other, the two lads are soon engaged in a heady session of making out beneath one of the nearby bridges; before deciding that a little privacy is actually what they need and heading back to an apartment downtown.
At which point, naturally, the scene gains a much more frantic persona – an initial chit-chat between the two cute twinks transforming itself into an aggressive session of kissing, stripping and cock-sucking. Matous, as always, is a sheer delight to watch, but new boy, Bart, is equally transfixing; and by the time that Matous is eagerly rimming the Spaniard's eager little fuck-hole there's every good chance that you'll be head-over-heels in love with them both! Forget the romantic niceties, however. What you dirty fuckers want to see is a no-holds-barred rip-roaring round of mindless fornication – and the good news is that neither of these young cuties disappoint!
What's more, they're both content to switch roles half-way through – Bart taking every hard inch of his mate's to start, Matous riding dick like a pro to finish. All nicely interspersed with a hot session of 69-ing to underscore the scene's egalitarian nature. And with copious spews of jizz from them both, satisfaction's guaranteed for all!
Scene 3: Tourist Gives A Helping Hand & Gets A Meaty Cock In Return!
Starring: Dick Casey and David Sky
Also available: Mega Cocked, Mega Loaded Compilation
A careless (and potentially costly) mistake on the part of Dick Casey introduces the fellow to off-the-beaten-track tourist, David Sky – a young man who's clearly very quickly taken by Casey's wide-mouthed charms. Then again, maybe the accident wasn't quite as "accidental" as the handsome stud would have us believe, especially given the manner with which he quickly grabs hold of Sky's hand and lures the fellow back to his man-cave; whereupon the young twink is promptly stripped of his clothes and is soon rubbing himself up against Casey's finely worked frame.
Of course, the contrast between these two fellows is pretty much undeniable – Casey's mid-twenties physique set against Sky's relatively petite body shape. As such, it really comes as no great surprise when Casey adopts the more dominant of the roles – first fingering his new pal's tight little pucker, then burying his handsome rod deep inside the boy.
What may be more unexpected is the sheer power and energy with which the stud launches into the coupling – in fact, there's every possibility that you might even feel that Casey's assault on the poor lad's fuck-hole is a tad over the top! Okay, so maybe that's just a little bit unlikely; but spare a thought for young Sky as he's pounded like a back-street whore in a whole variety of positions, moaning and groaning like a trooper and (to his credit) taking every single fucking inch that Casey musters! In short, it's a truly stellar performance from the lad, who (not surprisingly) spews mid-fuck, before enjoying a full-on facial from Casey's exploding shaft!
Scene 4: Young Tourist Gets A Traditional Czech-Boy Fingering & Fucking!
Starring: Shane Hirch and Ruben Bart
Also available: Let's Play with Shane Hirch
No matter what the gay porn industry might like to pretend, the sun doesn't always shine in Prague – sometimes, as on this occasion, it pours down with rain just like everywhere else! So young Spanish tourist, Ruben Bart, heads for an information office to get some advice on what a sightseer should do on such an occasion! In fairness, the guy he meets there – Shane Hirch – starts off being very professional, recommending Prague Castle as a must-see.
But when you're a horny, cock-hungry bastard like Hirch it's hard to keep your mind on the job when you're confronted by such a deliciously appealing customer; and, having initially restrained himself, he's soon proposing all kinds of indecent activities to his guest. What's more, Bart's only too eager to reciprocate; and before you know it Hirch is down on his knees giving that fresh Spanish salami a good old-fashioned Czech welcome! Of course, all these initial niceties are only leading up to what Hirch has had in mind from the very beginning; and soon our home-boy is eagerly fingering Bart's fuck-hole in readiness for the traditional Bohemian ass-banging that seems to be such a feature of life in the Czech capital!
As a result, the dick-loving Spaniard rapidly finds himself pinned down on the information desk with eight inches of hard cock up his rear – perhaps not exactly something he intended to experience, but enjoyable not the less given the manner with which he creams himself in the process. A surprise encounter nicely rounded off by Hirch spurting directly into Bart's mouth. Now, if only Thomas Cook offered this kind of service we'd all be travelling a whole lot more!