Summary:
They provide the long, strong arm of the law, but sometimes policemen have to go that extra mile in pursuit of justice – a fact that director, John Smith, very much makes the most of in this orgy-themed bonanza! Dick Casey, Nick Vargas and Benjamin Dunn are just three of the officers who stand between our society and anarchy; proving, in the process, that policing can be the ultra-challenging profession.

Never more so when there's the constant temptation of hard cocks, heavy balls and copious amounts of sticky spunk with each and every callout!
Scene 1: Young, Horny Scoundrel Gets Fingered, Fucked & Double-Fucked!
Cast: Dick Casey, Florian Mraz, Joel Vargas, Milan Sharp, Sam Williams
Also available: Bareback Bukkake Frenzy 2 (2 DVD set)
Young Milan Sharp is in trouble with the police. In fact, given the fact that he's being bundled into a room with four angry officers at the start of this scene you could say that he's in real BIG trouble! After all, they seem to be under the impression that he's got drugs stuffed up his ass-hole – and they're not going to be happy until they've undertaken a very thorough search of that cute little pucker.
Cue an inquisitive probing led by Florian Mraz and Sam Williams, whilst their colleagues Dick Casey and Joel Vargas stand on the sidelines; but the fact that all this fingering leaves Sharp with a raging hard-on only encourages the foursome to take their investigations to a whole new level. As a result, it's not long before all five guys in the room are stark-bollock naked; with Sharp now very much the centrepiece of the action, whilst the officers suck and jerk each other off as they await their chance to fuck the young twink.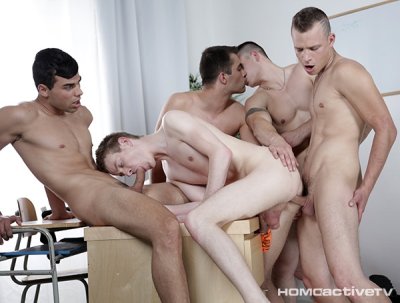 So Sharp first gets fucked by Williams, as Mraz thrusts his dick down his throat. Then Mraz takes his turn on the lad's hole; before Vargas joins Williams to double-fuck the boy. That just leaves Casey as the only one not to have had his chance to give Sharp's ring a good stretching. Fear not, however. Having taken two cocks up his ass in one go, Sharp finally gets to ride his fourth dick of the session – by which point every guy in the room is pretty much on the edge. In the end, it's Mraz who gets the honour of creaming the young bottom's arse; whilst Casey, Williams and Vargas splatter Sharp's face with a tsunami of jizz. In short, bliss!
Scene 2: Police Officers Give Four Cute, Horny Pups A Hard Ride! (Part 1)
Also available: BB Bukkake Frenzy 3 (2 DVD Compilation)
We're not altogether sure why Ray Mannix, Noah Matous, Yuri Adamov and Benjamin Dunn have decided to choose some half-derelict warehouse in which to stage an explicit foursome – surely one of them must have been able to host the occasion in a more desirable location! Nor indeed why the police (in this instance represented by Nick Vargas and Troy Vara) should have such a gravely hostile attitude to a group of gay men having sex – albeit in a semi-public place.
We've a sneaking suspicion, however, that few of our fans will really be very overly concerned at the realism portrayed in this gloriously indulgent gang-bang, which begins with the four civilians quite simply engaging in a no-holds-barred suck-fest.
Indeed, there isn't a cock in the room that doesn't get full-on treatment, as the lads slurp on hard dick like it's going out of fashion; before Adamov – who else? – allows temptation to get the better of him by parting his legs so that Dunn can promptly slip his shaft inside his ass and begin to bang him like a cheap little whore! Just watching these four divine beauties doing what comes so naturally to them is pretty much a joy in itself; but the sudden, brutal introduction of Vara and Vargas into the mix (complete with weaponry!) quickly pitches the action up to a whole new level.
Before anyone seems to know what's happening, the two officers are getting their cocks worked over like everyone else; prior to Vara pushing blond cock-whore Mannix over a desk to rim and fuck his hole! Looks like that lucky lad is gonna get the fuck of his life!
Scene 3: Police Officers Give Four Cute, Horny Pups A Hard Ride! (Part 2)
Also available: BB Bukkake Frenzy 3 (2 DVD Compilation)
With young Ray Mannix being buggered like a cheap bitch over a table, courtesy of Troy Vara's ever-rampant uncut dick, Yuri Adamov takes centre-stage in the midst of the horned-up foursome on the floor nearby. As a result, the young lad is soon having to accommodate Nick Vargas's cock up his ass; whilst Benjamin Dunn plonks his shaft in the direction of the boy's mouth. Clearly unwilling to be missing out on any of the fun, however, Noah Matous is very quickly making a beeline for Dunn's dick at the same time.
As a result, Adamov and Matous find themselves fighting to slurp on the hard, aching pole; before Vargas quits his hard-hitting exploration of Mannix's pucker, enabling the two "outsiders" to join the fray and to turn the exquisite four-way into a half-dozen mega-fuck! Not that Adamov makes any attempt to step aside as the focal-point for the action at this point.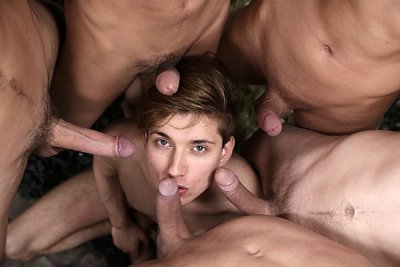 Positions may have changed, but this über-excited slut simply can't ever get enough of hard cock; and before you know it he's being banged by Mannix, who in turn is being energetically shafted by Matous. The resultant fuck-sandwich is a marvel to behold; as Vargas, Vara and Dunn feverishly jerk their manhoods around them. But it's nowhere near the highlight of this sordid exchange, with Adamov and Mannix soon clambering on-board the respective knobs of Vargas and Vara; before Adamov is finally bundled onto a rotating chair so that the team can take it in turns to screw the lucky lad's now seriously over-worked slit. After all this, the boy won't be able to sit down again for days!
Scene 4: Police Officers Give Four Cute, Horny Pups A Hard Ride! (Part 3)
Also available: BB Bukkake Frenzy 3 (2 DVD Compilation)
If there's anyone alive who doesn't think that Yuri Adamov is little more than a cock-crazed whore then we'd love to meet them. No question about it, folks, this is a young man who quite literally can't get enough dick up his ass – and he continues to prove it again here, bundled over a stool with his butt in the air! To be fair, however, he's not actually totally happy unless he's actually got a dick in his mouth at the same time; but with Nick Vargas, Ray Mannix, Noah Matous, Benjamin Dunn and Troy Vara for company he doesn't have to worry about that! Indeed, this gang of horned-up buddies are just loving taking it in turns to give the fellow the pounding of his dreams – their only disappointment, perhaps, being that nature hasn't given the lad even more holes to fill than his mouth and ass!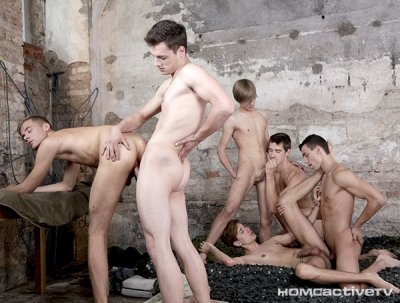 Of course, we're absolutely sure that the sight of all these fit, young buddies rutting away like a bunch of over-sexed harlots will have you gagging to bolt your load – a sentiment that's all-too-quickly shared (not surprisingly) by the boys themselves. Indeed, Vargas is the first to blow his wad – directly onto Adamov's hungry little pucker, having pulled out just at the last moment.
It's a move that serves as a signal to the rest of the gang, who by now have arranged themselves in a semi-circle around the fellow's head and are jerking ferociously in anticipation of the tsunami of spunk that's about to erupt. And by fuck does it blow! Cascades of hot, sticky, pent-up jizz that coat Adamov's face in a veritable sea of baby-brew. If this doesn't send you over the edge then what the hell will?