Summary:
You don't need to be an expert in the sacrament of absolution to enjoy this superb escapade from director, John Smith. All you need is an appreciation of hot male muscle, meaty uncut cocks and oodles of hot jizz – all of which is on display big-time at the sexiest seminary in the Czech Republic. From the dark and broody Salvatore Salvi to the whimsical Oscar Roberts to the donkey-dicked Darryl Declan, this is one group of spiritual warriors that's primed and ready to face the daily onslaught of the sins of the flesh. Lucky bastards!!
Description/ Review:
Scene 1: Father Salvatore commits sins of the flesh with brother Adrian
Cast: Adrian Smallwood, Salvatore Salvi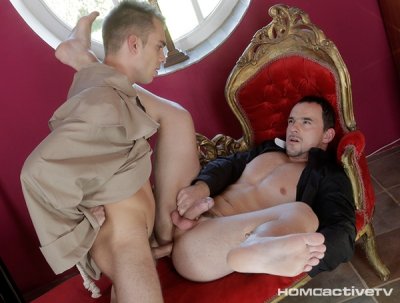 As a man of the cloth and a representative of God, you'd be quite forgiven for thinking that Salvatore Salvi would be a stalwart when it came to advocating celibacy and self-restraint. But as Adrian Smallwood discovers, that's not quite how the hunky Father sees his role in this religious community. In fact, Salvi is quite an ardent advocate of sexual expression, as promptly becomes apparent when confronted by Smallwood, whose reputation for sodomy clearly precedes him. Theologically speaking, we're not exactly sure that Salvi's admonishment that sucking cock is the equivalent of taking communion, but who could possibly hope to resist the hunk's wanton charms? Indeed, if Father Salvi insists that God loves a cheerful fucker then who the hell are we to contradict him? Suffice it to say that the fellow's instructions are quickly adopted by his young charge, who's soon down on his knees sucking the life out of Salvi's handsome dick and rimming the older fellow's ass. But the mentor's character is such that he'll never be satisfied until he's got Smallwood's knob embedded in his hole; and as such the sense of relief on the chap's face seems almost palpable when at last his underling obeys his religious instruction and finally ploughs hard, rampant dick straight into his greedy little pucker. The resultant fuck is without doubt a real joy to behold; and it's no real surprise that it doesn't take long before Salvi is spewing a fine wad whilst Smallwood pounds from beneath. By the time young Smallwood proves his own spunky worth, you'll be well and truly spent!
Scene 2: Bible-Banging Threesome Sees Will Sims Spit-Roasted & Splattered With Hot Jizz!
Cast: Adrian Smallwood, Sven Laarson, Will Sims
Also available: Spunk-Lovin' Spit Roasters 2 Compilation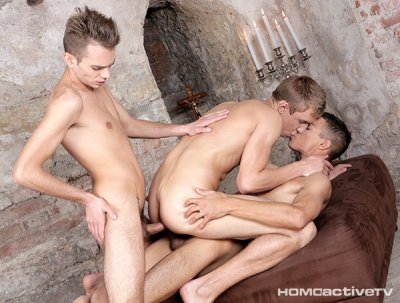 The notion of sin, damnation and the possibility of divine salvation don't usually serve as your typical backdrop for gay porn. Nor are they subjects that we suspect will trouble you a great deal as you watch this tremendous threeway – especially given that all you're probably interested in is seeing Sven Laarson, Adrian Smallwood and Will Sims strip out of their religious attire so that they can worship hard, uncut cock! Fortunately for everyone concerned, the heavy natured backdrop is promptly dispensed with in the opening moments, as these three horny bastards use the opportunity to express the eternal search for love in the most carnal manner imaginable. Indeed, any subtlety is abandoned right from the very moment that Laarson and Sims bundle novice monk Smallwood out of his habit; and before you know it Sims is being energetically spit-roasted by his spiritual mates like a common whore. Clearly abstinence is not something that they teach at this church community – a fact that's promptly underlined by the manner with which Smallwood then switches his attention back and forth between the ass-holes of both his buddies, fucking the pair in quick succession and stretching both man-cunts to within an inch of their lives in the process. It's no bloody wonder that the spunk is soon beginning to flow – in this particular instance all over Sims's cute (and seemingly unprepared) little face! Now if that isn't a religious experience to remember then we really don't know what is!
Scene 3: Priestly Machinations Result In Brad Fitt Getting Fucked Raw By A Red-Headed Monk's Monster Dick!
Cast: Brad Fitt, Darryl Declan
Taking time out to get away from the demands of the world is a much-used tool of spirituality, so it's no surprise that young priest, Brad Fitt, and his monkish buddy, Darryl Declan, take the opportunity to find a quiet spot to muse on life, the universe and everything. Except, as soon becomes apparent, it's matters of quiet conspiracy (not to mention carnality!) that quickly consume this horny pairing.
As such it's not so much the quest for enlightenment that bothers either of these dirty-minded scamps as how soon they can start pleasuring each other – a task that Fitt, in particular, is all too keen to engage in. Still, given the size and quality of tackle that the fellow knows is tucked away in Declan's robes, is it really any wonder that the lad is as enthusiastic as he is? Few would turn down the opportunity to worship on that monstrous weapon, that's for sure; and it's clear from the start that Fitt – all neatly trimmed for the occasion – won't be satisfied until he's got every inch of his red-headed mate's dick firmly embedded in his rear.
An objective that he achieves with remarkable ease, it must be said. Not that Declan's adverse to giving his pal's hungry ass-hole a preliminary rimming prior to stretching it with his meaty, uncut pecker; but it's only when Fitt's firmly skewered on that purple-headed monster that either fellow looks even remotely content. What follows is a first-class set-piece that leaves both boys gasping for air, culminating in two of the finest cum-shots ever seen outside the Vatican! All in all, a superb, jizz-drenched fuck of the highest order!
Scene 4: Young Monk Gets A Hard-Cocked Initiation – Not To Mention A Face-Load Of Jizz!
Cast: Troy Stevenson, Will Sims
Also available: Fucking Blonds (2 DVD compilation)
Troy Stevenson is scandalised when he discovers gay porn on the computer of one of the novices – clearly he's a young man of the old school. Fortunately, Will Sims is definitely of the liberal wing of the Church, and is more than capable of persuading the fellow that such antics as man-on-man fellatio and sodomy are God-given pleasures that at the very least deserve to be investigated.
As such it's not at all long before cute-as-a-button Sims is inviting his blond-haired pal to find out what all the fuss is about – an invitation that Stevenson accepts with such aplomb that it's difficult not to conclude that his initial revulsion was s tad disingenuous. Indeed, it's clear from the start that the fellow is as excited as anyone at the prospect of indulging in a sweaty oral workout, followed by an even more heated fuck; and having savoured every inch of Sims' gorgeous shaft with his mouth, the boy is soon riding the thick, meaty ramrod with that hungry little ass-hole of his.
What's more, as if to underline his credentials as a total slut, the lad takes great pleasure in sucking off Sims between every change of position – no doubt tasting the scent of his own well-worn butt in the process! But it's the simple sight of Stevenson's pale, slim form being banged by Sims' ethnic-looking knob that presents the greatest joy here – the eager bottom used like a rag doll without so much as a please or thank you from his lover. Given the amount of jizz that both boys spew in the scene's final moments, however, it's an arrangement that clearly meets with the approval of both these kids.